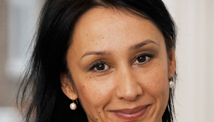 STORY HIGHLIGHTS
Numerous commentators have compared Kate Middleton to Diana, Princess of Wales
Author Monica Ali says comparisons are born out of a desire for another "people's princess"
Ali: Both women are different, and Kate should be allowed to follow her own destiny
Editor's note: Monica Ali is an internationally bestselling author who has also been shortlisted for the Man Booker Prize. Her new novel, "Untold Story," is inspired by Diana, Princess of Wales. Follow her on Twitter here: @_monicaali_
(CNN) -- Who wants to be compared with their mother-in-law? That seems to be the fate of Kate Middleton as she prepares to marry her prince at Westminster Abbey on April 29.
"No one is trying to fill my mother's shoes," Prince William has said. But that hasn't stopped commentators from declaring comparisons between Kate and Diana to be "inevitable," and using phrases such as "there's a lot to live up to."
Many column inches have been devoted to dredging up every similarity between the two women. An equal amount of space has been filled by highlighting their differences. Class, education, family background, work experience and interests, sporting abilities -- all these facets have been pored over.
Diana was an aristocrat, while Kate is middle class. Diana left school without passing her exams, but Kate has A-levels and a degree in Art History. Both women, on the other hand, showed natural athleticism ... the list goes on. No observation of difference or similarity is too small to pass without notice. Or too frivolous. Sets of photographs have been quickly put together, pairing a picture of Diana in a particular outfit with one of Kate dressed in a vaguely similar way. We are invited to pick out the "winner" in each case.
There is a part of us that longs for another Diana, and that is why her daughter-in-law faces the unending comparisons.
--Monica Ali, author

Day in the life: Kate Middleton

Royal wedding: Inside Westminster Abbey

Royal wedding dress speculation
But why has this obsession developed? What is it actually all about, and is there more to it than just fun and games?
I think there are several answers to this. The first is that some of the analysis comes out of a desire to figure out if Kate and William's marriage is going to be different from Charles and Diana's. Kate comes from a stable family home, unlike Diana, whose mother left her when she was a child.
William and Kate have been in a long relationship, which compares favorably again, as Diana only dated Charles for six months before their wedding. Actually, we knew all this already. But it's as if we want to be reassured. Really, what we want is a happy ending this time. And we keep reading the runes over again, as if they can guarantee us one.
Also, we want to know what kind of princess we're going to be getting. In marrying the second in line to the throne, Kate is entering public life. What kind of role is she likely to play? What are her interests? How equipped is she to handle the pressures on her, which will no doubt increase from now on?
Crucially, what is her approach to dealing with the media? In all of these considerations we have only one point of reference: Diana. We can't help but look back.
And we want to feel that we've "learned the lessons" from Diana's life, and the way it turned into a tragedy. We want to know that Kate has learned them too, and commentators have approvingly noted that she keeps her mouth shut and her lawyer in the wings, apparently acting on the hindsight of Diana's legacy.
But, for all that we wouldn't wish Diana's difficulties on Kate, there is a part of us that longs for another Diana, and that is why her daughter-in-law to be faces the unending comparisons.
Diana was a fascinating, warm-hearted individual, who reached out to the public as no other royal before her. She was a gorgeous bundle of trouble who broke the mold, and in so doing, captured many millions of hearts around the globe. We'd never seen her like before and I doubt we ever will again. Comparisons, in the end, are futile. Kate is her own person, but Diana was one of a kind.
"Untold Story" is published on March 31 by Doubleday in the UK and June 28 by Scribner in the U.S.
The opinions expressed in the commentary are solely those of Monica Ali.
FOLLOW THIS TOPIC