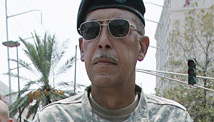 STORY HIGHLIGHTS
Gen. Russel Honoré says Libyan rebels fighting for freedom recall American Revolution
He says help is late in coming, but Gadhafi's massacre of his people must be stopped
He says if Gadhafi presses on, international force can attack via air, sea, land, communications
Honoré: Gadhafi an enemy of peace and freedom; rebels can and must be helped
Editor's note: Lt. Gen. Russel Honoré commanded the military response to Hurricane Katrina. He retired from the U.S. Army in 2008 after 37 years, sits on the board of the Stevenson Disaster Management Institute and is an adjunct professor at Emory and Vanderbilt universities. He is the author of "Survival: How a Culture of Preparedness Can Save America and You from Disasters."
(CNN) -- The freedom fighters facing down Moammar Gadhafi have a character and a cause that the Libyan Army does not have: They are fighting for their freedom, and Gadhafi's army is fighting to preserve his dominance over them.
This is a similar situation to the one the first Americans faced in the Revolutionary War, when we fought the powerful British army. The British troops fought for King George III, and our Continental Army fought to claim the freedoms laid out in the Declaration of Independence.
With a little help, the Libyan freedom fighters can win. In retrospect, the mission of stopping Gadhafi would have been easier if it were taken up three weeks ago. Nonetheless, the U.N. Security Council's resolution Thursday to authorize military action and the support from the Arab League have sent a signal. Gadhafi must be prevented from committing a massacre on his own people in Benghazi, the rebels' stronghold and Libya's second-largest city.
Follow the latest news out of Libya
Despite all the drama and warnings from some against going to war against Gadhafi, the international coalition that is forming can and must protect the freedom fighters and their families from the Libyan leader's air, tank and artillery attacks.
There are no plans for ground troops, but I believe this must be an attack with four dimensions: sea, air, land and communications.
The coalition's objective must be made clear to Gadhafi: you cross a line designated by coalition forces to protect rebels, and you will be targeted with Tomahawk Cruise missiles. The force should be also ready with a wing of drone aircraft equipped with Hellfire missiles to destroy Gadhafi's tanks and artillery.
If Gadhafi's forces cross the line, the international coalition's navy must destroy his navy in the next 24 hours.
Air power can use standoff missiles working with drones to kill his air defenses. The coalition force can use Patriot missiles that are currently in Tunisia, as well as Multiple Launch Rocket Systems with long-range missiles, and can provide counterfire artillery from Tunisia.
Additionally the forces can shut down his internet connection and civilian communication, as well as disrupt his ability to communicate over TV and radio. We must have the will as a nation; the American people must get ready for another front.
Yes, there could be casualties, but remember that Gadhafi is an enemy of peace and freedom. He was responsible for the bombing that took down Pan Am Flight 103 in 1988 (270 people died) and the 1986 bombing of a night club in Berlin, in which two U.S. servicemen were killed and 50 injured.
Libya and the rest of the world will be better off without Gadhafi. Let's not let another Rwanda happen as we sit around wondering whether we should act and get on with it before it's too late.
During 1999, I served on the Joint Staff, and Centcom routinely ran operations against former Iraqi strongman Saddam Hussein for attacking the Kurds in the north and Shiites in the south.
A unified force including France, Britain, the U.S. and Arab nations can do this, but help from Egypt and Tunisia will be critical. Such a force would need a logistics line through Egypt to resupply besieged Benghazi, as well as use of Egypt's air space. We can protect the freedom fighters in Libya.
The opinions expressed in this commentary are solely those of Russel Honoré.
FOLLOW THIS TOPIC