America obsessed! A royal love affair with Will and Kate's wedding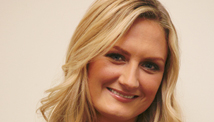 STORY HIGHLIGHTS
Sarah Ivens says interest in her Britishness has soared because of the upcoming royal wedding
Ivens, who lives in Kentucky, was the founding editor of OK! Weekly in the U.S.
Many Americans excited about the wedding claim to have some English ancestry, she says
Ivens: Americans are better at celebrating the rich and famous than the Brits
Editor's note: Sarah Ivens is the founding editor of OK! Weekly in the U.S. and best-selling author of the "Modern Girl's Guide ..." series and "No Regrets." She is from London but now lives in Louisville, Kentucky.
(CNN) -- As a Brit living in Kentucky, everything changed for me last November. My accent always caused a surprised smile or a suppressed giggle, of course, in this land of the Hillbilly twang but I'd generally been allowed to go about my business with little fuss.
Then Prince William proposed to Kate Middleton, she accepted, the Americans got joyfully overexcited in a way only they can. And me? Well, I now have to allot an extra fifteen minutes to complete even the simplest errand. Yes, I am happy for them. No, I haven't been invited. Yes, I am very pleased we still have a royal family. No, I don't feel that my freedoms have been restricted by having a constitutional monarch.
I explain that we tried all that republican stuff back in 1649 with Oliver Cromwell and soon realized a monarch was less of a menace than a self-proclaimed king (a la George W Bush) and eventually their eyes start to glaze over and I can make my escape from the cafe/hardware store/supermarket before dusk.
I've lived in the U.S. for six years now: four of those in New York City -- where the English were two-a-penny and largely resented for taking over the media industry -- and the last two in the beautiful Bluegrass State, where the locals display more good manners and love of tradition than you'd find in any of the Home counties (the counties the surround London, including Oxfordshire and Hertfordshire) these days.
Americans are just so much better at giving unabashed adoration to those in the public eye than we are.
--Sarah Ivens, writer
Most claim to have an English ancestor lurking somewhere and can therefore express an excitement for the pomp and circumstance of a royal wedding more than a tax-paying, recession-hit Brit living with the reality of it over the pond.
They don't even mind that Barack Obama hasn't been invited. In fact, most of my southern chums feel this is quite right: he should be here sorting out their problems ... and he'd only embarrass them at the reception with his dodgy dance moves anyway.
The Americans are just so much better at giving unabashed adoration to those in the public eye than we are. Look at the outrage Ricky Gervais caused by having a dig at the pumped-up, plastic aristocracy of Hollywood. "How dare he," they moaned in their millions -- while the English folk watching thought it was a job well done.
If you've got fame, looks and money, Brits think you deserve to have the wind knocked out of your sails. And therein lies the rub: Yanks want to celebrate good luck and glamour, while we have a deep Anglo-Saxon mistrust of it. And a stiff upper lip, of course, which would never allow us to whoop, holler, high five or shriek in the manner I have seen over the last few months, when American royal wedding fans get together with a bit of gossip about Kate's dress or her bridesmaids.
So for the wedding day, I've decided to go native. I'm throwing a party for my Kentucky friends, which will be well attended (despite starting at 5a.m.), full of enthusiasm and free of Camilla-looks-like-a-horse grumblings. I've ordered Union Jack bunting and imported some PG Tips tea bags, chocolate Hobnobs and proper bacon. And who knows? When Kate and William kiss on Buckingham Palace's balcony, I might even let out a "Hell, yeah!" without irony.
The opinions expressed in this commentary are solely those of Sarah Ivens.
FOLLOW THIS TOPIC


Part of complete coverage on

A lot has changed since the 15th century, when Oliver Cromwell overthrew the monarchy. Today, British republicans fight with ... street parties.

From the walk down the aisle to the vows and kiss on the balcony, we show you the best moments from the royal wedding.

From camping out in Hyde Park to highlights of the wedding ceremony, take a look at the day in photos
The biggest fashion show on earth, the royal wedding, got underway in a riot of bright colors, flamboyant fascinators and larger-than-life hats

At last, it's revealed! Kate walks down the aisle in a timeless dress designed by Sarah Burton of Alexander McQueen.

Crazy memorabilia, the skinny on the dress and more! Your spot for all things royal wedding right now.

Americans woke up at dawn to attend royal wedding parties complete with tea, scones and in some cases, clipped British accents

Share your photos and video and be a part of the royal wedding with CNN and iReport!


Today's five most popular stories