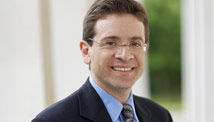 STORY HIGHLIGHTS
Julian Zelizer: GOP efforts to cut government spending are dominating the discussion
He says much of energy has gone out of Obama's presidential agenda
Zelizer says Republicans plan to push for much more aggressive cuts to budget
He says Obama could follow in Bill Clinton's footsteps, playing defense to GOP
Editor's note: Julian E. Zelizer is a professor of history and public affairs at Princeton University. He is the author of "Jimmy Carter," published by Times Books, and editor of a book assessing former President George W. Bush's administration, published by Princeton University Press.
Princeton, New Jersey (CNN) -- Following the announcement of the budget deal on Friday night, South Dakota Sen. John Thune told Politico, "The debate is now on our side of the field. This is just the opening act. But these upcoming debates are not going to be about whether we're going to reduce the cost and size of government, but how much. That's very good ground for Republicans to fight on."
Thune is correct. The compromise revealed just how far congressional Republicans have been able to shift the debate since the 2010 midterm elections. This week, President Obama will make a proposal of his own to lower the debt, which will include the politically difficult call for higher taxes.
Much of the energy that President Barack Obama and Democrats displayed in his first two years in office -- pushing for health care reform, financial regulation, an economic stimulus and more -- seems to be gone.
The elections sapped much of the drive out of his presidency. During the lame-duck session of Congress, Obama signaled how much the climate had changed when he agreed to extend President George W. Bush's tax cuts for the wealthy, thereby breaking a key promise that he had made in his 2008 campaign.

Obama visits the Lincoln Memorial

Will spending cuts hurt economy?

Round 2 of a budget battle?

Stockman: Lawmakers are 'sleepwalking'
Even though Obama obtained more stimulus money in exchange for the bill, he squashed the idea of reducing deficits through tax hikes and acknowledged the newfound political strength of Republicans.
During the past few weeks, Speaker John Boehner and House Republicans have made huge strides as they moved forward aggressively with their proposed spending cuts.
Republicans have consistently argued that the growing deficit is a sign of the president's inability to govern effectively and presents a grave danger to the economic health of the nation. More importantly, Republicans sense an opportunity to achieve the kind of reduction in government services that seemed impossible just two years earlier.
The Republicans have been aggressive and steadfast in their attacks on federal spending and the deficit, while Obama has been much more defensive and uncertain when responding. The president has often been willing to accept the Republican terms of the debate. Without lower unemployment figures, Obama has remained vulnerable when faced with these attacks.
Though he drew a line in the sand toward the end of the debate last week, Obama agreed to cut almost $38 billion from the budget. He was no longer listening to Democrats who argued that this was not the right time to make such deep spending cuts. This in itself constitutes a huge victory for the GOP.
As Boehner said on Friday, "Our goal is not to shut down government. Our goal is to cut spending." And that they did.
What should frighten Democrats is that the current spending cuts are only a taste of things to come. Tea Party Republicans will come out of this deal emboldened.
Although they did not get the $100 billion in spending cuts that they originally desired, the cuts are significant, and it is clear that the Republican leadership is taking them seriously. "When we're cutting, we're winning," New York Republican Rep. Nan Hayworth told the Boston Globe.
What should frighten Democrats is that the current spending cuts are only a taste of things to come.
--Julian E. Zelizer
The next round will be more ambitious. Republicans are already warning they will demand much steeper spending cuts in exchange for raising the debt limit ceiling. "This was only the first bite of the apple," noted Republican Majority Leader Eric Cantor.
Wisconsin Rep. Paul Ryan released his budget blueprint that laid out an ambitious and aggressive plan for spending reduction. If Republicans attempt to enact the plan or to move forward with a version of the plan, the next few budget debates will revolve around much more dramatic cuts in federal spending as well as a basic transformation in core programs such as Medicare and Medicaid.
Even if Obama can maintain his standing in the polls and exits the recent budget battle with more support for his leadership skills, he could easily find himself playing defense for the rest of his time in the White House. This is what happened to President Bill Clinton after the famed budget battles of 1995-1996, which did lead to a government shutdown.
After rebounding in the polls, Clinton embraced the Republican agenda. In 1996, he signed legislation that ended the federal welfare program (Aid to Families with Dependent Children). Clinton also made the famous proclamation that the "era of big government is over," which seemed to confirm the ideological message of the conservative movement. In 1997, Clinton agreed to a budget that constrained discretionary spending below the predicted rate of inflation, opened the door for Medicare reform and reduced income taxes.
Obama has been fighting from a defensive position throughout the past year. He has gradually accepted the Republican emphasis on deficit reduction through spending cuts. While this posture might allow him to win over independent voters and, perhaps, make the GOP look like extremists, there is a high cost when the opposition dictates which policies should receive attention and which issues should be ignored. Moreover, Boehner proved that he is not Newt Gingrich and knows how to cut a deal.
Like Clinton, Obama could end up winning re-election in 2012 by capturing the center, all the while finding himself unable to pass the kinds of policies that he and his supporters focused on in 2008.
The opinions in this commentary are solely those of Julian Zelizer.
FOLLOW THIS TOPIC