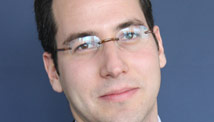 STORY HIGHLIGHTS
Syrian forces have killed hundreds during two months of protests, says Nadim Houry
Syrian authorities try to justify their attacks by claiming they are battling terrorists, he says
Houry: Security forces are shooting mostly peaceful anti-government protesters
"Crushing" protesters may lead to president's own defeat, Houry says
Editor's note: Nadim Houry is Human Rights Watch's senior researcher for Lebanon and Syria and the director of its Beirut office. He served as deputy counsel for the Volcker Commission, where he spent more than a year conducting fact-finding missions in the Middle East as part of the United Nations' corruption inquiry into the Oil-for-Food Program. Human Rights Watch's Syria research can be viewed here.
(CNN) -- Mohannad finally managed to escape the southern city of Daraa on May 9, two weeks after the Syrian army had surrounded the city and cut electricity, phone lines and Internet services, preventing movement into and out of the city. "The situation in Daraa is indescribable," he told us from neighboring Jordan.
With six other men, he had taken shelter in Daraa's sewers May 7 to avoid the Syrian forces, who were forcing their way into homes and detaining the town's men. He emerged 13 hours later to return home, only to find that tanks were surrounding his neighborhood.
He decided to escape. With about 50 other Daraa residents, including women and children, he walked across fields to reach the Jordanian border near Tel Shehab at midday May 9. "The Syrian security forces opened fired on us as we neared the border," he said. "I think they killed 11 people. I am not sure. I just ran for my life."
Mohannad's escape illuminates the repression taking place in Daraa today. Syrian human rights groups have compiled the names of more than 350 individuals who have died in the city since anti-government protests erupted in mid-March. Hundreds of men, possibly thousands, have been detained. Photos posted on Facebook hint at the extent of the damage the Syrian army has inflicted on the town: shelled homes, crushed cars, bullet-ridden mosques.
When residents of neighboring villages tried to break the siege of Daraa on April 29 by marching to the city bearing food and water, security forces opened fire, killing at least 12, a witness told us. Faced with an escalating humanitarian crisis, U.N. Secretary-General Ban Ki-moon called on Syria on May 11 to allow humanitarian teams access to Daraa and other Syrian cities.
Although Daraa has suffered the brunt of the Syrian authorities' violent crackdown on anti-government protests, it is by no means unique. The military has also deployed tanks in Baniyas, on the coast; Homs, in central Syria; and Tafas, near Daraa. Security forces have also carried out a nationwide arrest campaign against activists, lawyers and protesters, including many women and children. Those emerging from detention tell of ill-treatment and torture, and they often bear the scars to prove it.
The Syrian authorities justify their attacks by saying they are battling terrorists. On May 1, a Syrian military source told the state news agency, SANA, that army units and security forces had killed 10 "terrorists" in Daraa and arrested 499 others. Bouthaina Shaaban, an adviser to President Bashar al-Assad, told The New York Times on May 9 that the authorities were battling "a combination of fundamentalists, extremists, smugglers, people who are ex-convicts and are being used to make trouble."
Syrian officials have said that "armed militants" have killed more than 80 soldiers and members of security forces. But the evidence emerging from Syria -- despite the authorities' efforts to suppress it by denying access to journalists and independent observers -- speaks otherwise.
Testimony from protesters and footage smuggled out of Syria show that security forces are not shooting "terrorists" but mostly peaceful anti-government protesters. They have killed at least 600 during two months of protests.
Far from detaining "extremists and smugglers," security forces have detained political and human rights activists, university students and journalists. In some cases, security forces have even detained family members of activists in an effort to pressure them to cease their activities. Most detainees have been forced to sign confessions without being allowed to read what they were signing.
Women have not been spared: On April 30, security forces detained 11 women for participating in a peaceful women-only silent protest near the center of Damascus. A witness said the security forces beat the women to disperse them.
There were instances in which security forces were attacked, but these have been isolated incidents, and the people behind these shootings remain unknown. Syrian state television has aired interviews with men who publicly confess to being paid to attack security forces, but given the rampant torture of detained protesters, these public confessions ring hollow. When asked about the identity of those behind the attacks on the security forces, Shaaban said officials were still investigating.
Anti-government activists accuse the security forces of firing on some of their own members who refused to fire on protesters. Given the government's lack of transparency, it is hard to know exactly what is happening. But one thing is clear: It is the security forces who have used crushing violence against the overwhelmingly peaceful protesters.
And this was no random violence but rather a deliberate strategy to crush the protest movement militarily and to re-erect the wall of fear. Although this strategy may prevail in the short term, its long-term prospects are far less certain. The brute force has exposed -- to those who still had any doubts -- that the regime rules by terror and repression.
Its legitimacy, both domestically and internationally, is shaken and crumbling with every bullet that its security forces fire. Al-Assad may soon find out that "crushing" the protesters contains the seeds of his own defeat.
The opinions expressed in this commentary are solely those of Nadim Houry.
FOLLOW THIS TOPIC