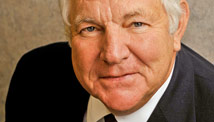 STORY HIGHLIGHTS
William Bennett: Corrections reform saves taxpayers money, makes system more efficient
Texas led way by diverting low-risk offenders from prison to stricter supervision, he says
States are finding out that "lock them up and throw away the key" is not always best solution
Violent offenders will still face full force of the law and prison, Bennett says
Editor's note: William J. Bennett is the Washington fellow of the Claremont Institute. He was U.S. secretary of education from 1985 to 1988 and was director of the Office of National Drug Control Policy under President George H.W. Bush.
(CNN) -- As budget battles in Washington and the states unfold, politicians are striving to achieve the most for their money, pinpointing where they can cut spending without sacrificing service.
Although lowering spending can mean major overhauls to a lot of services, some states have realized that with a little outside-the-box thinking, corrections reform can simultaneously decrease the taxpayer burden and increase the efficacy of criminal justice systems.
In 2007, Texas launched this legislative trend of cutting corrections costs without sacrificing its tough-on-crime principles.
It has achieved this by making an effort to divert low-risk, nonviolent offenders from prison and rehabilitate them through community treatment programs and tighter supervision of probationers and parolees. This effort has saved Texans more than $1 billion on corrections costs, decreased probation revocations by 4%, shrunk parole revocations by 25% and lowered incarceration by 9.2%. These reforms coincided with Texas achieving its lowest crime rate since 1973.
A famously tough-on-crime state, Texas is proving "lock them up and throw away the key" is not always the best solution, and leaders around the country are beginning to agree.
Opinion: California may have to release 33,000 inmates
In December 2010, I joined Right on Crime, a coalition of conservatives, including former U.S. Attorney General Ed Meese and prison reform advocate Chuck Colson, that promotes the truly conservative case for criminal justice reform. It is a platform that promotes traditional conservative values such as accountability, limited government and fiscal responsibility.
Including Texas, a dozen states have adopted policies consistent with Right on Crime's ideals, and reform is pending in several other states, including Florida, Georgia and Louisiana. The details of the legislation vary state to state, but the overarching goals of lower cost and higher effectiveness are the same.
For most Americans, public safety is a top priority.
Although alternate sentencing, like the legislation enacted in Texas, offers positive results for nonviolent, low-risk offenders, incarceration is still the most fitting punishment for violent and career criminals. In commenting on Oklahoma's recently passed reform legislation, state Speaker of the House Kris Steele assured citizens, "Make no mistake: We will still imprison violent criminals and those who commit heinous crimes without any hesitation."
Many states, such as Ohio, Illinois, Nevada and Vermont, are shifting away from incarceration to alternate sentencing for low-risk, nonviolent offenders. By capitalizing on probation and parole programs that use evidence-based practices such as drug courts, electronic shackling and increased community sentencing measures, states have been successful at turning offenders into rehabilitated, taxpaying community members.
Some states have turned "problem-solving courts," an alternative solution that has proved to be successful at reducing recidivism rates.
Hawaii's HOPE Court requires randomized drug testing for probationers and executes swift and sure sanctions, usually one or two days in jail, if the probationer violates the terms of his sentence. After three months, positive drug tests decreased from 49.3% to 6.5% of participants.
Community sentencing is another effort proven to decrease repeat crimes and help offenders reintegrate into their communities. This includes a variety of treatment options, including parole supervision, drug testing and regular participation in support groups and counseling.
Discussing possible reforms in Louisiana, Gov. Bobby Jindal notes that the proposed community sentencing policies "can curb the cycle of repeat offenders and thereby reduce the burden on our prisons and help offenders create a place in society that adds value to their lives while keeping our communities safe for our families."
Community sentencing is also more cost-effective. Oklahoma has committed to increasing offender eligibility for community sentencing programs, which is expected to save residents at least $5 million annually.
Tough-on-crime conservatives can lead the cause of criminal justice reform in a way that should garner bipartisan support, demonstrating that "tough on crime" can also be smart on crime and tough on spending.
Conservative-thinking leaders are fighting to cut spending across the country, working to improve efficiency and save taxpayer dollars. As the budget battle wears on, corrections policy offers legislators a way to cut spending without sacrificing results, producing as close to a win-win solution as possible in politics.
The opinions in this commentary are solely those of William Bennett.
FOLLOW THIS TOPIC