STORY HIGHLIGHTS
Tornado wiped out Greensburg, Kansas, in 2007, flattening 400 buildings
Steve Hewitt, then the city administrator, says focus on rebuilding should start quickly
He says storm forced city to plan for a new future, and it rallied around "Green" building
Bouncing back takes years, and Greensburg is still recovering, he says
Editor's note: Steve Hewitt, city manager of Clinton, Oklahoma, was formerly the city administrator for Greensburg, Kansas, which was destroyed by a tornado in 2007. He was named Governing Magazine's 2009 Public Official of the Year, as well as City and County Magazine's 2008 Municipal Leader of the Year, for his efforts to rebuild the community in environmentally sustainable ways.
(CNN) -- When communities face major disasters, recovery is about much more than bricks and mortar. The challenge can feel overwhelming, but the opportunity to build a new future can bring hope.
On May 4, 2007, an EF-5 tornado that was 1.8 miles wide ripped through Greensburg, Kansas, destroying nearly 95% of the town.
Twelve people died and more than 400 homes and businesses were destroyed.
The town, with a population of 1,500, immediately had to deal with search and rescue, infrastructure issues, financial concerns, debris clean-up, communications, planning, recovery, and of course, the emotional impact of the disaster on the survivors.
Every municipal structure was destroyed. So were the hospital and schools. The city had no fire trucks, no police cars, no public works equipment.
Greensburg was stripped of every essential item -- water tower, water wells, electric power plant, electrical grid and even City Hall. All destroyed. It looked as if a bomb had exploded in the middle of the community. No communication was possible except for hand-held radios.
As I walked out of my basement (my wife holding our dog and I holding my year old son), I saw that our house and neighbors' homes had all been destroyed.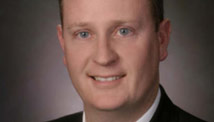 Steve Hewitt
I talked to my staff on the radio; one guy told me he was walking on top of the buildings downtown. I remember asking him how that was possible. He said all the historical two-, three- and four- story buildings were rubble.
Fire, police, public works and emergency management crews from other communities had to help Greensburg. We had to mark the streets, so you could identify where you were.
City officials had to work round-the-clock with outside agencies to evaluate the damage and continue search and rescue. We were forced to evacuate the entire community for three days. It took weeks to establish some temporary utilities.
Within four months, the first home was built, but utilities still were not available at that location. The temporary school opened the end of August, and we were able to provide temporary utilities for the school the day before. In some places, a restoration of permanent electrical power took nearly a year to provide.
But we couldn't dwell on the damage, even though 95% of the population was homeless. We had to immediately focus on a new opportunity so that people would build back and business would return.
The day after the storm, I met with reporters and began to talk about rebuilding.
The school superintendent did the same thing. I met with the mayor and president of the council three days after the storm and told them that everything they hadn't liked about the community could be better, that we had a blank canvas to build on and could put this community back any way we wanted.
Greensburg was stripped of every essential item -- water tower, water wells, electric power plant, electrical grid, and even City Hall, all destroyed.
--Steve Hewitt

How Greensburg can help Joplin
When I met with then-Gov. Kathleen Sebelius, I said we would make smart planning decisions and do it better. The governor told me I was talking "Green." She went to a news conference and told the world Greensburg was rebuilding in a "Green" way.
It was the right thing to do, and we could market this approach. As a small town, we had to be different and better to compete.
Green became a point of focus as the town rallied. We got more and more donations because we went Green and attracted publicity. Before the storm, I couldn't get business to talk to us about relocating to the city. Once we went Green, our phones starting ringing and opportunities put Greensburg in the "game." That's all you can ask -- a chance to make your case.
What is "Green"?
It's stronger and more energy-efficient buildings and better use of tax dollars. After speaking to a congressional committee (the Select Committee on Energy Independence and Global Warming), federal agencies began to fund our request for help building to the highest standard of "green/sustainable" construction.
Some public commissioners thought this would make Greensburg recover and grow to be twice or three times as big within three years. That would turn out to be a difficult thing to achieve.
We had to immediately focus on a new opportunity so that people would build back and business would return.
--Steve Hewitt
Four years after the disaster, the population is still a third lower than before the storm; the population is less than 1,000 people today, and the recession slowed development. But now the infrastructure is the best in the world. Tourism is high, and the community looks amazing. You still have gaps in the community where homes and business used to be. However, the town has come back in an amazing way and over the next decade, it will be stronger.
For all its achievements, Greensburg is still recovering and will for years. It takes time to bounce back from any disaster, even with all the donations and government support.
What are the lessons from Greensburg's recovery?
Each community must rally around something and have a plan of action. Leaders must be forward thinkers.
While a recovering city is faced with the ongoing struggle of debris clean-up and basic infrastructure concerns, long-term planning must begin. The community will be overwhelmed by the media, curiosity seekers and volunteers. In that atmosphere, the challenge of organizing the recovery effort is tremendous.
City officials must juggle community issues as well as their own personal losses. Nevertheless, communities will rally together and begin to embrace building a new future. The human spirit will rise above all struggles and all social and economic borders will disappear.
Traditional government provides utilities, roads, infrastructure and such -- not emotional counseling. However, that is a real need in these circumstances, and can be addressed through long-term recovery and planning (very soon following the event).
For all its achievements, Greensburg is still recovering and will for years.
--Steve Hewitt
From day two of the disaster, we saw Greensburg as an opportunity. It can be difficult to even talk about the future, especially when friends and family members have lost their lives.
Although you must grieve for the losses you have suffered, leaders must immediately create a plan of action and focus on how you recover. You must offer this "process" to your community.
Not everyone will participate; however, leaders must make the effort to involve everyone. It must be a "bottom-up approach" -- meaning citizen involvement must occur. The community is about to make 100-year decisions. Public input is critical. History shows communities that fail to plan don't see a sustainable long-term recovery.
Post-disaster recovery is difficult. Naysayers will look to discredit plans and efforts if success doesn't quickly appear. Don't allow this. The decisions you make today are for future generations. Celebrate successes and accomplishments. Keep communicating to the community that the goals are being achieved. Remember "quality," not "speed," is the answer.
Finally, realize that the world helps those who help themselves, and that's why a professional rebuilding plan is vital. Recovery is a process of both mental and physical change.
Communities should understand that the real story you hope to tell is that you didn't just survive but are thriving after your disaster. As difficult as it is, this is an opportunity to embrace your new future and eventually to turn tragedy into triumph.
The opinions expressed in this commentary are solely those of Steve Hewitt.
FOLLOW THIS TOPIC