STORY HIGHLIGHTS
Doing nothing is very good for the mind, body and spirit, says champion of idleness
Hodgkinson: Countries imbued with the Protestant work ethic have vacations which can be as exhausting as work
Some countries, such as Italy and Mexico, are better at doing nothing than others
Loafing, hanging out, idling and reading the poetry of Walt Whitman are enjoyable in themselves
Editor's Note: Tom Hodgkinson was educated at Westminster School and Cambridge. He found a job in journalism but quit to go freelance as he couldn't stand the nine-to-five. In 1993 he founded The Idler magazine in order to promote reflection and contemplation, and he has since written four books: How To Be Idle, How To Be Free, The Idle Parent and the soon-to-be-published Brave Old World. His latest venture is the Idler Academy, a café and bookshop in West London.
The summer approaches and our thoughts turn to the long vacation and how to spend it.
The crazy thing is that in countries which are imbued with the Protestant work ethic, particularly the UK, the United States and Germany, our holidays can be just as exhausting as our working time.
Bankers throw themselves around in powerboats or jump off bridges while attached to a piece of elastic, and then give each other high fives while whooping loudly. Families cause huge distress to themselves by huddling in airports for hours at a stretch, and then fill their days with a hectic schedule of sight-seeing, horse-riding, tennis or water-skiing. The holiday has become a costly and often disappointing exercise in thrill-seeking and box-ticking.
It wasn't supposed to be this way. The holiday, or holy day, has its origin as a break from toil and commerce, and was a chance to meditate, contemplate and reflect on spiritual matters. The Roman calendar was studded with such feast days, when instead of working, you prayed or had a huge party. The Middle Ages copied this festive culture and in Britain the Christian church supplied at least 90 days off a year when no fighting or working was allowed.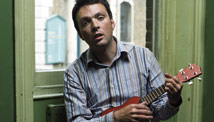 Tom Hodgkinson, founder of The Idler, advocates the joys of loafing about.
The Protestants of the 16th century saw all this fun as irremediably Popish and possibly devilish, and cracked down on merry-making. This anti-fun culture culminated in the banning of Christmas. Oliver Cromwell -- the English republican ruler who deposed King Charles I -- banned the 12-day feast in 1657, and in 1659 the Puritans banned Christmas in Boston.
Days off returned to the UK in the 18th and 19th centuries, but in secular form. The state created its own holidays, when citizens were encouraged not to think about God, but to reflect on the commercial greatness of their country, by attending great exhibitions, or to contribute to the economy by getting on a train and going to the seaside to spend money.
The church had sanctioned simply doing nothing -- but doing nothing did not fit in with the great commercial expansion that Western economies underwent between 1500 and the present. Doing nothing does not contribute to GDP. Doing nothing does not use oil. Doing nothing does not provide employment.
Doing nothing is, however, very good for the mind, body and spirit. The mind is fed by reading good books and enjoying good conversation. The body needs periods of proper rest and recuperation if it is not to grow ill. A nap a day really will keep the doctor away. And the spirit is nourished by simply sitting still and staring into space.
That is what meditation is all about. There are two worlds out there. There is the man-made world, with its money, jobs and banks, and there is the world of the unseen, the world of the mind. We need cultivate both.
We need to rediscover the pleasurable, harmless and completely cost-free pleasures of simply doing nothing in particular
--Tom Hodgkinson, founder of The Idler
The other key thing about doing nothing is that it is profoundly eco-friendly. I sometimes think that it would be better for the planet if our climate change scientists simply spent a week lying in a field and staring at the clouds, rather than flying around the world to give PowerPoint presentations at conferences. Doing nothing consumes no resources.
Some countries are better at doing nothing than others. I remember visiting southern Mexico, and being amazed at the capacity of Mexican men to sit in the square and simply stare at nothing for hours on end. I suppose that Mexico is, after all, the country of the hammock. In Italy and China, shops used to close after lunch so that people could enjoy a siesta. That custom, I'm afraid, is now being eroded by the pressure to stay open and keep working.
We need to rediscover the pleasurable, harmless and completely cost-free pleasures of simply doing nothing in particular. Loafing, hanging out, idling and reading the poetry of Walt Whitman are enjoyable in themselves, and have the potential to be radically healing, both to ourselves and to the wider world.
The opinions expressed in this commentary are solely those of Tom Hodgkinson.