STORY HIGHLIGHTS
John Hunter says he began last Sunday thinking the approaching tornado was routine
As he huddled with his family in the bathroom he realized this one was much bigger
Rooms collapsed around them, they trembled, prayed; bathroom was all that was left standing
Hunter: Many lessons learned, among them, help others, live life meaningfully
Editor's note: John Hunter is the co-director and reference assistant at the Seth Wilson Library at Ozark Christian College in Joplin, Missouri.
Joplin, Missouri (CNN) -- Last Sunday, my family and I experienced the nation's eighth deadliest tornado on record, in Joplin, Missouri. That morning, my wife, teenage granddaughter and I heard the warning sirens sounding as we enjoyed some fresh buttered biscuits with honey. We have lived here since 1968 and had experienced the drills repeatedly. This one was eerily different.
I turned on the weather radio late that afternoon in time to hear local emergency manager Keith Stammer, a former college classmate, confirm that a tornado was on the ground at Seventh Street and Schifferdecker Avenue.
Fine, I thought, still several blocks from our house at 2402 Montana Place. How was I to know that within minutes, the massive EF5 tornado would pound down our door? I got into the house, we piled into the bathroom, and I threw two large pillows on top of my wife and granddaughter. I closed the bathroom door, sat on the toilet lid, and tried to un-pop my ears.
I leaped to cover our granddaughter who had gotten into the fiberglass one-piece tub enclosure. The sound was deafening. It was as if a giant were pounding the house with his fist. The swirling wind caused the entire house to shake and start to fall apart.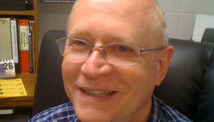 John Hunter says he and his family were entangled in helplessness during the storm.
The roof soon disappeared, throwing ceiling sheetrock and two-by-fours on top of my head. The blown-in insulation and broken glass filled our hair and eyes. This was the slowest, most powerful storm any of us have experienced! Time seemed to slow down, and minutes turned into an eternity as we were entangled in helplessness. The girls were shivering and shaking and I was as solid as a Jell-O-filled rooster, trying to protect them with my makeshift wings.
My wife kept repeating Jesus' name to "curse the monstrous storm." I looked out of the corner of my left eye at a sinister sky. Then the large hail (golf-ball sized? Seemed larger!) pummeled the nightlights out of us. Rain and lightning came next. Once that subsided, I cleared enough debris to open the bathroom door, which was now our front door!
We climbed out of the rubble barefooted. My wife found a pair of my shoes and threw them to me across the former living room. We waded to our next-door neighbor's house. Her son was critically ill in a Kansas City hospital and she was desperate to leave Joplin to check on him. She lent shoes to my wife, but our granddaughter still only had socks on her feet. My wife called our son-in-law to rescue us. He drove through yards and jumped downed power lines and fallen trees to get to us by 7 p.m.

Obama vows to restore Joplin

Tree cutter is a hero in Joplin
What little sleep we got Sunday night was interrupted by reliving the storm's impact on our lives.
Monday, May 23, brought help from Columbia, Missouri, in the form of our son and some SWAT members. Friends from College Heights Christian Church and Ozark Christian College helped us most of the day to salvage what was worth saving, in the eyes of the beholders. Relentless, dangerous thunderstorms and heavy rains continued to slow relief efforts.
By Tuesday, I returned to work. I canceled all utilities, while my wife went to battle with insurance agents.
Joplin's disaster teams have performed phenomenally and efficiently. The United Way, The Red Cross, the faith-based volunteers, the Salvation Army -- all have given sacrificially for neighbors in need. They estimate that 35% of Joplin was destroyed, mostly in the 64804 ZIP code.
They call this the Bible Belt. The four states of Kansas, Oklahoma, Arkansas, and Missouri make up the brass buckle on that tough but pliable leather belt. Coal miners and steelworkers can identify with the inherited resolve of the lead and zinc miners here. Missouri is the Show-Me State, but it is also the Show-You State in leading by example, working hard for its own and giving generously to others.
This storm has taught so many lessons. A few of them are
• Maintain faith in God;
• Take thunderstorm and tornado warnings seriously;
• Obey law enforcement and emergency authorities;
• Protect the weak around you;
• Give back as soon as you are able;
• Know your neighbors and share with them;
• Make sure your family members know you love them;
• Review your insurance policies and keep them current;
• Prepare thoroughly for death, but prepare to live meaningfully.
One daughter heard our ordeal over my wife's cell phone, which she had inadvertently left on. Our older daughter said you don't know how much you love your parents until you almost lose them.
The only wall left standing in our family's house displayed an inspirational painting by Webb City, Missouri, painter Jack Dawson called "Peace in the Midst of the Storm." For this family, that is our theme of survival.
The opinions expressed in this commentary are solely those of John Hunter.
FOLLOW THIS TOPIC