STORY HIGHLIGHTS
Brazil has been recognized for effectiveness of its response to AIDS
Eduardo Gómez says the nation has increased its spending on AIDS
He says it has effectively gotten the word out to high-risk groups
Gómez: Health care is a right in Brazil, and access to medication is guaranteed
Editor's note: Eduardo J. Gómez is an assistant professor in the Department of Public Policy & Administration at Rutgers University at Camden.
Camden, New Jersey (CNN) -- As we mark the 30th anniversary of the CDC's official reporting of the HIV/AIDS epidemic, it's surprising to see which nation has fared the best in response. It's not the United States; it's not China, India, or even Russia ... It's our good friend to the south, Brazil.
I first began to learn about Brazil's success as a doctoral student investigating the impact of AIDS on politics and society in the developing world. Surprised by Brazil's early response to the epidemic, especially when compared to other nations, I tossed my laptop into a backpack and set out for Brazil.
After several trips to cities throughout the country, interviewing AIDS patients, health officials, and activists, it gradually became clear that the government was indeed fully committed to eradicating AIDS, in turn proving to the world that it had the technical capacity and political commitment needed to do so.
As evidence of Brazil's success, consider the following. Aggressive national prevention campaigns for high-risk groups have contributed to a sharp decline of HIV/AIDS cases in Brazil. Because of the creation of national prevention programs targeting gay men and women, in 2002 and 2007, respectively, Brazil has seen a dramatic decline in HIV/AIDS cases among gay men, from 3,376 in 1996 to 647 in 2009, and among women, from 7,419 in 1996 to 2,034 in 2009.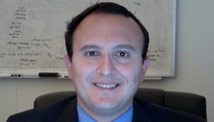 Eduardo J. Gomez
In contrast, infection among the highest at-risk groups in the United States, currently African Americans and gay men, remains elevated: in 1998, 20,672 new cases were reported among African Americans, increasing to 21,549 in 2009, while 17,357 cases were reported for gay men in 1998, falling only to 14,383 in 2009.
Considering the fact that Brazil was a military dictatorship with a highly unequal distribution of health care coverage less then 20 years ago, how did it pull this off?
Start by following the money trail. Brazil's allocation of congressional funding, while lower than in the United States, has risen steadily. From 2000 to 2007, the Brazilian congress nearly doubled the amount committed to fighting AIDS -- from 713,000 Brazilian reais to 1.3 billion in 2007. (A real is worth approximately 63 cents.) U.S. spending has risen at a slower rate.

I've lived with HIV two decades

Sharon Stone talks AIDS activism
Brazil has also done a better job at providing AIDS medication. In 1996, the Congress passed a federal law mandating the universal provision of antiretroviral (ARV) medication. National spending for ARV medications has burgeoned from 25 million reais in 1996 to more than a billion reais by 2009.
In contrast, the United States has consistently fallen short of guaranteeing access to medicine. According to a report released by NASTAD (National Alliance of State & Territorial AIDS Directors) last month, there is a waiting list of 8,100 individuals in need of ARV medication.
Realizing that cities were in need of funding to help fight the disease, Brazil's national AIDS bureaucracy also created new programs to provide support. In 2002, the national bureaucracy created the Fundo-a-Fundo Incentivos program, which provides monthly grant allocations to cities demonstrating need. Funding for this program has increased from 579,000 reais in 2003 to 1.5 billion reais in 2010. In the United States, by contrast, the Congress and CDC have not created new fiscal programs assisting cities; the last time the United States created one was in 1993 - Ryan White/CARE.
Brazil's national AIDS officials learned early on that they needed to work closely with civil society in order to successfully combat AIDS. Beginning in the mid-1980s, the government invited gay activists and nongovernmental organization representatives into the national AIDS bureaucracy to help devise policies and learn more about the virus and about health care needs.
Activists clamoring for universal access to medicine under the military during the early 1980s were also incorporated into the AIDS program, in turn leading to the rise of bureaucrats who were unwaveringly committed to the free distribution of ARV medication. While the CDC also reached out to AIDS activists during the 1980s, it never went as far as to officially incorporate them into the agency.
But Brazil's unique political situation also helped. In 1985, Brazil transitioned from a repressive military dictatorship to a vibrant democracy. Access to health care as a human right was penned into the 1988 constitution.
Consequently, when AIDS emerged, the government was essentially forced to do whatever it could to guarantee access to medicine and health care. When short on cash, these commitments forced the national AIDS bureaucracy to engage in intensive bargaining negotiations with pharmaceutical companies to lower prices for drugs.
If they failed to reach agreement, the pharmaceutical companies faced the specter that Brazil would produce and distribute generic versions of their patented medicines.
Ongoing praise for Brazil's success has further strengthened the government's commitment to AIDS. As a result of winning the Bill & Melinda Gates Foundation award for the best model response in 2003, echoed by UNAIDS in 2004 and receiving praise by CNN's Dr. Sanjay Gupta as the "envy of the world" in 2009, the government has been incentivized to increase its commitment to the epidemic.
Why Brazil's AIDS response is "envy of the world"

But this has also motivated the government to help African nations develop the capacity needed to produce ARV medications while using the international community's praise as a platform to address other related issues, such as poverty alleviation, human rights, and even biofuel technology.
(The United States has contributed its share to Africa. In May 2003, Congress provided $15 billion over five years for President Bush's plan to fund the distribution of ARV medication in Africa and the Caribbean, the largest bilateral contribution to AIDS in the world. The program was re-authorized for another five years in 2008.)
Though unique in its history, culture and scenic beauty, Brazil nevertheless provides a lesson just as big as the country itself: Fully protecting your people from HIV/AIDS not only advances their health and progress, but it can also advance your government's image and influence as an emerging global power.
The opinions expressed in this commentary are solely those of Eduardo J. Gómez.
FOLLOW THIS TOPIC