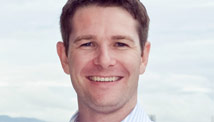 STORY HIGHLIGHTS
Young entrepreneur Brian Forde says he needs MBA to learn how to run his business
College grads did the work that built Facebook, Apple, Google and Microsoft, Forde says
Forde discovered his passion as an undergrad, an invaluable experience
Forde: Columnist who argued against college has safety net of $100,000: most people don't
Editor's note: Brian Forde is a college grad who started his first company when he was 17 and his second, a phone company in Nicaragua, at 25. He is now pursuing an MBA at London Business School while starting a venture to lower recidivism by providing small business loans to people who were formerly incarcerated.
London, England (CNN) -- In the tech industry, college dropouts are legendary for eschewing education and founding billion-dollar companies. Not-as-famous but just-as-important are the college graduates that critically support these visionary founders.
Outside of the tech industry, names like Sheryl Sandberg, Tim Cook, Eric Schmidt and Steve Ballmer may be much less known, but all are college graduates who arguably built Facebook, Apple, Google and Microsoft, respectively, into the companies they are today.
A new fellowship started by Peter Thiel rewards an elite group of young people for dropping out of college with a $100,000 fellowship each. One of them, Dale Stephens, wrote a CNN.com column calling college a waste of time for a young entrepreneur.
Reviewing the list of fellows, you quickly realize these are some of the smartest and most accomplished young people in the world; however, their ability to create companies that become world-changing corporations without the help of a college graduate remains to be seen. While starting a company is exciting, the endless challenges of day-to-day operations are not as glamorous.
I became intimately familiar with this while starting Llamadas, S.A., a company I co-founded in Nicaragua after finishing the Peace Corps. Starting a phone company at the age of 25 was a difficult challenge, but today we provide phone service to more than 100,000 Nicaraguans and employ more than 75 people. In order to grow our company, my business partner and I frequently consulted with venture capitalists, lawyers and investment bankers, and hired experienced employees including accountants and human resources managers. This is the unsexy but critical backstory to being an entrepreneur, and the reason why I'm pursuing an MBA at London Business School.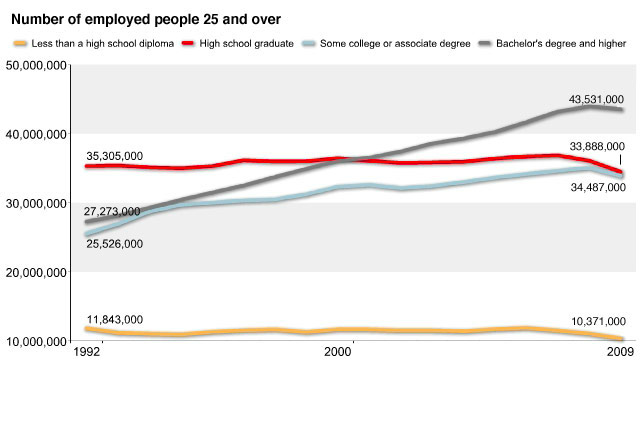 Employment by Education Level
Having built a multimillion-dollar company, I'm constantly asked why I left to go to business school. My answer is quite simple -- I was good at innovation but didn't have the business skills to build Llamadas into a significantly larger company. As an entrepreneur you learn through experience; what you don't know you research online or consult friends and advisers -- and this can be risky.
Ultimately, when you run a company you have to make big decisions. Make the wrong decision in school and you fail a class; make the wrong decision for your business and you put your employees' jobs and investors' money at risk.
Classes can be frustrating for an eager entrepreneur calculating the opportunity cost of sitting through lectures. As an undergraduate at UCLA, I majored in sociology, a subject I was completely unaware of before college. I also took the time to study abroad in Spain, inspiring me to join the Peace Corps in Nicaragua. While these two experiences put my entrepreneurial ambitions on hold, it enabled me to discover a passion for building companies that address the needs of disenfranchised populations. I can't calculate the opportunity cost of discovering my passion; to me it's invaluable.
Serendipitous moments happen frequently while in college. These moments have been a catalyst for the next company I'm working on. My next company will provide start-up capital to individuals who were formerly incarcerated with the goal of helping to reduce the amount of people who return to jail in the U.S.
Discussing this idea with classmates from around the world while waiting for a coffee, I have been able to tap into their diverse experience and networks. The group of classmates I'm working with includes a Canadian investment banker and two finance lawyers, one Dutch and the other a former Olympian from New Zealand. Together we have collaborated on the complex financial structure of the company. The ability to consult with their networks and speak in a business language I previously wasn't fluent in before pursuing my MBA allows me to build an even larger company this time around.
Entrepreneurship carries a significant amount of risk as a career choice. Being selected as a Thiel Fellow, and "awarded a golden ticket to the heart of Silicon Valley" as Dale Stephens called it in his column, significantly lowers that risk. Receiving $100,000 and the explicit approval of one of the most successful entrepreneurs in Silicon Valley is an incredible safety net for starting your new venture. Stephens hopes to encourage millions of others to drop out of school and become entrepreneurs through his program UnCollege. Unfortunately, they will face a very different reality without the comfortable safety net he has been given. To them I would suggest a more attainable and longer-lasting insurance plan, a college degree or quite possibly an MBA.
Many roles and skill sets are needed for the success of an entrepreneurial venture. To become as successful as Facebook, Google, Microsoft or Apple, college graduates will likely fill the knowledge gaps that a young entrepreneur cannot.
I applaud Thiel's efforts to encourage entrepreneurship, although if it is under the claim that education is better served through experience than the classroom I would disagree. If everyone took this route, the future of business would be all innovation and no operation.
The opinions expressed in this commentary are solely those of Brian Forde.
FOLLOW THIS TOPIC