Ohio governor's crass attack on LeBron James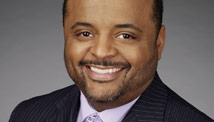 STORY HIGHLIGHTS
Ohio Gov. John Kasich declared Dallas Mavericks "honorary Ohioans"
Roland Martin says it was payback for LeBron James' decision to play for Miami Heat
He says governor shouldn't stoop to a petty response to James' decision to leave Ohio
Martin: LeBron James had every right to decide where he wanted to play
Editor's note: Roland S. Martin is a syndicated columnist and author of "The First: President Barack Obama's Road to the White House." He is a commentator for TV One Cable network and host/managing editor of its Sunday morning news show, "Washington Watch with Roland Martin."
(CNN) -- Sports and politics have always mixed. We've had former athletes hold elective office; mayors, members of Congress and governors are always making bets with one another when their teams play each other in big games; and it's great to see the respective national champions or winners in pro sports visit the White House for a congratulatory pat on the back from the president of the United States.
But there are some moments that deserve to be called out, such as Ohio Gov. John Kasich issuing a resolution declaring the Dallas Mavericks honorary residents of the state of Ohio.
Is he stuck on stupid?
The only reason he issued the declaration is to take a swipe at LeBron James, an Ohio native who gave Cleveland seven solid years of play, but left on his own free will when his contract ended to go to Miami.
With the Dallas Mavericks beating LeBron and the Miami Heat, Kasich showed how petty Clevelanders and Ohio residents are who are still upset with LeBron.

NBA champs back in Dallas

Ad congratulates wrong NBA champ
A governor is supposed to be above silly and petty stuff like this.
--Roland Martin
He didn't demand a trade. LeBron simply chose to leave Cleveland to go to Miami. This is a guy who never got into trouble, never got arrested, and did a ton of charitable work in the state. So you're upset that he left?
Ohio, you're still mad because of "The Decision"? It's time to grow up and move on. Seriously. If not, y'all need to join Rep. Anthony Weiner and seek treatment.
A few months ago I was in Ohio and spoke at an event in the state capitol and Kasich was there. We got a chance to talk education and voter suppression. He's a nice guy and I enjoyed our chat.
But on this one, he looks like an idiot. A governor is supposed to be above silly and petty stuff like this. Leave this kind of crap to the sports radio hosts, columnists and bloggers.
Lastly, I don't believe a single Dallas Maverick is a taxpayer in Ohio. LeBron is. He still owns homes there, has family there, and continues to do charity work there, namely in his hometown of Akron.
So Gov. Kasich, good job. You managed to diss an Ohio athletic icon, but also a taxpayer and constituent. I bet you don't mind LeBron cutting a check to pay his property tax bill, especially with your state facing a multi-billion dollar deficit.
It's safe to say you just lost all votes in the James household.
Lastly, governor, as a native Texan, we have no desire to be honorary residents of Ohio.
We already live in God's country.
Whoop!
The opinions expressed in this commentary are solely those of Roland S. Martin.
FOLLOW THIS TOPIC


Today's five most popular stories

Featured Deal |