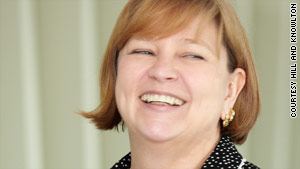 Candace Kuss: "The ads of the future will look ... like invitations to play"
Candace Kuss is the Director of Planning & Interactive Strategy for Hill & Knowlton Europe, Middle East, Africa. She has been working in interactive marketing since the time of the first banner ad. Like Rovio, she answers all tweets.
Cannes, France (CNN) -- Every year, like swallows to Capistrano, the great and the good of the marketing world flock to the French Riviera. For 58 years, the Cannes Lions Festival of Creativity has been inspiring the people who make the ads you see on TV, the posters at your bus stop and, since 1994, the banners online that beg you to click here.
In every industry, there are fashions that come and go. The internet, however, has changed things forever on Madison Avenue. Today it's a place few Mad Men would recognize, and not just because the boss could be a woman. There are as many computer programmers as copywriters; and agencies can win the top Cannes Lion statue for ads posted free on YouTube instead of those run on paid-for commercial TV. Most importantly, all the clichés about the consumer being in control have been finally accepted as true by both the agencies and the advertisers that are their clients.
And these days we must all take note of Angry Birds too, the hugely popular video game created by a small Finnish company called Rovio.
The game -- for the few of you who haven't played it -- features strangely endearing wingless birds who willingly hop into a slingshot that the player pulls back in order to fling the bird at a tribe of green pigs. The pigs are huddled for protection under various structures that crumble when the bird hits them in just the right spot. Angry Birds represents a disruptive or inspirational force that affects us all.
The success of (Angry Birds) is a case study of popular culture that people in marketing take seriously
--Candace Kuss
As one of the best parts of my job, I actually get to play games like Angry Birds at work. It is more work than it sounds though, as I try to deconstruct all the engaging features built into the gameplay. Because understanding what makes it so popular will help my agency produce marketing campaigns for our clients that people will find appealing as well. The success of this casual game is a case study of popular culture that people in marketing take seriously.
And, along with the social games on Facebook (like Zynga's Farmville), Rovio's skyrocketing success has fuelled the marketing world's fascination with games and "gamification." This is the buzz word du jour that simply means applying video-game-like features to non-gaming experiences, like advertising, PR or even direct mail.
Make it fun and rewarding, the theory goes, and the consumer will be motivated to do the required action (click here, buy now, tell a friend) as well as Like -- or even love -- the brand. Offer feedback, rewards, surprises. Make the interface intuitive, colorful, witty.
Computer games have a lot in common with the slot machines found in Las Vegas or Cannes' neighbour, Monte Carlo. The whirring noises, the bells, the lights that flash. Every user action is given feedback. But success is random. Intermittent rewards are one secret to addiction.
The science behind gameplay elements feeds in to the social media landscape and the new focus on dialog between consumers and corporations. Woe betide the brand which continues to push out marketing messages without listening hard to what people are actually saying about their product or service.
Angry Birds "has a loyal following that most brands would kill for," says Kuss
Angry Birds, like other top titles, has a loyal following that most brands would kill for. But it is not just the brilliant simplicity of the game that builds this loyalty.
Rovio's Peter Vesterbacka, a high-velocity executive with the official title of Mighty Eagle, and his team have built Angry Birds into an ever-expanding franchise with ambitions Walt Disney would be proud of.
Rovio is as obsessed with continuing to win players' hearts as we are with killing pigs. They answer every tweet. They build new versions as treats for major holidays. And Mr. Vesterbacka literally personifies the brand as he travels the world in his cheerful red Angry Bird sweatshirt.
Social interaction with customers and fans has become a part of overall customer service. Like all brand touch points, you can lose a customer for life with one disappointing experience. And with social, these interactions take place in public, so large groups can see exactly how you treat an individual.
In the last couple of years, the Cannes Lions judges have started to award their coveted statues to campaigns like VW's Fun Theory. This playful program alters physical city spaces in Stockholm by installing things like piano keys on stairs to make it fun for people to change their behaviour to a more environmentally friendly choice.
Most of us didn't get to dance on this charming staircase, but for those Swedes who did, you have to wonder if they knew it was brought to them by Volkswagen. Was the connection to the product clear? Did sales of environmentally friendly VWs go up in Stockholm?
Or did sales go up worldwide? The success of this campaign was driven not by the number of people who used the staircase, but by the millions who saw and shared the video. A local project turned into a global awareness campaign for VW with huge PR and social media amplification.
The ads of the future will look more like invitations to play than passive images on a page. As a consumer, you can now play creative director yourself and create a video for a brand, or post a review or share a link. Doritos is famous in America for their ongoing five-year-old "Crash the Superbowl" program. User-generated TV commercials get a slot on the Superbowl broadcast -- a spotlight that most agencies never achieve.
User-generated advertising and user-distributed marketing are becoming mainstream. For brands that are good at this, the benefits include true proof that we are listening to consumers and we value their input, opinion and creativity. Co-creation binds both parties together.
And with Angry Birds invading the Cannes Lions Festival to spread the secrets of building an infectious brand, advertising and marketing will only get more fun for consumers.
FOLLOW THIS TOPIC