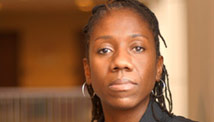 STORY HIGHLIGHTS
Sherrilyn A. Ifill: California could save millions of dollars by fixing its criminal justice system
Thousands of the state's 170,000 inmates are nonviolent drug offenders, says Ifill
Financially strapped states should stop incarcerating such offenders, she says
Ifill: U.S. is now home to the largest prison population of any nation on earth
Editor's note: Sherrilyn A. Ifill is a professor at the University of Maryland School of Law and the chair of the U.S. Programs Board of the Open Society Foundations.
(CNN) -- With a stroke of his pen last Thursday, Gov. Jerry Brown vetoed California's budget. Legislators, he said, had failed to take the "strong medicine" California needs to survive. But the state could easily save hundreds of millions of dollars by fixing its criminal justice system.
In California, the prison system costs about $45,000 per inmate annually. And nearly 10,000 of the state's 170,000 inmates are drug offenders who pose no threat to public safety. Criminal justice reform would help balance the budget and right wrongs that come at a grave human cost.
The people of California and other states must demand that their elected officials rewrite the criminal statutes and reform criminal justice policies that have bankrupted state coffers and produced miserable conditions in so many of our nation's jails. Governors and legislators of financially strapped states can no longer rationalize the cost of incarcerating thousands of people who pose little or no risk to society. We now spend more to incarcerate people than we do to educate our children.
The time has come for change -- and the United States Supreme Court has effectively said so.
Last month, in Brown v. Plata, the Supreme Court upheld a lower court decision requiring California to end overcrowding in its prisons. The majority opinion -- 52 pages, 3 photographs -- is a searing indictment of the death and disease inside California penitentiaries.
In one example, the opinion describes how two incarcerated people committed suicide by hanging themselves, "after being placed in cells that had been identified as requiring a simple fix to remove attachment points that could support a noose." The repair was not made, the court explained, "because doing so would involve removing prisoners from the cells, and there was no place to put them."
Brown v. Plata is not just an indictment of prison conditions in California. The decision is an indictment of criminal justice practices across the country that have, since 1980, resulted in an increase in the prison population so massive that it has become a national disgrace.
The United States is now home to the largest prison population of any nation on earth. The exponential increase in this population is a result of wrongheaded policies largely advanced as part of the so-called war on drugs. The burden of this endless and pointless "war" has been borne predominantly by blacks and Latinos.
Politicians campaign as "tough on crime" while our prisons swell with nonviolent drug offenders. Sentencing regimes are adopted based on the rules of baseball (California is home to one of the most onerous "three strikes" sentencing policies in the nation) rather than sound criminal justice policy or public safety.
The state budget crises have given some legislators and governors in California and other states pause to revisit criminal laws and criminal justice policy. One reform that can quickly help ease prison overcrowding is adjusting the array of technical parole violations that presently send parolees back to prison at an alarming rate for minor rule infractions.
Some parolees are returned to jail for missing an appointment with a parole officer or for failing a drug test. Since many people jailed for nonviolent drug crimes are drug addicts who received no effective drug treatment in prison, it should surprise no one that drug-addicted parolees begin using again upon release and subsequently fail their mandatory drug tests after being paroled.
Other parolees miss appointments with parole officers because they lack bus fare. Some miss because they have landed a job and cannot afford to risk absence from work to attend an inconveniently timed meeting with a parole officer. Others are returned to jail for failing to pay parole supervision fees of as much as $185 per month. Approximately 200,000 of the parolees sent back to prison every year are returned based on technical violations.
The fiscal and social cost for California -- for most of the United States -- is more than clear. Brown is right: California and other states do need to take strong medicine, and they should begin with criminal justice reform.
The opinions expressed in this commentary are solely those of Sherrilyn A. Ifill.
FOLLOW THIS TOPIC