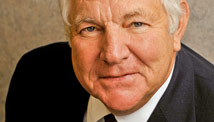 STORY HIGHLIGHTS
William Bennett: Murdoch has not been popular with the rest of the press
He says News Corp.'s outlets have generally tilted toward conservative line
He says misdeeds by Murdoch newspapers receive more attention than other journalistic sins
He says newspapers that published intelligence secrets should also be criticized
Editor's note: William J. Bennett is the Washington fellow of the Claremont Institute. He was U.S. secretary of education from 1985 to 1988 and was director of the Office of National Drug Control Policy under President George H.W. Bush.
(CNN) -- It's not a subjective point that most of the mainstream media has not liked media mogul Rupert Murdoch or his News Corp. empire, and for a very long time.
Part of this is based on competition and his company's success, but part of this is based on ideology and his conservative politics given the generally liberal disposition of the mainstream media (see here and here for just two examples of many reports on the media's liberal bias over the years).
Rupert Murdoch's organizations have run against this tide -- in part to combat it and in part as a culturally and business-oriented effort to provide another angle, a different disposition, an additional ideology.
Before anyone challenges the point of subjectivity, let me satisfy the equation: Much of News Corp.'s empire also goes after, does not like and challenges other media outlets, especially MSNBC and The New York Times. And, especially here in America, there can be no question that many -- but, not all -- of the shows on the Fox News Channel and the content of the Wall Street Journal editorial page and the New York Post (the domestic flagships of News Corp. in America) tilt conservative.
Opinion: Time for Murdoch to resign

News Corp. execs take the stand

Analyzing Rubert Murdoch's testimony
Given the scandal that has rocked News Corp. in Great Britain, however, it seems the journalist class in America has shown hypocrisy in their ethical attention within their own fourth-estate clubhouse.
It is impossible to defend or excuse what has been alleged and confessed to in the News of the World scandal unfolding by the day, but it is equally impossible to ignore that most other media outlets have been subject to nothing like the kind of examination and criticism Murdoch and News Corp. have received.
The double standard for journalistic integrity within the profession is simply too obvious to miss.
Every journalistic organization has had its ethical lapses and poor judgments -- some worse than others, some far worse than others. But the general reporting and commentary on such lapses and judgments has typically gone from muted to mild criticism in some cases, to defense and reward by other journalists.
Take two examples -- and we could fill pages and pages with others -- the WikiLeaks scandal, where another Australian-born journalist, Julian Assange, has released troves of classified material that have the potential to "put the lives of Americans and our partners at risk, and threaten our national security," according to the Obama administration.
It wasn't tapping peoples' phones, but the potential for damage from the WikiLeaks affair is much broader and far more trans-national. Indeed, it has been alleged that the disclosures have already caused great harm.
Was there much criticism of Assange, WikiLeaks or the papers that printed their material in the journalist community? There was not. Indeed, in some quarters, it was even urged Assange receive a Pulitzer.
Another: The New York Times did receive Pulitzers from its cohorts -- not criticism from its colleagues -- for disclosing national security intelligence on key anti-terrorism policies, reports that have caused other harms in the larger war effort.
We can all agree journalistic ethics are more fluid than a single standard would warrant. But the next time there is a lapse or series of lapses in the print media, it should not be too much to ask if the harms caused deserved awards and recognition or near-universal condemnation and, yes, the schadenfreude we've seen over Murdoch and News of the World (see here and here for obvious examples).
Of course saying this requires us to agree on what a lapse is. And, to date, there is still little agreement that the disclosure of war-time national security intelligence constitutes such a lapse while there seems to be agreement that the invasion of the privacy of politicians, royalty and private citizens does.
One cannot fairly compare the harms given the personal nature of what went on in Great Britain, emotional harm being so very difficult to quantify. But it does seem to me that it is time again for our journalist community to look in the mirror and ask what are the limits of the self-assured mission to publish information under the guise of "the right to know." Surely there are some, and they should take into account the public good just as much as the private.
The opinions expressed in this commentary are solely those of William J. Bennett.
FOLLOW THIS TOPIC