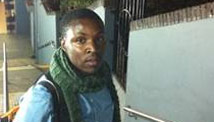 STORY HIGHLIGHTS
In Tottenham we have a strong tradition of activism and will have to draw on this tradition

The spirit that saw us overcome the deaths of Cynthia Jarrett and Keith Blakelock is all we have

Our real power is people power, we must reclaim the streets

We cannot afford to be divided in our pain and pursuit of justice and unity, says Brown
Editor's note: Symeon Brown is an activist and social commentator from Tottenham, north London. He is a co-founder of Haringey Young People Empowered -- a group that aims to improve youth and community relations and give young people a stake in the democratic process.
London (CNN) -- On Saturday night I learned via Twitter and text messages that the tide of history was again turning in Tottenham.
I was told Tottenham was burning and the old wounds of sectarianism between parts of the community and the police were beginning to reopen, 26 years after the Broadwater Farm riots, where both sides suffered the loss of lives.
I made my way to the front line, and saw years of hard work in flames before my eyes.
Much progress has been made since the Broadwater Farm riots. But the memory of war has never been something too easily lost and forgotten.
The Broadwater Farm riot is one memory, but more important are the memories of the disproportionate abuse of police power and in some cases deaths at the hands of the police.

Will naming and shaming looters work?

Cameron: Violence will be stopped

Why riot in London?

CNN captures video of store looting
The deaths of Kingsley Burrell in police custody in the West Midlands, of reggae singer Smiley Culture during a police raid on his home, and video showing Jody McIyntyre being dragged from his wheelchair and hit with a baton during student protests have recalled memories of police aggression of the 1980s, and with it raised questions of police legitimacy.
For parts of Tottenham's community, Mark Duggan's shooting by the police last week was Tottenham 2011's Cherry Groce and Cynthia Jarrett moment. (The shooting of Cherry Groce by police led to the 1985 Brixton Riot. The death of 49-year-old Cynthia Jarrett, who died as police searched her home, sparked the Broadwater Farm riots in the same year, during which policeman Keith Blakelock was hacked to death with a machete.)
A riot is more than the language of the unheard, it is the removal of consent to the state, its police and its systems. This no more evident than watching a handful of boys burn down the livelihoods of hundreds.
The questioning of police legitimacy was what started Tottenham's riot, however in a year of global protest this has since mutated into a mass act of civil destruction and disobedience by a group who have existed under the surface of Britain for years before "socially excluded" became a buzz word.
Often, "socially excluded" has been regular phraseology for those on the margins who have their own rules, hierarchies and codes, and the expectation of them to comply with democratic language is flawed.
Their language is not one of manifestos and policies.
Although produced by our consumerist culture, they have no stake or identification with this society, no interests and thus nothing to lose.
Although produced by our consumerist culture, they have no stake or identification with this society, no interests and thus nothing to lose.
--Symeon Brown
A moral judgment is easy: "They are wrong, people are suffering, they are selfish, they are thugs," but we are using a system that these boys do not comply with.
There are honest debates around social reform, citizenship and cultural capital that both the liberal left and conservative right are guilty of not having.
In Tottenham we have a strong tradition of activism and will have to draw on this tradition if we are to rebuild our community brick by brick.
Although we have lost buildings and landmarks that have been a part of Tottenham's heritage, the spirit that saw us overcome the deaths of Cynthia Jarrett and PC Blakelock in 1985 is all we have.
Our real power is people power, we must reclaim the streets.
This is a time for a national reflection on how our society produced such carnage and also a call for local peace and local action.
When I watched London burn it was clear of the need for police -- good community policing accountable and united with their community.
We cannot afford to be divided in our pain and pursuit of justice and unity that involves every aspect of our community - from our grass roots groups, our businesses, our politicians and our police.
Police need our consent, and the community needs good policing because the night Tottenham burned, all civilians needed each other.
The opinions expressed in this commentary are solely those of Symeon Brown.