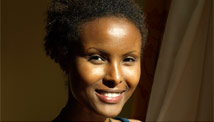 STORY HIGHLIGHTS
Health care staff working in conflict zones have become a target, Mire says

Policies are not adequate in complex conflicts and community engagement is needed

Many communities have their own norms of warfare that go beyond the Geneva Conventions

Unified community pressure can enable people hold the perpetrators accountable
Editor's note: Sohur Mire is a medical doctor with a particular research interest in healthcare provision in conflict and post-conflict countries. She grew up in Somalia before fleeing to Sweden and eventually settling in the UK.
(CNN) -- The exodus of international NGOs following their ban in South Somalia has denied civilians any relief from the vast impact of the famine.
Additionally, the attacks on local Somali doctors and health care workers not only discourage local doctors, but deter Somali doctors abroad from going back to help their people, eliminating a viable pool of human resources.
More than ever, Somalia needs health care workers to attend to those currently suffering the complications of the famine.
Though communities are themselves vulnerable to the violence, their local leaders, regardless of political background, should condemn the attacks on health care and medical facilities and discredit those who are responsible.
This is particularly important in a conflict where the fighting groups disregard their obligations under humanitarian laws.
The deliberate violence against health workers grabbed my attention in December 2009, when I read about the killing of Somali medical graduates in Mogadishu. I was shocked and angry to learn this happened on their graduation ceremony. It was a suicide bombing that had a devastating impact killing and injuring many civilians.
Photographer Andre Leon and Sohur Mire talk about the situation in Somalia


Saving lives, healing weapons in Somalia

Arab spring's effect on medical staff

Urgent need for aid in Somalia

Somali hospital runs low on aid
As someone who herself fled the war, I was all too aware of what these graduates have had to endure to pursue medicine in Mogadishu. They were studying in an environment of extreme violence and constant insecurity. It was a miracle that they even got to the point of graduating.
I recalled my own graduation, six months prior to theirs, and how it was one of the happiest days of my life. Hence, the image of their heart-breaking death and the fact that their community was now deprived of their much-needed contribution left me desperately sad.
The disappointing truth of the matter is that recently, health care staff working in conflict zones have become a target. It is a growing concern and examples of the attacks have been documented from numerous conflicts including Iraq, Afghanistan, Middle East, Bangladesh, and Colombia as well as previous conflicts such as the Balkan and Liberia.
The International Committee of the Red Cross has published a report on this problem and is running an international campaign to improve the protection of healthcare workers in conflict.
Read the opinion of the ICRC Director-General, Yves Daccord
In addition, the recent World Health Assembly meeting highlighted the issue through the expressed concerns of many NGOs. It also urged the World Health Organization to highlight the issue and advance the protection of health care workers, as well as create policies and improve documentation of violence.
Yet policies and documentation are not adequate in complex conflicts and community engagement is needed.
International Humanitarian laws have not been successfully applied in internal wars, as they have in international wars. Internal wars pose a challenge as they are often complex in structure and etiology and the war crimes are not always committed by a well-defined group with one ideology.
Usual tactics of sanctions may not be relevant as they seem to have alternative means of funding or acquire funds by force. In these circumstances, the international community seems to be often forced to choose to either focus on peace and reconciliation, or on justice and holding these perpetrators accountable. As the latter is often feared to worsen the conflict, the former is frequently adopted.
Many communities around the world have their own norms of warfare that go way beyond the Geneva Conventions.
--Sohur Mire
But the situation is not hopeless, and war is not a new thing only regulated at an international level. Many communities around the world have their own norms of warfare that go way beyond the Geneva Conventions. These acknowledge the protection of civilians and non-combatant individuals. In the Somali setting there is the "Birima gedo" code of warfare, where the sick, the wounded and the non-combatant individuals should always be spared the violence.
These were upheld by means of public pressure including naming and shaming of those who crossed the line.
The Birima gedo has been violated routinely in Somalia. Yet it was this sort of code of conduct that meant the killing of the Somali medical graduates was heavily condemned.
Unified community pressure can enable people hold the perpetrators accountable, and reduce the chances of further deliberate attacks on health care workers.
However, if health care workers are to be protected by the communities they serve, they should maintain neutrality and impartiality. This is particularly relevant in conflict zones where there is increased use of military medical initiatives alongside humanitarian medical initiatives.
This has, in some cases, created a blurring of boundaries between military objectives and humanitarian activities, for example in Iraq, Afghanistan and Libya.
In volatile conflicts like these, it is vital for humanitarian missions to preserve neutrality and impartiality to improve the safety of health workers.