STORY HIGHLIGHTS
Red Cross report documents violence against health care workers in conflict zones

Daccord: Violence against health workers is one of the most serious humanitarian issues

"In all too many cases, parties to conflict ... deliberately flout the laws that bind them"

This problem requires urgent international attention, Daccord says
Editor's note: Yves Daccord is Director-General of the International Committee of the Red Cross, based in Geneva.
Geneva (CNN) -- Nineteen-year-old Omar is an extraordinary young man.
Determined to help in whatever way he could in the face of the chaotic fighting and terrible casualties in his hometown of Misrata, he volunteered and was promptly given a run-down ambulance to drive.
With no previous experience, he jump-starts the ambulance and drives through hails of gunfire to pick up wounded fighters from the frontline, accompanied by medical personnel. Together, they come perilously close to becoming victims themselves.
When they arrive at the hospital, Omar witnesses distressing scenes. In very difficult conditions, harried medical staff do their best to treat large numbers of wounded civilians and fighters. Drugs and equipment are in desperately short supply. Children are among the victims. Grieving relatives mourn those who cannot be saved.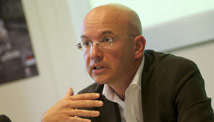 Yves Daccord
Omar repeats this experience all day, every day, and finally we see him lying, exhausted, on the ambulance stretcher, all but oblivious to the continuing gunfire around him.
A journalist captured Omar's experience -- and the dangers that he and his fellow healthcare workers face -- on film

.
Yet there are many thousands of others like Omar in Libya alone, many of them volunteers for the Red Crescent Society, whose experiences mostly go unrecorded and unreported.
In some cases, ambulances or hospitals are directly targeted, killing or wounding healthcare staff and patients. Earlier this year two ships carrying humanitarian aid and evacuating wounded people from Libya were shelled.

Ambulance driver risks life in Misrata

Saving lives, healing weapons in Somalia

Health workers in the crossfire

Arab spring's effect on medical staff
In many more cases, health workers are harassed or threatened by fighters, sometimes seeking to obstruct treatment for their wounded enemies, or demanding supplies. Ambulances are deliberately blocked from accessing wounded people, or held up for hours at checkpoints. Each incident effectively denies the right of wounded and sick people to healthcare.
This is happening in armed conflicts around the world on an alarming scale. From Colombia to Gaza, Somalia to Afghanistan, a blatant disrespect for the neutral status of health facilities, transport and personnel is all too common.
And this is true not only in situations of war. In some areas of Mexico, for example, criminal groups are regularly entering clinics and hospitals, carrying out targeted killings and abducting medical personnel.
The scale of the problem is revealed in a new report by the International Committee of the Red Cross. The report, based on research in 16 countries over an almost three-year period since 2008, documents violence against health care in its various forms.
But while the number of recorded incidents is striking, even more sobering is the realisation that these represent only the tip of the iceberg.
Watch a report about health workers under fire

Beyond the direct impact of attacks on health care infrastructure or workers, there are immeasurable longer-term repercussions on entire communities with war-related or chronic health problems.
Violence against healthcare facilities and personnel represents one of the most serious yet neglected humanitarian issues of today.
--Yves Daccord
To give just one example, the bomb blast that killed two doctors and numerous medical students at a graduation ceremony in the Somali capital, Mogadishu, in December 2009 resulted in much more than a tragic loss of life. It also represented the loss of many thousands of potential medical consultations per year in a country where healthcare infrastructure and services were already under perennial stress.
Violence against healthcare facilities and personnel represents one of the most serious yet neglected humanitarian issues of today. Not only is it morally reprehensible, it is illegal under international law.
Yet in all too many cases, parties to conflict and armed groups deliberately flout the laws that bind them. This problem requires urgent international attention.
When protective symbols such as the Red Cross or Red Crescent are blatantly ignored, no amount of sandbags or bomb-proof window covering will offer any real protection to healthcare workers or the facilities in which they work. The real challenge is to find ways to prevent violations from happening in the first place.
This is a daunting challenge, one that requires a concerted international effort to address. States, non-state actors, military forces, donors, humanitarian organisations, local communities and healthcare workers themselves all have a particular role to play in raising awareness of the terrible human cost of violence against healthcare, and in ensuring that it ends.
National legislators and courts must fulfil their responsibilities of ensuring that domestic legislation recognises the criminal responsibility of those who violate international humanitarian law, and of actually enforcing such legislation. Perpetrators of violations must be held accountable.
The time to act is now. It is a matter of life and death for many thousands of healthcare workers, like Omar, and the countless people who need their help.