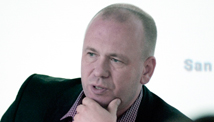 STORY HIGHLIGHTS
Reinier de Graaf says attempts to prevent climate change have thus far failed
Global warming is already impacting cities in the developing world, says architect
Graaf: But confronting CO2 emissions remains a luxury for cities like Kabul, Dhaka and Nairobi
De Graaf says a new body to deal with international climate stability is required
Reinier de Graaf is a Partner at the Office for Metropolitan Architecture (OMA), leading the office's work in sustainable and renewable energy planning through The WWF Energy Report, Russia: Beyond Oil and Gas, and Roadmap 2050, a project proposing a decarbonized European power grid.
London (CNN) -- A few years ago I came across a newspaper article about illegal human trafficking into the EU.
It was a number of personal anecdotes of people who had left their country of origin; mostly citing political oppression and poverty, but some also cited environmental reasons like flooding or drought.
There were graphic descriptions of the epic journeys undertaken and the large sums of money people owed, generally due to excessive interest loans taken out with their traffickers.
On the same page of the newspaper, there was an advert of a budget carrier airline. Some of the destinations on offer were the same as the origins of those trafficked, yet the rock-bottom priced airline tickets were a fraction of the cost some had incurred to travel the other way.
This presumably accidental combination of information on the single page of a newspaper -- showing how the same distance can be traveled for vastly different sums (with the most favorable financial conditions offered to those with most to spend) -- reveals in full the extreme asymmetry under which our world operates.
The most intense urban growth is now taking place in some of the world's most deprived parts
--Reinier de Graaf, architect
One wonders the extent to which our world can be generalized, or held accountable to, a single set of principles. This concept is particularly questionable when most of these principles are established by a small minority that can afford the luxury to be thinking about principles.
This inequity is perhaps most apparent through the (thus-far) failed attempts at establishing global principles to contain CO2 emissions, global warming and climate change. There is increasing evidence that in the next decades these will have a serious global impact; however, given the extent of daily troubles facing large parts of the world, worrying about general principles on CO2 emissions -- at least from the perspective of most -- remains a luxury at best.
The reality is that most of our world is not governed by principles, but by urgency. Nowhere does this urgency manifest more than in the city. Of the 27 cities predicted to have over 10 million inhabitants in 2020, 21 will be located in the developing world. The most intense urban growth is now taking place in some of the world's most deprived parts, with cities confronting a population explosion in the absence of an infrastructure able to deal with that explosion.
Let's take a look at three of the currently fastest growing urban regions in the world: Kabul, Dhaka and Nairobi. Kabul ranks fifth on the list of fastest growing cities, yet years of drought followed by continuous armed conflict have affected the city's supply of drinking water. With water sources polluted and overexploited, almost half of the population has no access to safe drinking water.
In Dhaka, rapid urban expansion coupled with a lack of a proper underground drainage system or waste disposal system has introduced "the organic pollution hazard:" A city consistently combating polluted surface water as the result of constant urban flooding.
Even after hosting the U.N. Conference on Climate Change in 2006, Nairobi continues to struggle with its own version of climate change: Although long considered immune from the malaria outbreaks due to its altitude and relatively low temperatures, a small increase in temperature has spurred a resurgence of highland malaria.
Climate change is now a matter of containment
--Reinier de Graaf, architect
The urban regions listed above, each in their own right, exemplify the same weird irony, each of their problems -- drought (Kabul), flooding (Dhaka) and disease (Nairobi) -- can be rationalized by the fact that climate change is already taking effect; yet compelled by their more immediate problems, none of these regions is in a position to prioritize the measures to help prevent climate change.
The world would like these regions to commit to addressing climate change in the long term; however, given that for many the short-term effects are already in the way of contemplating a long-term solution, one wonders if there is universally applicable approach to address it?
The answer, in short, is that there is not. The meager results of Kyoto, Copenhagen and Cancun make a compelling case for giving up the dogma of a universal approach. It seems a mission impossible to organize global solidarity in a vastly asymmetrical world.
It is the first inalienable right of those who emancipate to copy the earlier mistakes of those who they are emulating. Just like the West did before, the developing world is likely to go through a phase of heavy environmental pollution and thus, when it comes to climate change, likely to contribute to the problem before it can contribute to the solution.
Climate change is now a matter of containment. Summits or conferences contemplating long-term solutions simply won't do. In the short term, it might be more opportune to agree on the formation of a permanent political body with a real mandate to intervene in the face the world's most prevailing ecological threats: A body that by its very nature is designed to deal with urgencies as they arise.
In the end, it could well take an ecological equivalent to the U.N. Security Council, charged with the maintenance of international climate stability to create the realpolitik that climate change will inevitably have to become subject to.
FOLLOW THIS TOPIC