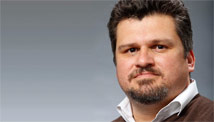 STORY HIGHLIGHTS
Ruben Navarrette: Obama's plan to issue work permits to some facing deportation is confusing
It's meant to help the worthy and get criminals out, but details are hard to come by, he says
Progressives think it means reprieves; conservatives call it a back-door amnesty, he writes
Navarrette: Policy tries to be tough and compassionate at the same time but won't do much
Editor's note: Ruben Navarrette Jr. writes a weekly column for CNN.com and is a nationally syndicated columnist.
San Diego (CNN) -- How cruel can the Obama administration be to illegal immigrants, as well as to their families and supporters?
This cruel: For the sake of politics, it offers false hope to the desperate. It takes a meager offering and a minor tweaking of immigration policy, dresses it up with bows and ribbons and bills it as part of a grand "21st century immigration system." But because the administration can't be pinned down on specifics as to how the new policy will work, no one can tell whether this is one step forward -- or two steps back.
And how desperate are many illegal immigrants in the United States to get a simple work permit -- not citizenship mind you, just a slip of paper allowing them to pick avocados, milk cows, clean horse stalls, clean windows atop skyscrapers, slaughter cattle or do any other dirty and dangerous job that most Americans won't do for any amount of money?
This desperate: Having heard that the Obama administration would suspend deportations and issue work permits for some facing deportation, some illegal immigrants are reportedly thinking of turning themselves in to immigration officials so they can work legally in the United States.
The bizarre revelation comes courtesy of Univision anchor Jorge Ramos who -- along with producers of the network's Sunday morning talk show "Al Punto" -- did a phenomenal job of separating myth from reality in discussing the new changes in the administration's immigration policy. Ramos told viewers that he had received, via Twitter, many inquiries asking whether the undocumented should allow themselves to get arrested so they could have a shot at getting a work permit.
Look, I'm the son of a retired cop who spent 37 years on the job and someone who supports deporting illegal immigrants as long as we don't outsource immigration enforcement to local police and handle the process according to the rules. So I could make the argument that illegal immigrants should turn themselves in to law enforcement, or for that matter go home on their own, because it's the right thing to do.
But they shouldn't do it because they expect to get something in return from the Obama administration. In trying to be both tough and compassionate, Team Obama has made complete hash of its immigration policy.
One minute, Obama is insisting that he supports comprehensive immigration reform; the next, he is doubling down on the failed strategy of "enforcement only."
Last week, it was announced that the Department of Homeland Security would review about 300,000 deportation cases in the pipeline to see whether any of those individuals should stay here and be given a work permit. It'll be done on a case-by-case basis, and the administration hasn't provided any details on how it will work.
Officials will say that the groups most likely to benefit are military veterans, their spouses and so-called "DREAMers" -- college students who might have been eligible for legal status under the DREAM Act if five Senate Democrats hadn't scuttled the bill in December. The administration claims to be exercising "prosecutorial discretion" and focusing resources on the removal of criminals who -- after committing the civil infraction of violating immigration laws -- graduated to committing actual crimes such as robbery, rape, assault or other serious offenses.
And yet, in March, during a town hall meeting for the Spanish-language television network Univision, Obama insisted that deportations of "noncriminals" were down and that he wanted young people who are undocumented but "doing all the right things" to succeed. He also said that despite calls for him to use his executive power to exempt certain groups from deportation, including college students, he could do no such thing because it "would not conform with my appropriate role as president."
So basically, the Obama administration is doing what the president claimed that branch of government didn't have the power to do and stopping the deportation of people who he implied were never really in much danger of being deported in the first place.
Then the extremists in both camps get hold of an issue like this, and they twist the facts even more to advance their agendas. The left hopes for the best and assume that the administration was ending all deportations and handing out millions of reprieves. The right fears the worst and jumps to the conclusion that the administration was handing out "mass deportation waivers" and pushing through a "silent amnesty."
Calm down, folks. Neither scenario is true. Some people are likely to benefit from the new rules. In fact, some already have. But, the number of beneficiaries isn't going to be very big.
Two reasons: First, at least for now, the only people who are eligible for this special dispensation are the 300,000 people in federal custody; the changes don't apply to anyone who might be apprehended in the future. Second, if you're in custody but you're not a member of one of three groups -- a DREAMer, a military veteran or the spouse of a veteran -- chances are you're not going anywhere. Except to your country of origin.
Nothing wrong with that. These people are here illegally, and deportation is often the appropriate punishment. However, there is something wrong with an administration that by refusing to give details on its new policy raises false hopes and plays with people's lives.
The opinions expressed in this commentary are solely those of Ruben Navarrette Jr.