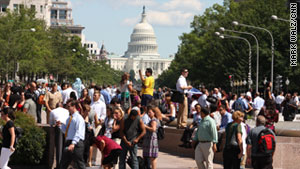 After Tuesday's quake in Washington, people left buildings, packing sidewalks and even spilling into streets.
STORY HIGHLIGHTS
Irene showed that with time to prepare, most people can take appropriate action, authors say
But, they say, sudden quake showed that people, businesses and government weren't ready
They say Metro was a bright spot amid haphazard post-quake evacuations and panic
Lesson: D.C. isn't nearly as well-prepared for sudden disasters as it should be, they say
Editor's note: Lynn Davis is director of the Washington office of the RAND Corp., and Art Kellermann, MD, is vice president and director of health programs at the nonprofit institution, which researches and analyzes policy and decision-making.
(CNN) -- Fortunately for the national capital region, Hurricane Irene and the East Coast earthquake proved to be relatively minor events, as far as disasters go. There was some damage, and there have been no reports of serious injuries or deaths in the Washington area from either event.
But before everyone breathes a sigh of relief and resumes their daily routines, it would be wise to reflect on how people responded to what were, at the end of the day, dress rehearsals for much bigger events. If we fail to do that, we will miss an invaluable opportunity to draw valuable lessons.
What Irene showed is that with a bit of lead time and clear advice about what to do, most people take appropriate action. But the East Coast earthquake -- a sudden and unexpected event -- triggered a far more chaotic response by many people, businesses, and even some offices of the U.S. government.
Immediately after Tuesday's temblor, panic, rather than considered action, was widespread. Not knowing what to do, tens of thousands of people fled buildings (or were ordered to evacuate) and ended up packing downtown sidewalks and even spilling into the streets.
In most instances, this is precisely the wrong thing to do. U.S. office buildings are designed to withstand an earthquake without collapsing like so many buildings in Haiti did. Even in big quakes, it is generally safer to ride out the shaking inside, rather than running outside, where there's the potential of being hit by falling shards of glass and building debris.

Napolitano: Teachable moments from quake

Washington Monument cracked after quake
Evacuations were ordered without regard to whether this was necessary or wise. As a result, streets and highways quickly became gridlocked with traffic. Coordination of U.S. government employees was delayed -- and then, by suggesting that staff be dismissed all at once, contributed to even more massive traffic jams. As a result, orderly review of the safety of structures and utilities was put in jeopardy.
This time, Metro was a bright spot. Washington's subway system calmly measured the situation, gave frequent updates to passengers and kept running, albeit at a prudently reduced speed. It can hardly be blamed for the surge of passengers who all wanted to get home at once.
Hurricane Irene arrived after several days of warning. It prompted well-rehearsed preparations (even perhaps some over-preparation). The area had moderate flooding, downed trees and power outages. A well-advertised storm -- especially one that does not realize its full potential and does not make a direct hit -- is something Washington can handle.
But events such as earthquakes, tornadoes and terrorist attacks strike without warning. That makes it particularly important to think out in advance what you'd do. In most instances, the best choice is to shelter in place, at least until the source and severity of the threat are clear and guidance is received. And when a really big event occurs, it's important for all of us to recognize that we'll be on our own for many hours, if not several days.
Information about what to do can be found at www.ready.gov and other official websites. Guidance about what to do in a terrorist attack involving weapons of mass destruction can be found in a RAND Corporation pocket guide.
Irene shows that we are reasonably well-equipped to manage severe weather, provided we have ample notice and the storm is not of overwhelming magnitude. However, an altogether different lesson emerged from Tuesday's quake: We aren't nearly as well-prepared for sudden events as we should be.
Events like Tuesday's earthquake provide a more valid test of our preparedness than the most elaborately staged disaster drill. But they are valuable only if we learn from them and use the insights they provide to do better next time.
The opinions expressed in this commentary are solely those of Lynn Davis and Art Kellermann.
FOLLOW THIS TOPIC