Obama, don't cave to Boehner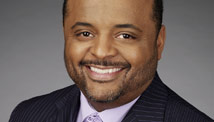 STORY HIGHLIGHTS
Roland Martin: In Obama's Chicago days, he knew how to take issues to streets
Now he wants to address joint session of Congress; Boehner wants a different date
Martin: Obama should ignore Boehner, take jobs message straight to Americans
Martin: Mr. President, show Americans who's boss
Editor's note: Roland S. Martin is a syndicated columnist and author of "The First: President Barack Obama's Road to the White House." He is a commentator for TV One cable network and host/managing editor of its Sunday morning news show, "Washington Watch with Roland Martin."
(CNN) -- When President Barack Obama was a community organizer in Chicago and the powers that be were ignoring the voice of the people, he and others would lead the regular folks to the streets to show their dissatisfaction with the status quo.
Now that House Speaker John Boehner has tried to trump the president in his request to speak before a joint session of Congress on Wednesday, citing "security" concerns, Obama should ignore them and make his major jobs bill announcement before real Americans who, unlike Congress, don't have regular jobs, don't earn a taxpayer-funded six-figure check, didn't take a five-week vacation, don't have the best health care taxpayers can buy and can't count on a wonderful taxpayer-provided pension.
Dispute erupts over timing of Obama address to Congress
If Obama is about showing a renewed toughness with Congress, this is where it starts. It's time for him to use the power of the presidency and assert himself. Forget "No Drama Obama." Chuck out the window the cool, cautious demeanor his staff loves to trumpet. Maybe going a little rogue will help revitalize his presidency, in which he's increasingly seen as leading from behind.
The president's staff members should pick a location in Washington, Maryland or Virginia, invite the public, set aside a space for members of Congress who choose to attend -- and ignore Boehner. Obama should make a strong appeal for his plan and tell the American people to get behind it and make it clear that it is what he thinks is best for the country.

Obama moves jobs speech to September 8

Bachmann: 'President showing insecurity'
For months, we have heard Republicans and Democrats insist that there is no more important issue in this country. But Congress sure didn't mind taking off five weeks as a sign that it cares about jobs. So who cares if there is a GOP presidential debate on Wednesday? On Thursday, the date Boehner has offered as an alternative, the NFL season starts. Every day of the week, we can come up with a conflict with some event that is significant to someone.
Boehner, there is no perfect day for such a speech. With unemployment hovering above 9% and homes continuing to be foreclosed on, you need to stop with the games. It's time that a comprehensive jobs plan is put on the table, and it's time for Congress to act.
And no, whining about regulations to protect the fat cats on Wall Street who screwed the nation with their fancy financial schemes doesn't cut it, Boehner.
Mr. President, its time you show who is boss. If Boehner wants to reject the date you have presented, fine. But if this president is tired of being disrespected and forced to do things on the terms of his critics, he should take this speech to the streets.
Mr. President, don't just quote the Rev. Martin Luther King Jr. Be willing to lead the people in mass resistance against do-nothing congressmen and -women more focused on keeping their own jobs than the condition of the poor, disenfranchised and destitute.
The opinions expressed in this commentary are solely those of Roland Martin.
FOLLOW THIS TOPIC