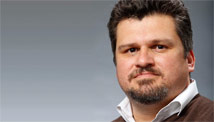 STORY HIGHLIGHTS
Ruben Navarrette Jr. says Rick Perry's presence seemed to give GOP debate a new spirit
He says candidates talked tough on immigration, didn't say what to do about immigrants here
Navarrette: Jon Huntsman, Newt Gingrich gave grown-up responses pleasing to audience
Navarrette: Perry declared Social Security "monstrous lie" but offered no solution
Editor's note: Ruben Navarrette Jr. writes a weekly column for CNN.com and is a nationally syndicated columnist.
San Diego (CNN) -- Wednesday night's GOP presidential debate at the Ronald Reagan Presidential Foundation and Library in Simi Valley, California, produced some strange happenings.
First of all, in keeping with one of the great culinary traditions of the state, someone obviously slipped some hot sauce into the dinner entrees. This was, by far, one of the most spirited and combative -- and thus one of the most entertaining -- debates thus far. For that, much of the credit goes to Texas Gov. Rick Perry. Who knew that all you needed to spice up this race was a Texas tornado who skyrocketed to the top of the polls?
At least three surveys show Perry leading the competition going into the debate. The Politico/George Washington University Battleground Poll has Perry atop the field with 36%, followed by former Massachusetts Gov. Mitt Romney at 17%. An NBC News/Wall Street Journal poll found that Perry was the choice of 38% of respondents, followed by Romney at 23%.
And a Washington Post/ABC News poll showed Perry leading at 27% among Republicans and independents that lean toward the GOP, with Romney following behind at 22%.
Remember the first debate in South Carolina in May when former Minnesota Gov. Tim Pawlenty, who has since left the race, turned down the opportunity to criticize Romney to his face? Me neither. Not after Wednesday night.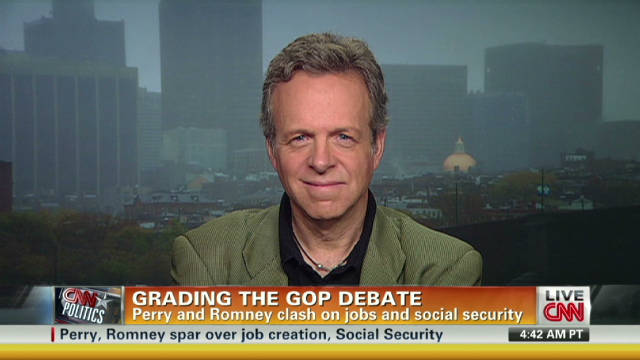 Grading the latest GOP debate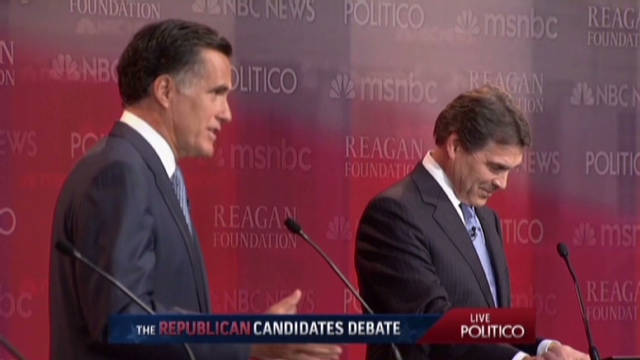 Perry, Romney square off in debate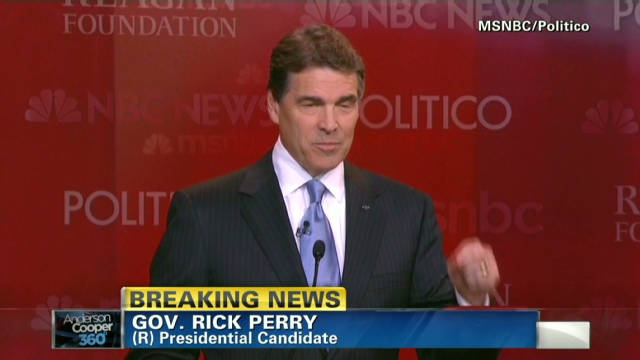 Is Perry talking too provocatively?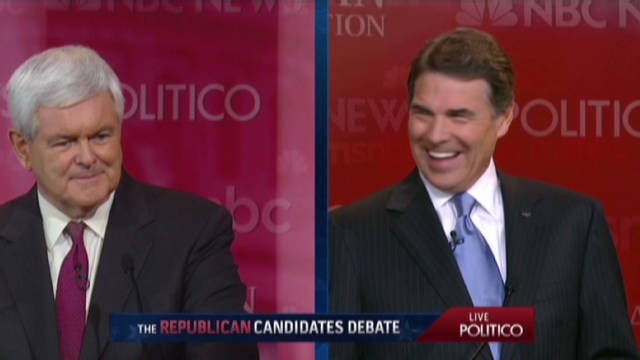 Chuckles from the GOP debate
Next, given the venue, most of the candidates somehow managed to bask in the glory of Ronald Reagan while offering some discernibly non-Reaganesque answers to difficult problems.
Like, for instance, illegal immigration. Reagan signed into law a 1986 bill that granted amnesty to an estimated 3 million illegal immigrants, but most of the Republicans onstage Wednesday night played to the tea party fringe by reciting the empty pledge to secure the border before deciding what we should do with the estimated 10.3 million illegal immigrants who already live in this country.
Perry's night of "duck the question"
And what if the border is never secured? Well, that just means we can continue to kick the can down the road for another couple of decades without forcing politicians to take a stand on controversial issues that might make them unpopular with a small but vocal segment of the GOP base.
The candidates' responses on immigration came after NBC News' Brian Williams and Politico's John Harris outsourced that part of the debate to Telemundo anchor Jose Diaz-Balart, proving once again that Spanish-language journalists sometimes do jobs that mainstream journalists won't do. They could have saved themselves the trouble if they would have just let Diaz-Balart sit at the grown-up table to begin with.
Also, it was weird that, while the two front-runners, Romney and Perry, were slugging it out, the candidates who really shone were two people who the media assures us don't have a chance at winning the nomination: former House Speaker Newt Gingrich and former Utah Gov. Jon Huntsman Jr.
Gingrich won audience applause by admonishing the media for trying to divide the Republican Party and insisting that all the candidates were united in their determination to defeat President Barack Obama. Huntsman smoothly waded into the Perry-Romney slugfest by tooting his own horn on creating jobs and other successes, while also giving credit to his opponents for what they did right.
Any more of this kind of grown-up talk, and we'll all be wondering whether it isn't a mistake for the political experts to have already declared this contest essentially a two-man race between Perry and Romney.
And finally, it was weird that Perry, having been pushed to defend comments he made in his book blasting Social Security as a "Ponzi scheme," missed the chance to make the argument more effectively. Perry called America's most beloved entitlement program a "monstrous lie" since it promises young Americans that it's going to pay out benefits than aren't likely to materialize under the current funding system.
That's all? Perry could have, and should have, zeroed in on the real generational problem with Social Security: Young workers who are now in their teens, 20s and 30s are likely to pay ridiculously high payroll taxes just to keep the current system afloat.
The cost of supporting one retiree was split between 42 workers in 1946. Today, we're edging toward the point where it will take two workers to support each retiree. That means more strain -- that is, higher taxes -- on each person who is still working. The trouble begins as early as 2016 when, experts say, more will be going out in benefits than will be coming into government coffers as payroll taxes.
Call it what you want, but someone needs to talk about how this doesn't all pencil out. Perry came close to having that conversation Wednesday night, but then he veered off into other territory. At some point, he should wander back -- and take the country with him.
Overall, the Republicans turned in a good performance and did a fine job of drawing contrasts between their views and those of Obama. But let's not get ahead of ourselves. Before the Republicans get to face off against the Democratic incumbent, they'll need to settle on a nominee.
That will be easy. As we saw Wednesday night, the tough part will be settling their differences.
The opinions expressed in this commentary are solely those of Ruben Navarrette Jr.
FOLLOW THIS TOPIC