Shooting victim apologizes for 'misplaced outrage' at Tea Party leader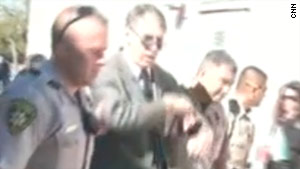 James Fuller, center, was involuntarily committed to a mental health facility after the incident.
STORY HIGHLIGHTS
Fuller: "It was not in spirit of our allegiance"
Arizonan was committed for a psychiatric evaluation
Fuller was one of 13 wounded in the Tucson shooting that killed 6
Tucson, Arizona (CNN) -- Arizona shooting victim James Eric Fuller sent his apologies Monday for telling a Tea Party leader, "you are dead."
Dorothy DeRuyter, a companion of Fuller's, provided CNN with a statement.
"I would like to tender my sincerest apologies to Mr. (Trent) Humphries for my misplaced outrage on Saturday at the St. Odelia's town meeting," Fuller said in the statement. "It was not in the spirit of our allegiance and warm feelings to each other as citizens of our great country."
Fuller, 63, was involuntarily committed to a county mental health facility after he photographed Tucson Tea Party founder Humphries and said, "You are dead" when Humphries began speaking at the event.
Fuller "is apologetic and very sad" about his outburst, DeRuyter said. "He wishes he could go back and do things differently," she said.

Giffords' husband talks wife's recovery

New details surface in Tucson shooting
Humphries said Fuller's comment came when the town hall discussion turned to gun control.
"I was asked to give my thoughts on gun control laws and perhaps the passage of new laws," Humphries said of the incident. "I said something to the effect that although gun rights and laws are not necessarily the primary focus of the Tucson Tea Party, our community needs to be given the opportunity to allow some time to pass and people to heal before we start this type of political dialogue."
Fuller, one of 13 people wounded in the January 8 shooting that left six people dead and Rep. Gabrielle Giffords in critical condition, is a disabled veteran and former volunteer for Giffords' campaign.
Giffords is still hospitalized, but her condition has been improved to serious.
Fuller, who was shot in the knee, had been very vocal since the incident, blaming rhetoric from the right for the shooting. Jared Loughner, 22, has been charged in the shooting, but no evidence has been found that could link a motive to incendiary rhetoric.
From CNN's Tom Laabs.
FOLLOW THIS TOPIC


Part of complete coverage on

In the days and weeks to come, Rep. Gabrielle Giffords' recovery from a gunshot wound to the head will be a marathon, not a sprint, doctors say.

Doctors for Rep. Gabrielle Giffords have upgraded her condition from serious to good, and said she may be transferred to a nearby rehabilitation hospital Wednesday morning.

A federal judge entered a plea of not guilty Monday on behalf of Jared Lee Loughner to three counts of attempted murder in the mass shooting that wounded U.S. Rep. Gabrielle Giffords earlier this month.

Gabrielle Giffords has been able to stand with assistance. "She's activating her muscles even more than what I had anticipated," one doctor says.

Rep. Gabrielle Giffords arrived in Houston, Texas, on Friday to continue her recovery from a gunshot wound to the brain, her office said.

The next phase of recovery for U.S. Rep. Gabrielle Giffords is likely to begin later this week when she will be transported to a rehabilitation hospital in Houston.

Rep. Gabrielle Giffords was worried about her safety long before she was critically wounded in a mass shooting that killed six people in Arizona, her husband said in a new interview.

Arizona shooting suspect Jared Loughner photographed himself posing with a 9mm handgun while wearing a red G-string, a law enforcement source said.


Today's five most popular stories