CNN Fact Check: Paying for that 'Sputnik moment'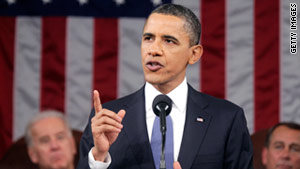 In his State of the Union address, President Obama suggested getting rid of tax breaks for the oil industry.
STORY HIGHLIGHTS
Obama proposed ending oil industry tax breaks to fund energy research
Two previous calls by the administration for the same thing went nowhere
Obama voted for tax breaks as a senator
(CNN) -- On Tuesday night, President Barack Obama urged Americans to "win the future," holding out a vision of a federal government fostering advances in science and technology as it did during the days of the space race.
But the kind of "Sputnik moment" that Obama proposed costs money, at a time when the Republicans who control the House of Representatives are clamoring for spending cuts. So in his State of the Union address, the president suggested getting rid of tax breaks for the oil industry to pay for it.
"I don't know if you've noticed, but they're doing just fine on their own," he said. "So instead of subsidizing yesterday's energy, let's invest in tomorrow's."
Fact Check: So you want to kill the oil industry's tax breaks ...
-- Good luck. Oil companies may be unpopular, particularly after BP's undersea gusher in the Gulf of Mexico last summer. But the industry contributed more than $18 million to federal candidates -- about three-quarters of them Republicans, already tax-averse -- in 2010, and spent an estimated $175 million on lobbyists in 2009, according to data compiled by the Center for Responsive Politics.
-- Ask Obama himself. Tuesday's speech marked his third swing at this series of tax breaks, following failed attempts at repealing them in 2009 and 2010. His 2010 proposal put the estimated cost of those provisions at $36 billion over 10 years.
-- In fact, as a senator from Illinois, Obama voted for one of the last big rounds of tax breaks for the industry. He wasn't particularly happy with that part of the Energy Policy Act of 2005, complaining that it did "virtually nothing" to reduce U.S. oil consumption. But the bill included support for two of his home-state industries, coal and and corn-based ethanol.
Bottom line:
Obama has been down this road before and run out of fuel.