STORY HIGHLIGHTS
Digital revolutionaries use social networking to inspire would-be activists
Entire region is grappling with rising unemployment
Demographic shift in region in which a sizable majority of the population is under 35
(CNN) -- The-cat-and mouse game between protesters and governments in the Mideast and North Africa is not just taking place in the streets.
Some regimes, including Egypt's, have limited internet and cell phone service as they realized that the voice of protest is amplified through social media and on the Web -- though recent reports suggest some services are back up in Egypt.
Young digital revolutionaries are using social networking to both share their best practices and inspire would-be activists throughout the region -- so-called "liberation technology."
The entire region is grappling with rising unemployment and a huge demographic shift in which a sizable majority of the population is under 35.
After watching the fates of Egypt's President Hosni Mubarak and Tunisia's Zine El Abidine Ben Ali, some leaders in the region previously opposed to reform are bartering and negotiating concessions as if in an Arab bazaar.
On Tuesday, Jordan's King Abdullah dismissed his government following protests in recent weeks in which several thousand people demanded economic and political reforms.

CNN crew attacked in Cairo

Military leaves, clashes heat up again

Cairo streets turn to 'utter chaos'

Google connects Egyptians to Twitter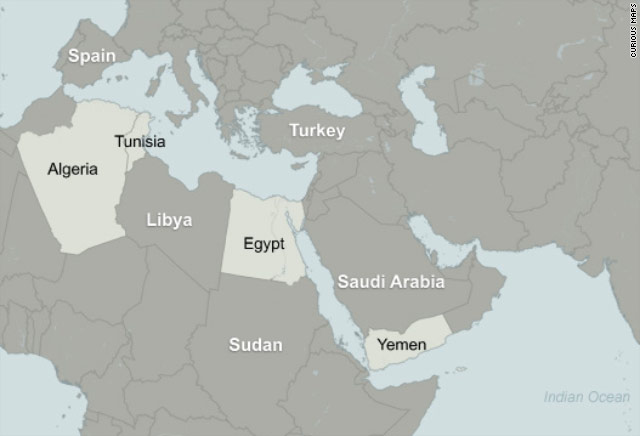 At a glance: Nations facing unrest
Syrian President Bashar al-Assad said in an interview with the Wall Street Journal that leaders must "see the need of reform" before protests like those in Egypt and Tunisia break out, because by then "it's too late to do any reform."
There have also been protests of various sizes in Algeria, Yemen and Sudan.
The ability of ordinary Arab citizens to cause this kind of change has produced a whole new "can-do" mind-set in the Arab psyche and a level of Arab solidarity that has surprised many longtime Middle East hands.
While the economic and social frustrations are a common thread, each nation has a different structure, population, and set of challenges. This is why although the reverberations of the events in Egypt are rippling through the region, experts caution against predicting a so-called "domino theory," in which Arab regimes continue to fall.
Emile Hokayem, with the International Institute for Strategic Studies notes that Tunisia, Egypt and Yemen are officially republics, and leaders were gearing up for successions by bringing their children to power, sparking fury and frustration in an underserved population. Yet monarchies, such as those in Morocco, Jordan and Saudi Arabia still have strong tribal connections and maintain a degree of legitimacy which makes uprisings in those countries less likely, said Hokayem.
Still, Parag Khanna, author of "How to Run the World: Charting a Course to the Next Renaissance" and a senior fellow at the New America Foundation, suggests a "domino" may not be a bad thing.
"Replacing autocracy with democracy and ideology with pragmatism would be a big step forward for much of the Arab world. We should welcome this ushering in of a new era," said Khanna.
"This is the kind of fresh, young secular Arabism the West should get behind -- liberating them from the squeeze between autocrats and would-be theocrats."
FOLLOW THIS TOPIC