House defeats bill extending Patriot Act provisions until December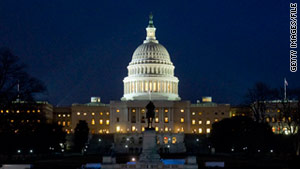 The White House prefers an extension longer than what failed to win approval in the U.S. House on Tuesday.
STORY HIGHLIGHTS
The bill falls short of the two-thirds majority needed to pass
The White House and Democrats prefer a longer extension
The provisions are scheduled to expire in March
Washington (CNN) -- A bill to extend three provisions of the Patriot Act and Intelligence Reform bill that are due to expire next month failed to win approval Tuesday from the U.S. House of Representatives.
The House voted 277-148 in favor of the bill, which fell short of the 284 votes needed to pass, because it was considered under a House rule that required a two-thirds majority.
In the vote, 26 Republicans joined 122 Democrats in opposing the bill that would have extended the provisions through December 8.
The White House and some Democrats prefer a longer extension of the three provisions, through 2013, and Senate Democrats are expected to propose legislation calling for such an extension.
Some House Republicans argued for a permanent extension of these items, saying they give law enforcement the necessary tools to fight terrorism. However, Republican aides said the party's leadership in the House opted to propose an extension into December to have more time to hold committee hearings on the current law and ensure that new House members were familiar with it before they voted on a longer extension.
Many of the 26 Republicans who voted against the bill Tuesday were new House members.
"The intelligence and law enforcement communities that are responsible for preventing terrorist attacks need to know that the tools they rely on to keep the American people safe will not be weakened or allowed to expire," House Judiciary Chairman Committee Lamar Smith argued. "This short-term extension is a step toward the long-term re-authorization of important and necessary national security provisions. It gives Congress time for an open and meaningful debate, while ensuring that our law enforcement and intelligence communities can continue to prevent attacks and save lives," said Smith, a Texas Republican.
One of the three provisions, Section 206 of the Patriot Act, provides for roving wiretap surveillance of targets who try to thwart Foreign Intelligence Surveillance Act (FISA) surveillance. Without such roving wiretap authority, investigators would be forced to seek a new court order each time they need to change the location, phone or computer that needs to be monitored.
Another provision, Section 215, allows the FBI to apply to the FISA court to issue orders granting the government access to any tangible items in foreign intelligence, international terrorism and clandestine intelligence cases.
The third provision, Section 6001 of the Intelligence Reform and Terrorist Prevention Act of 2004, closes a loophole that could allow individual terrorists not affiliated with specific organizations to slip through the cracks of FISA surveillance. Law enforcement officials refer to it as the "lone wolf" provision.
FOLLOW THIS TOPIC