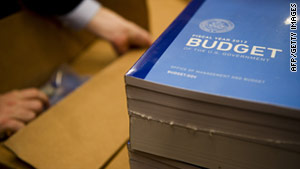 With pressure to cut spending in Washington, Defense and State department officials are seeking more funding this year.
STORY HIGHLIGHTS
Budget documents show an overall increase for the national security sector
The Defense Department is asking for $553 billion for fiscal 2012
As DoD pulls back from Iraq, State Department will increase its responsibilities there
State is seeking $5.2 billion for Iraq
Washington (CNN) -- As the Obama administration rolled out its 2012 budget proposals, Defense and State department officials were continuing to fight for more funding for the current year as well.
Amidst a national outcry to reduce federal spending, the latest budget documents show an an overall increase for the national security sector. In addition to a $4 billion increase for the Defense Department for fiscal 2012, the Department of Veterans Affairs increases 10.6% to $61.85 billion and the State Department is set to increase by 1% to $47 billion.
The Department of Defense is asking for $553 billion for the 2012 fiscal year beginning in October. That's up slightly from $549 billion that was requested for 2011 -- but because of the legislative impasse, the department instead has been forced to hold at 2010 level of $526 billion.
Defense Secretary Robert Gates pledged that the department's new budget will preserve the fighting strength of the U.S. military at a time of fiscal stress.
"This budget represents a reasonable, responsible and sustainable level of funding, the minimum level of defense spending that is necessary, given the security challenges we are facing around the globe," Gates said in a statement provided Monday on top of a six-inch high stack of supporting documents.
The wars in Iraq and Afghanistan are covered separately, with a $118 billion set-aside for next year, in a newly configured budget section called "Overseas Contingency Operations," which lumps together Defense, State and U.S. Agency for International Development (USAID) costs for the two wars. That is more than $41 billion less than fiscal 2011, mostly due to the withdrawal of troops from Iraq by the end of this calendar year.
As the Defense Department pulls back from Iraq, the State Department will increase its responsibilities.
Under the Overseas Contingency Operations segment of the budget, State is seeking $8.7 billion -- "$2.2 billion is for Afghanistan, $1.2 billion is for Pakistan, and $5.2 billion is for Iraq. The increase associated with the Department of State is more than offset by reduced costs for the Department of Defense," the budget document says.
But the State Department faces a political fight to retain funding for operations overseas.
House Republicans are proposing significant cuts -- a proposal that was decried by Secretary of State Hillary Clinton in a letter to the chairman of the House Appropriations committee, Rep. Harold Rogers, R-Kentucky.
"Cuts of this magnitude will be devastating to our national security, will render us unable to respond to unanticipated disasters, and will damage our leadership around the world," Clinton said in the letter.
Later when Clinton was on Capitol Hill she said that as a former lawmaker herself, she understands the tight budget environment. "But the scope of the proposed House cuts is massive," Clinton said. "The truth is that cuts of that level will be detrimental to America's national security."
While a majority of Americans -- 85% -- believe preventing cuts to veterans is more important than cutting the deficit, it is almost the inverse for foreign aid, according to a recent CNN/Opinion Research poll. The late January poll found 81% say it's more important to reduce the deficit.
Gates again gave Congress a nudge about the lack of a formal budget for this year. The congressional "continuing resolution" freezes money at last year's levels and denies authority for new programs and equipment. The Pentagon release accompanying the budget documents warned of "delays and inefficient, start-and-stop management."
And Gates warned during his budget briefing and question-session with journalists on Monday that not giving more money for 2011 would soon turn into a "crisis."
For the first time, Gates spelled out a possible compromise with Congress, saying he needs $540 billion of the $549 billion the Pentagon was expecting this year. Members of Congress already are discussing behind closed doors, according to aides, how to thrash out some middle ground that would also allow the Defense Department to move forward with projects now frozen.
"Based on a number of factors, including policy changes that lead to lower personnel costs and reduced activity forced by the continuing resolution, I believe the department can get by with a lower number," Gates said.
Critics of Secretary Gates and the present level of Defense Department spending said that Monday's budget request is still too large.
"His budget is still very fat," said Winslow Wheeler of the Washington-based Center for Defense Information.
Wheeler has released a handbook called "The Pentagon Labyrinth" aimed at helping people understand the defense budget. "Mr. Gates is not doing his share (in cutting federal spending) given that we are at a post World War II high for defense spending and only a small portion is for the two wars," Wheeler said.
The 2012 budget includes a 1.6% increase for military pay as well as an increase in housing allowances and health care, especially for wounded service members.
Gates will spend the next two days in the hot seat, appearing separately before both the Senate and House Armed Services Committees.
The chairman of the House Committee, Rep. Howard "Buck" McKeon, R-California, promised that he and his colleagues on both sides of the aisle would be going through the budget with a fine-tooth comb.
"We will ensure that every dollar is spent on the right equipment, training and support needed by our troops, their families and the nation's defense," McKeon said.
Gates singled out one program for particular criticism, saying the proposed extra engine for the Joint Strike Fighter was, in his words, an unnecessary and extravagant expense -- costing some $30 million a year. Gates said he would continue the program on only a month-to-month basis in hopes that Congress would debate the whole issue and kill the project.
As if signaling how he would fight against major reductions, Gates also warned that too much of the national budget debate looked at potential military cuts without consideration for strategic and operational realities.
"Suggestions to cut defense by this or that large number have largely become exercises and simple math, divorced from serious considerations of capabilities, risk and a level of resources needed to protect this country's security and vital interests around the world," Gates said.
FOLLOW THIS TOPIC