Hawaii Legislature passes civil unions bill; governor will sign it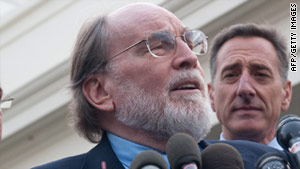 Governor Neil Abercrombie (C) said he will sign a bill that will legalize same-sex unions in Hawaii.
STORY HIGHLIGHTS
Gov. Neil Abercrombie says civil unions "respect our diversity"
Hawaii will join New Jersey in allowing civil unions
The bill will take effect January 1, 2012
(CNN) -- Hawaii's Senate has given final passage to a measure legalizing same-sex unions in the state, and Gov. Neil Abercrombie has said he will sign it.
The state House had already passed the bill, which "extends the same rights, benefits, protections and responsibilities of spouses in a marriage to partners in a civil union," according to the Legislature's website. It will take effect January 1, 2012.
Abercrombie has 10 legislative days to sign the bill, which passed the Senate on Wednesday.
"I have always believed that civil unions respect our diversity, protect people's privacy and reinforce our core values of equality and aloha," Abercrombie said in a statement.
"I appreciate all the time and effort invested by those who shared their thoughts and concerns regarding civil unions in Hawaii. This has been an emotional process for everyone involved, but that process is now ended. Everyone has been heard; all points of view respected.
"For me, this bill represents equal rights for all the people of Hawaii," Abercrombie said.
In July, Hawaii's then-Gov. Linda Lingle vetoed a similar bill, saying the issue needed to be put to a referendum. Gay rights groups decried her decision.
Five states and the District of Columbia issue marriage licenses to same-sex couples, according to the National Conference of State Legislatures. Hawaii will join New Jersey in allowing civil unions.
Three states -- Rhode Island, New York and Maryland -- recognize same-sex marriages from other states, according to the conference.
California recognizes same-sex marriages performed during six months in 2008 after its Supreme Court granted same-sex couples the right to marry and before the passage of Proposition 8, which overturned the court's decision.
FOLLOW THIS TOPIC