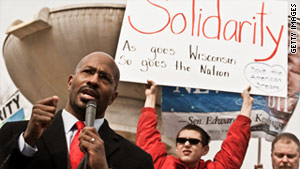 Civil rights activist Van Jones speaks at a Washington, D.C., rally in support of Wisconsin public union workers.
STORY HIGHLIGHTS
Competing rallies held in Olympia, Washington
U.S. labor secretary: Bill an attack on worker rights
Governor says he is protecting taxpayers and workers
70,000 protest against bill in Madison
(CNN) -- A coalition spearheaded by liberal advocacy group Moveon.org held rallies across the country Saturday in support of public employees and others outraged at the Wisconsin budget-cutting bill they consider an attack on unions.
MoveOn.org and other liberal and labor groups held noon events at all 50 state capitals.
"Save the dream, we are reunited," a group shouted in Washington, D.C.
The focal point of the protests was the Wisconsin Capitol, where a light snow and cold temperatures failed Saturday to deter about 70,000 who drummed, chanted and marched.
"Hey, hey, ho, ho, Governor Walker has got to go," chanted the group rallying in Madison.
There were no incidents during the protest, said Joel DeSpain, spokesman for the Madison Police Department
The Wisconsin Assembly has passed a Republican bill that would strip most state workers of the bulk of their collective-bargaining rights.
Among other things, the measure would require workers -- with the exception of police and firefighters -- to cover more of their health care premiums and pension contributions. Collective bargaining would be limited to wages, though any pay increases beyond the inflation rate would be subject to voter approval.
In Olympia, Washington, two raucous competing rallies over the union fight in Wisconsin drew more than 2,000 people, according to CNN Seattle affiliate KIRO.
More than a half dozen union members decried the bill, while a smaller protest of Tea Party members and conservative groups was held on the Washington Capitol steps. Many of those demonstrators filled petitions to "Stand with Walker."
Saturday's marchers in Wisconsin got a boost from Labor Secretary Hilda Solis, who said Wisconsin Governor Scott Walker and Ohio Governor John Kasich, who also wants to cut collective bargaining rights, "aren't just asking workers to tighten their belts, they're demanding they give up their uniquely American rights as workers."

Wisconsin's collective bargaining battle

Gov. Scott Walker: 'About the future'
Solis, attending a meeting of the Democratic National Committee in Washington, D.C., said public employees should be "treated with respect and dignity." They have made concessions in several states, she said.
The fight over the Wisconsin bill appears far from over. It still must clear the Wisconsin Senate, a step that is likely to prove far more contentious.
Fourteen Democratic senators have fled to neighboring Illinois to prevent a quorum from voting on the issue.
Walker on Friday reiterated his call for Democrats to return to the Legislature, defending the bill.
"Collective bargaining is a fiscal matter," said Walker, who toured multiple state districts Friday in an effort to pressure the absentee lawmakers. Democrats said the governor's proposal is tantamount to union-busting.
Saturday's protesters in Wisconsin continued their refrain against the governor.
"What they're doing here is trying to kill unions, period," said Jean Ross, a Minnesota nurse who came to show solidarity. "They've created a fiscal crisis and blamed the victims. Well, we are all victims here."
At a Thursday night news conference, Walker said if the Legislature does not pass his budget bill, state aid to local governments could be cut, brushing off critics who said the legislation will destroy public employee unions in the state.
"Wisconsin state employees have the strongest civil protections in the country. That's not going to change in this bill," Walker said. "It's not about the union boss coming in from other parts of the country. It's about whether we protect the taxpayers and the workers."
The state had faced a suggested deadline Friday to balance the budget. The crucial date is March 16, state officials said. Wisconsin is confronted with a $137 million budget shortfall by June 30 and a $3.6 billion gap by 2013.
CNN's David Ariosto, Ted Rowlands and Eric Fiegel contributed to this report
FOLLOW THIS TOPIC