U.S. high-speed rail program hit by deep budget cuts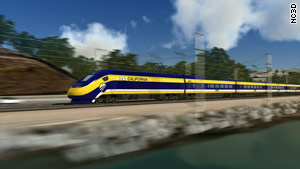 An artist's rendition of a high-speed train in California -- one of several states participating in the federal funding program.
STORY HIGHLIGHTS
Battle over federal budget cuts leaves high-speed rail with no money for 2011

Amount cut from program is unclear, with reports of $1.4 billion to $4.4 billion

Original plan called for $53 billion spent over 25 years to connect regional cities

Supporters say program would create jobs, boost economy; critics say it's too expensive
(CNN) -- President Barack Obama's plan for a national high-speed rail network suffered a serious setback as a result of the fight over budget cuts. No money will be allocated for high-speed rail projects for the remainder of 2011.
Supporters have pointed to the plan as a job creator and economy booster, while critics have expressed doubts about whether spending billions of dollars on high-speed rail is the best use of federal funds.
The news came as a blow to high-speed rail advocates such as Petra Todorovich of the Regional Plan Association in New York. "Obviously, it's a disappointment for many of the states that were seeking funding from the high-speed rail program," Todorovich said, "and it's a loss of momentum as we scale up for the president's ambitious proposal."
As details of the budget compromise on Capitol Hill were made available to the public there was confusion over just how much money was being cut from the high-speed rail program. Some published reports put the figure at $2.9 billion, and at least one said it was as much as $4.4 billion.
Experts respond to CNN.com user comments about high-speed rail
But the U.S. Department of Transportation's figure is significantly lower. Federal Rail Administration officials claim that they lost what amounts to $1.4 billion in funds for high-speed rail.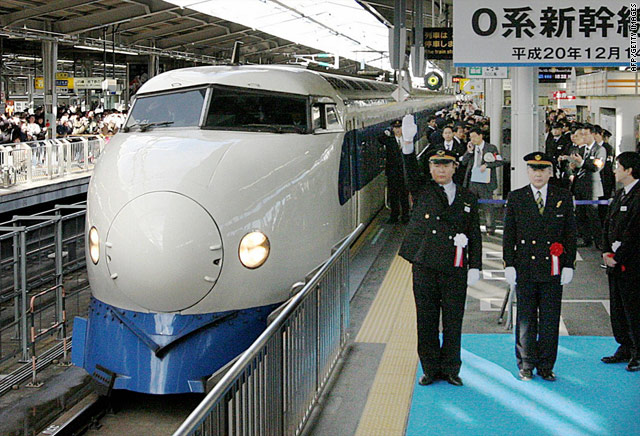 High speed rail around the world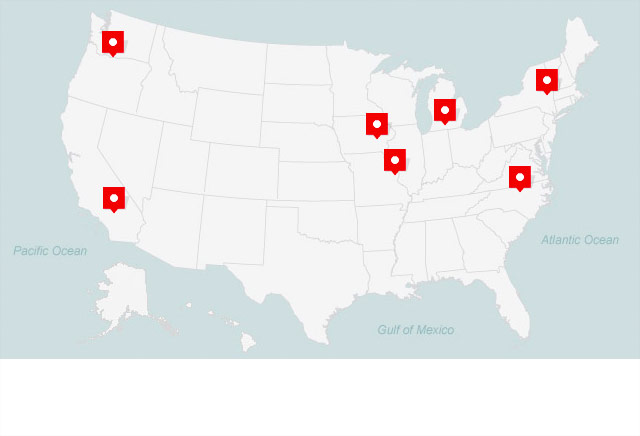 Interactive map: Proposed high-speed rails
The budget bill says the amount of money for "Department of Transportation, Federal Railroad Administration, Capital Assistance for High Speed Rail Corridors and Intercity Passenger Rail Service shall be $0" for the remainder of fiscal year 2011. Another section of the bill rescinds $400 million from the funds that were already budgeted for high-speed rail in 2010.
The cuts will not affect projects already under way across the United States, according to DOT officials. Projects that have been awarded grants will keep their funding. But that's not to say that there aren't concerns about future funding.
"It's always worrisome when an important infrastructure initiative becomes politicized," Todorovich said. "It's a big setback."
Proponents of California's high-speed rail project are concerned about the cuts and whether they can depend on future funding for a line that will ultimately link Los Angeles with San Francisco. The first phase is moving forward in the state's Central Valley.
Todorovich said that so far state officials have secured about $3 billion for a project that will cost about $50 billion. They were counting on federal dollars for the bulk of the remainder.
Obama's vision for a national high-speed rail network took some hits even before it became a part of budget negotiations in Congress. Transportation Secretary Ray LaHood redirected high-speed rail funds away from Wisconsin and Ohio after both Republican governors said they would oppose projects in their states.
Most recently, Florida Gov. Rick Scott, also a Republican, rejected a plan to link Tampa and Orlando via a high-speed rail line that ultimately would have grown to include Miami and Jacksonville among its stops. As a result, Florida lost $2.4 billion in federal funding. Now, Scott is taking credit for inspiring Washington to cut the rail program, according to the Broward-Palm Beach New Times.
Twenty-four states submitted requests to the DOT for a portion of Florida's high-speed rail funds. The department was in the process of reallocating the money when the budget cuts were announced.
The Obama administration has proposed spending $53 billion over a quarter of a century on a national high-speed rail network. The president's goal is to give 80 percent of Americans access to high-speed intercity trains by 2020.
FOLLOW THIS TOPIC


Part of complete coverage on

Is high-speed rail a smart move -- or a waste of taxpayer dollars? Will it create jobs? Will it turn profits? Experts answer your questions.

President Obama's proposed high-speed rail network suffers a serious setback as lawmakers fight over the budget.

Amy Wilkinson: If immigrants earning science degrees got green cards, the U.S. could benefit from innovations by 70,000 people.

Which billion-dollar company is known for awesome employee perks and a raucous work culture? Heck, even business meetings are fun.

Boulder City, Nevada, is uniquely poised to cash in on a new energy boom.

New York has haulted a controversial natural gas drilling process called hydraulic fracturing -- or "fracking" -- until July 1.

Five categories of U.S. infrastructure received a grade of D minus in 2009 from the American Society of Civil Engineers.


Today's five most popular stories