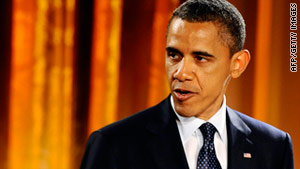 President Barack Obama is slated to give a major speech on Middle East developments on Thursday.
STORY HIGHLIGHTS
Obama will speak on the Middle East on Thursday
The United States should "strongly" back the Arab Spring, ex-spy chief Dennis Blair says
Regional players need to step up as well, predecessor John Negroponte says
An Israeli-Palestinian peace deal is also needed, he says
(CNN) -- President Barack Obama's upcoming address on the Middle East is a chance for Washington "to get on the right side of history" after a season of historic upheaval there, his former intelligence chief said Sunday.
The Thursday speech is likely to address the ongoing fight against al Qaeda following the May 2 killing of its leader, Osama bin Laden, as well as the U.S. need for oil from the region and efforts to resolve the Israeli-Palestinian conflict, retired Adm. Dennis Blair told CNN's "State of the Union."
But it will also give the president a chance to restate American backing for the outpouring of support for the "Arab Spring," the movements that have risen against longtime autocracies since January's overthrow of Tunisian strongman Zine El Abedine Ben Ali, Blair said.
"I think it brings us the opportunity to get on the right side of history, the things we believe in," he said. "The Arab Spring is not just about Israel, it is about freedom and democracy. And I think that sentiment is very powerful, plays to our strengths and we should be strongly in favor of that."
Obama's address will be a "fairly sweeping and comprehensive" take on the events that have upended governments in Tunisia and Egypt and pushed other countries to take steps toward reform, White House spokesman Jay Carney told reporters Friday. It comes nearly two years after a 2009 speech in the Egyptian capital Cairo that called for "a new beginning" between the United States and the Muslim world.

Blair: Syria will end up like Libya

Israeli forces clash with demonstrators

Women march in Benghazi
The Obama administration helped prod Egyptian President Hosni Mubarak to leave office in February after the country's military establishment refused to crush a popular uprising against his nearly 30-year rule.
U.S. forces took part in the NATO air campaign against Libya, where the allies have called for Libyan leader Moammar Gadhafi to yield to an armed rebellion and leave power after nearly 42 years.
Washington slapped sanctions on top Syrian officials after a violent crackdown on pro-reform protests there. But the clampdown on demonstrators and activists in Bahrain, a key U.S. ally in the Persian Gulf, has drawn only verbal protests from American officials.
Blair said the Arab Spring movement has put "tremendous force" on repressive governments around the region.
"They are bottling up forces which will eventually push them out," Blair said. "So I think that what the United States does is to encourage that in general, and then we support specifically where we can."
Blair served as director of national intelligence until May 2010 when he resigned after finding himself at odds with White House and others in the intelligence community during his 16-month tenure. His predecessor, John Negroponte, told "State of the Union" that other players, including the Arab League and the international community, will have to "step up" to support reform, if it is going to succeed.
"The Libya case, I think, is instructive in that regard because you will recall that President Obama stipulated that there needed to be more unilateral and European engagement in that situation," said Negroponte, who also served as U.S. ambassador to Iraq under the Bush administration. "And I think ditto with respect to Syria."
Princeton University analyst Anne-Marie Slaughter told CNN's "Fareed Zakaria GPS" that Obama realizes the United States is "politically indispensable" to creating a broad coalition.
"But once we've done that, his idea is we shouldn't be the global policeman," said Slaughter, a former top State Department official. "Other countries have a really strong stake in these outcomes, and we should be willing to share responsibility with them."
Meanwhile, Negroponte said an Israeli-Palestinian peace deal is needed for Israel, a key U.S. ally, "to be viable over the long term." Though those efforts are currently stalled, "we can never take it completely off the table," he said.
The administration's Mideast special envoy, former Sen. George Mitchell, resigned last week after two years leading efforts to resolve the decades-old Israeli-Palestinian conflict. Ongoing Israeli settlement construction in the occupied West Bank, the Palestinian Authority's efforts to reconcile the feud between the Hamas and Fatah factions that rule different Palestinian territories, and Palestinian steps toward a unilateral declaration of statehood have driven the two sides further apart during that period.
Kishore Mahbubani, a former Singaporean diplomat and ambassador to Washington, told "GPS" that other countries will be watching the Americans closely because of the global reach of the United States.
"They'll always look at both American rhetoric and American deeds,," Mahbubani said. "American power is present everywhere."
FOLLOW THIS TOPIC