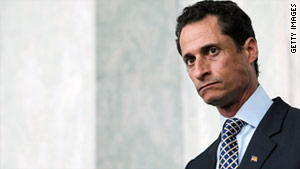 New York Rep. Anthony Weiner, 46, had relatively smooth political sailing before the scandal.
STORY HIGHLIGHTS
New York Rep. Anthony Weiner, a Democrat, has been caught in an internet sex scandal
It is unclear whether Weiner's political career will survive
Ethics investigators could recommend a number of punishments, including expulsion
It's also unclear whether Weiner will be able to rely on support from constituents
Washington (CNN) -- A married congressman gets caught lying about sending women lewd photos of himself online. He has X-rated conversations online and over the phone. He may have used his taxpayer-funded office to facilitate the illicit relationships.
The leadership of his own party is demanding an ethics investigation.
That's not just humiliating. It's politically devastating. Right?
Well, maybe.
The question of whether Anthony Weiner's political career is over -- more specifically whether he will be forced from Congress -- is suddenly Washington's hottest guessing game. The answer may depend on how spooked his colleagues become over the next few days, and how contrite he appears to his constituents.
What do you think about Rep. Weiner's confession?
It's an extraordinary turn of events for the 46-year-old New York Democrat, who up until now has had relatively smooth political sailing. Weiner has represented a solidly Democratic House district straddling Brooklyn and Queens for seven terms. His wife is one of Secretary of State Hillary Clinton's top aides, and he was considered a serious candidate to become New York's next mayor.
Huma Abedin is not a typical congressional wife
In a tearful news conference in Manhattan on Monday, Weiner apologized and acknowledged his fault.

Public reacts to Rep. Weiner scandal

Fallout from sexting scandal

Weiner apologizes for 'terrible' mistakes

Weiner and men behaving badly
"I lied because I was ashamed at what I had done," he said. "I didn't want to get caught."
The congressman described his actions as "dumb," "destructive" and "deeply, deeply hurtful."
Republicans -- stung by their own string of sexual scandals in recent years -- were outraged. They pointed to former Rep. Chris Lee, R-New York, who resigned earlier this year after he was caught seeking extramarital dalliances on the Web site Craigslist.
Lee stepped down shortly after talking to Speaker John Boehner, R-Ohio.
Boehner "made it quite clear that the party would not tolerate any personal behavior that could cost them votes," noted Wendy Schiller, a Brown University political scientist.
In that respect, the reaction of House Minority Leader Nancy Pelosi, D-California, to news of the Weiner scandal may be telling.
Pelosi sent a letter to the House ethics committee Tuesday formally requesting an investigation into whether any congressional rules were violated.
"This certainly adds pressure for (Weiner) to go," a senior Democratic aide said.
Other key members of the Democratic leadership backed Pelosi's call for an investigation.
"I'm not here to defend Weiner," Senate Majority Leader Harry Reid, D-Nevada, said Tuesday. "I wish there was some way I could defend him but I can't."
Asked by a reporter what he'd say if the embattled congressman asked for his advice, Reid said, "I'd tell him to call someone else."
Weiner: Liberal firebrand or political opportunist?
Weiner said he welcomed the investigation, which could go in a number of directions. The committee could find that the congressman, however repugnant his actions, did nothing to violate House rules and not recommend any penalty. Or it could find that he damaged the reputation of the House and recommend a fine and possibly a reprimand.
More seriously, Weiner could be censured. The most serious penalty would be expulsion, something rarely recommended.
Weiner's fellow New York Democrat, Rep. Charlie Rangel, was censured by the House last December after being found guilty on 11 counts of violating House rules, including a failure to pay taxes on a vacation home and improperly using his office to raise money for an educational center bearing his name.
Democratic support for Rangel, a former chairman of the powerful tax law-writing House Ways and Means Committee, eroded over time due to a steady stream of new allegations of misconduct and, according to some observers, a poor response to investigators.
"If the scandal deepens with additional revelations, the pressure on Weiner to resign will increase," said Adam Sheingate, a Johns Hopkins political scientist.
Ruben Navarrette: Weiner's only choice is to resign
One Democratic source noted to CNN Monday that two of the most critical unanswered questions are whether Weiner inappropriately used government resources and whether any of the women he was involved with were underage.
While the facts of the case clearly matter, so do the politics.
"In this case, the silence from Weiner's New York colleagues is deafening," Schiller noted. "With (Pelosi) distancing herself in an immediate and public way, and no support from colleagues, how effective a congressman can he really continue to be?"
So far, Weiner has adamantly refused to step aside. And regardless of what happens on Capitol Hill, the congressman may be able to tap a deep reservoir of public support back home. In 2010, Weiner was re-elected with 61% of the vote.
"I'm glad he's not resigning," said Patrick Riley, one of Weiner's constituents. "What he does on his personal time is his business."
New York voters divided on Weiner's future
"Candor, contrition, and constituency" are all critical factors in determining whether a politician can make it through a sex scandal, Schiller said. "If constituents truly believe the person is sorry for what he has done, and he shows that he can continue to be an effective advocate for them, he can survive."
Regardless, Weiner should expect multiple challengers in next year's Democratic primary, Schiller said. Fundraising may also become a problem for the embattled congressman.
"How many contributors want to have their name associated with him?" she asked. It's easy for anyone to look up a candidate's donor list, she noted.
Even if the residents of Weiner's district are willing to keep him, uncomfortable colleagues could push him out the door another way next year -- through the redistricting process. New York is losing two of its 29 U.S. House seats due to the new Census results, and it's up to the state legislature to decide which districts will be eliminated.
"Albany might reconsider the district lines they draw if Weiner stays in hot water," Schiller said.
CNN's Dana Bash, Josh Levs and Deirdre Walsh contributed to this report.
FOLLOW THIS TOPIC