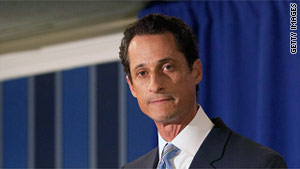 Rep. Anthony Weiner, D-New York, admitted sending inappropriate tweets to women.
(CNN) -- Anthony Weiner's woes began last month, when a lewd photo appeared on the New York Democrat's Twitter account. At the time, the seven-term congressman was considered one of the leading liberal voices in the House. Now, he's out of a job.
Here are key dates in the scandal:
-- May 27: A lewd photo appears briefly on Weiner's Twitter account. Conservative blogger Andrew Breitbart is first to report the image, which shows the bulging crotch of a man in his underwear. The story goes viral.
-- May 30: The congressman tells reporters a hacker got control of his social networking account. "Look, this is a prank and not a terribly creative one," Weiner says. A spokesman says the congressman retained an attorney to look into the situation, but Capitol Police and the FBI told CNN they were not investigating.
-- May 31: Weiner repeatedly dodges reporters' questions about the Twitter post, saying the matter is a distraction and undeserving of further attention. "I'm going to get back to the conversation I care about," he says. Weiner declines to answer whether he is the subject in the photograph.
-- June 1: Weiner tells CNN he did not post the picture and has hired a law firm to investigate. He continues to evade the question as to whether the photo is of him.
-- June 3: Weiner cancels a speech he had been scheduled to make at the Wisconsin Democratic Party convention. Privately, members of the House Democratic leadership begin to push Weiner to end what many now see as an unwelcome diversion.
-- June 6: In an abrupt about-face, a tearful Weiner apologizes for having falsely claimed that his Twitter account was hacked and admits to having engaged in inappropriate online relationships with several women he met on the Internet. He tells reporters he will not resign and does not plan to separate from his wife. "To be clear, the picture was of me, and I sent it," Weiner says.
-- House Democratic Leader Nancy Pelosi calls for an Ethics Committee investigation to determine if government resources were used or House rules violated in Weiner's online relationships. The congressman says he does not believe he used any government resources, but would "welcome and fully cooperate" with a probe.
Earlier in the day, conservative blogger Breitbart published new images that purportedly showed Weiner shirtless.
-- June 7: Democratic leaders begin to turn on Weiner. "I wish there was some way I could defend him, but I can't," says Senate Majority Leader Harry Reid, D-Nevada. Two House Democrats say they will donate campaign contributions from the embattled congressman to charity.
-- June 8: Tim Kaine, the former chairman of the Democratic National Committee, calls on Weiner to resign, becoming the first prominent Democrat to publicly demand his resignation. A photo that blogger Breitbart says shows the naked genitals of Weiner finds its way to the Internet.
-- June 9: Sen. Patrick Leahy adds his voice to calls for Weiner to resign from his House seat. Weiner says he has no plans to step down and that his wife wants him to stay in Congress, according to a Democratic source. A Marist College poll shows that a majority of registered voters in Weiner's district -- 56% -- don't believe he should resign.
CNN learns that Weiner and his wife, Huma Abedin, are expecting their first child.
-- June 11: The head of the Democratic National Committee calls for Weiner's resignation, as do Pelosi and Democratic Congressional Campaign Committee chairman Steve Israel.
Weiner decides he will seek treatment "to focus on becoming a better husband and healthier person" and will ask for a "short leave of absence" from Congress, his spokeswoman says. It was not clear what type of treatment he would undergo.
-- June 12: TMZ publishes photos of Weiner, in various states of undress, which he apparently took of himself in a locker room. TMZ reports that they were taken in the House members' gym and sent to at least one woman. Weiner's office has no immediate comment, and CNN could not confirm the details as reported by TMZ.
The heads of both major political parties battle over the handling of Weiner's scandal, with the Republican Party boss accusing Democrats of inaction and the Democratic Party leader accusing Republicans of a "double standard."
-- June 13: President Obama says that, if he were in Weiner's position, "I would resign." Speaking to NBC, the president says that when "personal distractions" prevent someone from serving "as effectively as you need to ... then you should probably step back."
-- June 14: Weiner's fellow New York Democrat, Rep. Carolyn McCarthy, tells reporters "we're hearing that he might resign in a couple of days," but did not say where she was hearing that.
House Speaker John Boehner, R-Ohio, joins other GOP colleagues in saying he thinks Weiner should resign.
-- June 15: Weiner's wife, Huma Abedin, a senior aide to Secretary of State Hillary Clinton, returns from her work trip. Weiner's colleagues had previously said he wanted to wait until she returned before making a decision on his career.
Stripper Ginger Lee tells reporters in New York that Weiner asked her to lie about their communications. "I think that Anthony Weiner should resign because he lied to the public and the press for more than a week," Lee says. "If he lied about this, I can't have much faith in him about anything else." Lee's lawyer says Weiner's messages to the former adult actress included several references to his "package."
-- June 16: Weiner announces his resignation to reporters at a senior center in Brooklyn, New York. He apologizes "for the personal mistakes I have made and for the embarrassment I have caused."