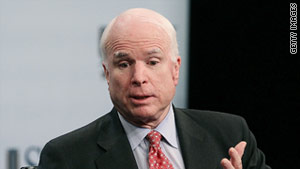 Sen. John McCain says Americans don't want the GOP to compromise and allow tax increases.
STORY HIGHLIGHTS
The impasse threatens a deficit reduction deal and raising the debt ceiling
Failure to raise the debt ceiling by August 2 will harm the economy, the government says
Legislators offer widely diverging ideas for how to proceed
Washington (CNN) -- The American people do not want Republicans to compromise on their opposition to any form of tax increase as part of a deficit reduction deal being negotiated with Democrats, veteran Sen. John McCain, R-Arizona, said Sunday.
"The principle of not raising taxes is something that we campaigned on last November and the results of the election was the American people don't want their taxes raised and they wanted us to cut spending," McCain said on CNN's "State of the Union." "They don't want compromise."
Republicans have tied a deficit reduction agreement to the federal debt ceiling, which the Obama administration says must be raised by August 2 to avoid harm to the nation's sluggish economic recovery by defaulting on debt obligations.
Bipartisan negotiations led by Vice President Joe Biden recently hit an impasse over the tax issue, with Democrats calling for eliminating some tax breaks and loopholes to increase revenue while Republicans rejected such steps.
President Barack Obama highlighted the standoff at a news conference last week in which he chided congressional Republicans for refusing to make "tough decisions" that might anger their conservative base.
Obama calls for a balanced approach to deficit reduction that will include more revenue, so that spending in what he calls critical areas for economic growth -- education, infrastructure, clean energy -- can continue.
The comments Sunday by McCain and other conservatives made clear that they think the budget standoff is due to the refusal by Democrats to accept that government must shrink in a major way.

Senate cancels break

Obama: Govt must 'live within its means'

Coats: Dems game plan 'not working'

McCain: Afghan drawdown unnecessary risk
"Raising taxes grows the size of government," Sen. John Cornyn, R-Texas, told "Fox News Sunday," while the November election result, in which a Tea Party-backed wave helped Republicans take over the House and narrow the Democrats' Senate majority, showed that voters wanted "government to get smaller."
Republicans want to look at tax reform, Cornyn added, but in a comprehensive way that lowers rates while eliminating loopholes and subsidies so that the end result brings no increase or decrease in revenue.
There isn't enough time to do that by August 2, he added.
On C-Span, Tea Party favorite Sen. Rand Paul, R-Kentucky, said he and other freshmen senators are frustrated with the lack of debate on the debt ceiling issue and will filibuster any other issues in the Senate this week.
Paul said he'd be willing to support an increase in the debt ceiling, which would allow the government to borrow more money in order to pay for spending already accrued, in exchange for congressional approval of a constitutional amendment requiring a balanced federal budget.
Both the House and Senate are planning votes on a balanced budget amendment in coming weeks. However, with such an amendment requiring approval from a two-thirds majority in both chambers, and then ratification by at least 38 states, eventual approval is unclear in a process that can take years.
Led by Obama, Democrats show no sign of budging in their insistence that increased tax revenue from eliminating some loopholes and subsidies must be part of a deficit reduction deal that also would include spending cuts and reforms to entitlement programs such as Medicare and Medicaid, the government-run health care systems for senior citizens, the disabled and the poor.
Former President Bill Clinton told the Aspen Ideas Festival on Saturday that he hopes the Democrats don't back down in the face of the Republican opposition to increasing tax revenue.
He advised Obama and Democrats to immediately accept previously agreed-upon spending cuts with Republicans that would allow the government to continue to run for another six to eight months. Then both parties must work together toward serious budget reform, which cannot possibly happen by August 2, Clinton added.
On the CBS program "Face the Nation," Democratic Gov. Deval Patrick of Massachusetts said Sunday that some policy demands of what he labeled the "hard right" were "irresponsible," noting that his state has maintained investments in key areas that bring needed economic growth.
"That's a formula that can work in Washington," Patrick said.
Another governor, Republican John Kasich of Ohio, blamed the hyper-partisan environment in Washington as a source of the deficit deadlock, lamenting on the same program that "we've lost a lot of that ability to talk to one another as people."
Kasich took part in the recent "golf summit" involving Obama, Biden and House Speaker John Boehner, R-Ohio, which he said helped instill some necessary human interaction into the debate.
At the heart of the GOP resistance on the revenue issue is a bedrock principle pushed by anti-tax crusader Grover Norquist against any kind of tax increase at all. A pledge pushed by Norquist's group, Americans for Tax Reform, has been signed by more than 230 House members and 40 senators, almost all Republicans.
Norquist and his supporters want to shrink the federal government and believe any new revenue would enable continued government growth.
However, some Republicans, including conservative Sens. Tom Coburn of Oklahoma and Lindsey Graham of South Carolina, have expressed support for increased tax revenue as part of a deficit reduction deal, and the Senate recently supported ending ethanol subsidies -- which would increase revenue.
Tax loopholes targeted by Democrats include oil and gas subsidies, as well as some write-offs for people earning more than $500,000 a year.
McCain told CNN that his Arizona Republican colleague, Sen. Jon Kyl, told him the Biden-led talks included discussion of steps to increase tax revenues "and other areas that perhaps we could work on."
However, he maintained his opposition to raising taxes, "anybody's taxes," and said the danger from continuing to let the federal deficit expand without taking substantive cost-cutting steps is much greater than the threat from failing to increase the federal debt ceiling by August 2.
"I think that this catastrophe or short-term meltdown that we're facing isn't nearly as bad as the meltdown that we're facing unless we get our deficit under control," McCain said.
Los Angeles Mayor Antonio Villaraigosa had little patience for the federal deadlock, telling the CBS program that "I think Washington has its head in the sand."
"Democrats won't address entitlements, Medicare and Social Security. and Republicans don't want to talk about revenues or defense spending. And the fact is we've got to do all of that," he said. "You can't avoid your responsibility of balancing the budget. And in this case, they ought to submit their resignations, frankly, if they put us in a situation where we're in default."
On C-Span, Paul said Obama should remove the specter of government default by ensuring that bond obligations and other foreign-held debt would be paid even without a deficit reduction agreement.
When asked if Congress could then decide how to spend the reduced pool of money to run the government, military, entitlements and other programs, Paul smiled in agreeing it would bring some touch decisions.
"For a change up here we might have to prioritize," he said. "We might have to be true legislators and decide what we have money for."
CNN's Gabriella Schwarz contributed to this report.
FOLLOW THIS TOPIC