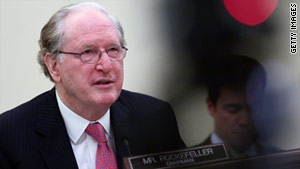 Sen. Jay Rockefeller, D-West Virginia, says the FAA situation is "a tragedy that never had to happen."
STORY HIGHLIGHTS
FAA funding still held up as House adjourns
Almost 4,000 FAA workers expected to stay on furlough
Senators say impasse is over new National Mediation Board rules
Sen. Hutchison urges funding extension minus policy issues
Washington (CNN) -- The House adjourned for summer recess Monday night without resolving a Federal Aviation Administration funding impasse, almost guaranteeing that nearly 4,000 FAA employees will remain furloughed for the next month, and that the federal government will lose at least $1.2 billion in airline passenger tax revenue.
The only possible resolution, one official said, is if the Senate approves the House bill. But that was deemed highly unlikely.
"FAA funding is looking very grim right now," a Senate Democratic staffer not authorized to speak for attribution said.
The FAA budget dispute, pitting Rep. John Mica, R-Florida, against Sen. Jay Rockefeller, D-West Virginia, raged on all week in aviation circles, its roar subsumed only by the greater commotion over the debt limit. But with the debt debate nearly resolved, the full impact of the FAA feud is likely to come into sharper focus.
Leaders on both sides acknowledge the FAA funding impasse is having immediate consequences.
Significantly, the airlines stopped collecting certain passenger taxes on July 23, at a cost of about $25 million a day. At that rate, the federal government will lose at least $1.2 billion before Congress returns in September, officials say.
The impasse also means continued unemployment for almost 4,000 furloughed FAA employees, including some who were certifying a new Boeing passenger plane, one senator said. The agency has retained air traffic controllers and says it will not compromise passenger safety.
And the impasse means dozens of construction projects, halted on July 23, will remain idle, Transportation Secretary Ray LaHood said.
The work stoppage will have a direct impact on about 24,000 construction workers engaged in those projects, indirectly impact 11,000 others and hurt 35,000 support workers, such as food service vendors, said Steve Sandherr of Associated General Contractors of America.
"Construction workers shouldn't have to suffer because Washington hasn't figured out a way to work out its differences," Sandherr said at a press conference at New York's LaGuardia Airport, where the demolition of an old control tower was halted because of the funding impasse.
Ostensibly, the funding impasse involves two provisions that Mica inserted in the House version of the funding extension. The provisions would reduce or eliminate federal ticket subsidies for three rural airports, all in Democratic states.
But on the Senate floor Monday evening, senators argued over an issue they said was the real subject of the dispute -- new National Mediation Board rules that make it easier for airlines to unionize. Democrats favor the new rules; Republicans oppose them.
Rockefeller decried Mica's tactics of sticking policy issues in a funding extension bill, and blamed Mica for "sticking it to" the nearly 4,000 furloughed FAA employees.
"It's a tragedy that never had to happen," Rockefeller said. "It's a tragedy about ego, about bullying, about proving that one side is willing to cave," he said.
Sen. Orrin Hatch, R-Utah, defended Mica's bill, saying he shared Mica's frustration about operating FAA through a series of 20 temporary funding bills, instead of a permanent bill. Hatch said Congress needed to take a stand against the mediation board rules.
Under the new rules, he said, a simple majority of those voting could force unionization, instead of a simple majority of all employees. That would allow as few as 51 people to unionize a company of 1,000 people if only 100 showed up to vote, he said.
"I believe that what the National Mediation Board did is absolutely wrong and somebody has to stand up to them," Hatch said.
Sen. Kay Bailey Hutchison, R-Texas, breaking with her party, called on Congress to pass a temporary extension that was devoid of any complicating policy issues.
"We're getting ready to leave for a month. We should not shut down the FAA because of a rider put on the extension of the FAA legislation that has not been negotiated," Hutchison said.
"It is not honorable for the House to send an extraneous amendment" on a funding extension, she said.
Outsiders say the FAA funding dispute, like the debt limit dispute, demonstrates the serious divisions in Congress.
"This is costly in so many ways and it's so unnecessary," said Kathryn Pearson, a political scientist at the University of Minnesota who has served as a legislative aide to both Republican and Democratic members of Congress.
"Congress routinely misses deadlines -- this is nothing new. But usually Congress is able to work out extensions until they can actually agree on reauthorization. And bipartisan cooperation is typically necessary.
"But the fact that Congress can't come together and agree on policies to reauthorize the FAA just really shows how deeply divided Congress has become where each side seeks to win a policy victory even at the expense of reauthorizing important programs," Pearson said.