STORY HIGHLIGHTS
Five debates, other events could reshape GOP presidential race over next two months
Front-runners have more to lose in debates than bottom-tier candidates
Tim Pawlenty quit race partly because he wasn't able to overcome gaffe in earlier debate
Former Alaska Gov. Sarah Palin says she'll decide before October whether to jump in
Programming note: Watch Sen. Jim DeMint's Palmetto Freedom Forum on Labor Day from 3 to 5 p.m. ET on CNN or CNN.com, then watch John King's interview with DeMint on "John King, USA" at 7 p.m. ET.
Columbia, South Carolina (CNN) -- A Republican presidential race that has been anything but slow kicks into an even higher gear this week.
A Republican power player's forum with most of the major GOP White House candidates on Labor Day will be followed by five presidential debates over the next six weeks.
Add in a bunch of major cattle calls for the candidates, a straw poll in an important early voting state, the possibility of another major entry into race and some flashpoints in the national debate over jobs and cutting the massive federal budget deficit, and the crowded campaign calendar over the next two months could alter a nomination battle that went through a major transformation just a month ago.
The busy schedule starts Monday at the American Principles Project Palmetto Freedom Forum in South Carolina, the first Southern state to vote in the primary and caucus calendar. It's being headed up by Sen. Jim DeMint, the two-term senator from South Carolina who is extremely influential among tea party activists and other grassroots conservatives -- groups that are expected to play an important role in choosing the next GOP presidential nominee.
Rep. Michele Bachmann of Minnesota, former Godfather's Pizza CEO and radio talk show host Herman Cain, former House Speaker Newt Gingrich, Rep. Ron Paul of Texas and Texas Gov. Rick Perry are all participating.
Early front-runner Mitt Romney is a late entry into the forum. Until now, the former Massachusetts governor has done little public outreach to tea party groups. But his decision to attend, after initially turning down DeMint's invitation, and his appearance Sunday at a Tea Party Express rally in New Hampshire is a sign that Romney is shifting his strategy after Perry entered the race less than a month ago and surged past Romney in most recent national polls.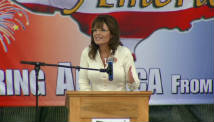 Palin rallies in Iowa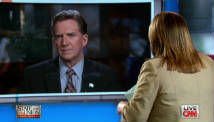 Rep. DeMint: Obama jobs plan must-haves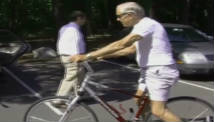 Paul on GOP field: The more the merrier
On Wednesday, Perry will be tested on the national stage for the first time as he and the other major candidates meet at a presidential debate at the Ronald Reagan Presidential Library in California.
This week's debate is followed by a CNN/Tea Party Express GOP presidential debate next Monday in Tampa, Florida, with another debate in Florida on September 22. A New Hampshire debate on October 11 is followed a week later by a CNN debate in Las Vegas, Nevada, on October 18.
For Perry, who has little experience debating opponents in recent years, the upcoming showdowns could give him and the other major candidates a chance to shine -- or to stumble.
"Debates are a danger to the top-tier candidates -- they have very little to gain from them and everything to lose," says GOP strategist and CNN contributor Alex Castellanos. "They turn into events where the top-tier candidates put their faces on the bull's-eye for the media and the bottom-tier candidates.
"And they often force the top-tier candidates to appeal to the narrower, conservative base of the GOP than to the broader group of independents the GOP candidates will need to defeat (President Barack) Obama in the fall of 2012," added Castellanos, who was a top media adviser to the 2004 Bush-Cheney re-election campaign and to Romney's 2008 bid but is not taking sides this time around.
Debates have already had consequences in this election.
In the days leading up to the June 13 CNN/WMUR/New Hampshire Union Leader debate, former Minnesota Gov. Tim Pawlenty criticized the health care law passed in Massachusetts while Romney was governor, saying it was the inspiration for the national health care plan signed into law last year by Obama. He called it "Obamneycare." But Pawlenty failed to go after Romney on the issue during the debate, even when given the opportunity to by moderator John King.
'These debates do matter'
"The Pawlenty experience should make it clear that these debates do matter," said Republican strategist Rich Galen, who advised Fred Thompson during his 2008 GOP presidential bid. "His campaign was essentially over when he wouldn't take King's bait on the 'Obamneycare' issue. The fact that the debate took place on June 13 and there were no other joint appearances scheduled until August 11 -- two months later -- meant that Pawlenty's timid response stuck with him for weeks."
On August 14, the morning after an underwhelming performance at a crucial GOP presidential straw poll held in Ames, Iowa, Pawlenty dropped out of the race.
Five debates over a two-month period could help negate what happened to Pawlenty.
"The good news about having a string of five debates over the next two months is a candidate can make up for a bad, or weak performance in debate 2 with a strong appearance in debates 3 and 4," said Galen, who is the author of Mullings.com, an online column. "It's a little like striking out in the third with a man in scoring position. You know you're going to have several more at-bats to make up for it."
But the downside to having five debates over two months could be overkill, and as Galen says, "each of them takes at least two days out of the campaign and it would not surprise me to find that not everyone is in every one."
Just the five debates alone are enough to make the next two months tumultuous on he campaign trail, but as those television ads say, "But wait -- there's more!"
Debates aren't only times candidates will be judged
Besides DeMint's forum, many of the candidates will be in Florida the last weekend of September to attend major events such as CPAC Florida, Presidency 5 and a straw poll. The same weekend, some of the White House hopefuls will also attend a cattle call at the Mackinac Island Leadership Conference in Michigan.
In October, there's the Values Voter Summit in the nation's capital, and the Western Republican Leadership Conference in Las Vegas (Nevada is scheduled to vote third in the caucus and primary calendar) will also attract the presidential candidates.
And then there's Sarah Palin.
The former Alaska governor and 2008 Republican vice presidential nominee, who has been flirting with a run for the White House and has made numerous visits to the crucial early voting caucus and primary states, is expected to make a final decision on launching a campaign by the end of the month.
Palin told supporters in Iowa on Friday that, "I always think that there's room for more, though, because spirited debate and more competition will allow an even better discourse and a more rigorous discourse that the public deserves."
Events in Washington will have implications on the trail
As the fight for the nomination plays out, a national battle between the president and congressional Republicans over jobs also goes into high gear. Friday's disappointing unemployment report will only intensify the pressure on Obama as he lays out his jobs plan in a speech to a joint session of Congress on Thursday.
Obama originally requested that Congress convene on Wednesday for his address, the same night as the GOP debate, but Republican House Speaker John Boehner turned the president down, saying that there wouldn't be time for the Secret Service to do a security sweep after Congress convened its daily business.
The day before the debate, Romney will spell out his jobs proposal in a speech in Nevada. Last week another candidate, Jon Huntsman, presented his plans for job creation. The former Utah governor and former U.S. ambassador to China's plan was praised by The Wall Street Journal, very influential among fiscal conservatives.
Earlier this summer another candidate, former Sen. Rick Santorum of Pennsylvania, also introduced proposals to create jobs.
Meanwhile, the battle over deficit reduction resumes this week, with the first meeting of a bipartisan super committee tasked with coming up with $1.5 trillion in spending cuts.
Mix all the elements together, and it's a safe bet that we'll be looking at an altered race to the White House by late October.
FOLLOW THIS TOPIC