Cantor strikes civil note before Obama jobs speech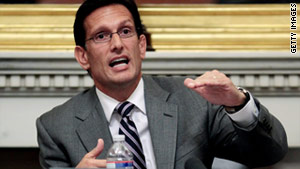 House Majority Leader Eric Cantor says discussions with voters made it clear they are anxious about the economy.
STORY HIGHLIGHTS
House majority leader says "We've got to focus on areas of commonality"
GOP still has major differences of opinion with president, he adds
Cantor encourages speed on trade deals
Washington (CNN) -- Striking a conciliatory tone the day before President Barack Obama comes to Capitol Hill to reveal his jobs plan, House Majority Leader Eric Cantor left the door open to working with him on some of the proposals he's expected to present in his address to a joint session of Congress Thursday evening.
Cantor said discussions with voters over the summer recess made it clear they are anxious about the economy, and he added Americans "have lost a lot of confidence in Washington and while they are going through such tough times they're frankly sick of the rancor in this town."
The No. 2 House Republican noted the GOP continues to have a major difference of opinion with the president on the best way to create jobs, citing his party's opposition to the president's 2009 stimulus.
But moving forward, Cantor stressed, "We've got to focus on areas of commonality, try and transcend differences here. I think we need to build consensus and that's going to require us all not to impugn motives or to question patriotism."
Three areas in which Cantor indicated the GOP may be able to find some common ground include some infrastructure spending, assistance for jobless Americans and trade.
But while the president is expected to call for more federal spending for infrastructure projects and the unemployed, Cantor maintained that there needed to be more flexibility for states on how they spend money they already receive, and an effort to reform federal programs to support the unemployed that focus on getting people back to work.
Cantor also encouraged the White House to move the three pending trade deals with Colombia, Panama and South Korea quickly to Capitol Hill, saying reports show passage of the trade deals could "see the creation of hundreds of thousands of additional jobs."
House Speaker John Boehner declined to answer questions from reporters Wednesday about the details emerging on the jobs package Obama plans to unveil Thursday. But Boehner's spokesman was careful to reserve judgment, telling reporters the speaker "will wait and listen to the president's speech and we will consider those ideas along with other alternatives that have been discussed and debated in Congress."
Cantor reiterated that House Republicans will move forward with their own agenda to facilitate growth in the short term -- rolling back regulations they believe are anti-business and providing small businesses a tax cut to encourage them to hire more new workers.
Shortly after Obama lays out his plan Thursday, the contrast between his approach and that of the House Republicans will be on display not far from Washington. The president is scheduled to hold a jobs event in Cantor's backyard in Richmond, Virginia, on Friday and Cantor announced Wednesday he'll hold his own economic event the same day in his district.