STORY HIGHLIGHTS
Elizabeth Taylor is lauded by celebrities, fans
She is remembered for her work against HIV and AIDS
Taylor was one of the first to take up the fight
A private family funeral will be held later
Don't miss a special edition of"Piers Morgan Tonight" at 9 ET on CNN for a tribute to Elizabeth Taylor followed by a full hour on HLN of "The Joy Behar Show" at 10 ET, remembering a legend.
Los Angeles (CNN) -- Friends, relatives and fans remembered legendary actress Elizabeth Taylor, who died Wednesday at age 79, as a selfless and big-hearted woman who led the way for charities such as the fight against AIDS.
"Elizabeth, on every level, was a mensch. Kind, generous, brave," actress Jane Fonda said in a statement, using a Yiddish word for someone who goes above and beyond to assist humanity.
Taylor died in Los Angeles' Cedars-Sinai Hospital, her publicist said in a prepared release. She had been hospitalized six weeks ago with congestive heart failure, a condition she had suffered from "for some years," the release said.
At the time of her death, Taylor was surrounded by her children: Michael Wilding Jr., Christopher Wilding, Liza Todd and Maria Burton, the statement said. She is also survived by 10 grandchildren and four great-grandchildren.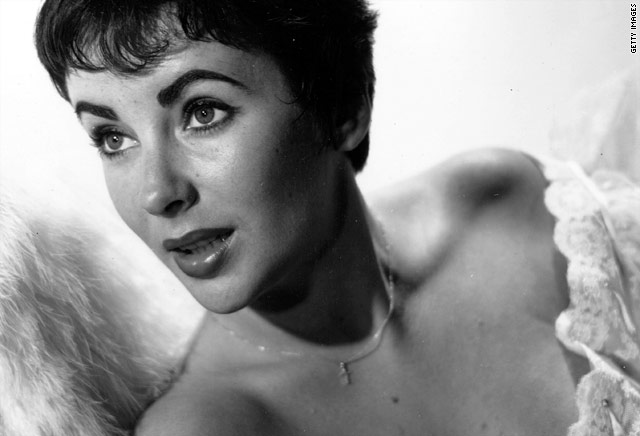 Gallery: Remembering Elizabeth Taylor

King calls Liz Taylor 'a great pal'

2001: Liz Taylor talks diamonds

Liz Taylor: I loved working with Burton
A private family funeral will be held later, publicist Sally Morrison said in a news release. In lieu of flowers, the family requested that contributions be made to the Elizabeth Taylor AIDS Foundation. A tribute page was set up on Facebook for fans wishing to send personal messages, the release said.
"It is respectfully asked that the public allow the family privacy at this difficult time," it said. "Details of a memorial service will be announced at a later date."
Taylor, who was made Dame Commander of the Order of the British Empire by Queen Elizabeth II in 2000, "was an extraordinary woman who lived life to the fullest, with great passion, humor and love," her son, Michael Wilding Jr., said in the release issued by her publicist. "Though her loss is devastating to those of us who held her so close and so dear, we will always be inspired by her enduring contribution to our world.
"Her remarkable body of work in film, her ongoing success as a businesswoman and her brave and relentless advocacy in the fight against HIV/AIDS all make us all incredibly proud of what she accomplished," said the son, whom Taylor bore by her second husband, Michael Wilding.
"We know, quite simply, that the world is a better place for mom having lived in it. Her legacy will never fade, her spirit will always be with us, and her love will live forever in our hearts," the son added.
Don Blanchon, executive director of the Washington-based Whitman-Walker Clinic, said Taylor "was the first major Hollywood star to take up the banner of HIV/AIDS activism." The clinic specializes in HIV/AIDS care and other health issues for members of the lesbian, gay, bisexual and transgender community.
"At a time when most Americans thought of HIV/AIDS as something that didn't affect them, her commitment to the issue and considerable star power helped to take the fight against HIV/AIDS right into the mainstream of American society," he said. "Her dedication to raising money along with awareness has helped to save countless lives both by helping to treat people living with the virus and by preventing new infections."
Whitman-Walker named its main facility after Taylor in 1993 to honor her work combating AIDS, he said. "We will ensure that she is remembered not just for her career but for her unwavering support for a community and a cause that, in the early days, many would not touch," Blanchon said.
Many prominent performing artists described Taylor as iconic.
"We have just lost a Hollywood giant," entertainer Elton John said in a written statement. "More importantly, we have lost an incredible human being."
"Elizabeth Taylor was the most beautiful woman I have ever clapped eyes on," said actress Diana Rigg. "A really sweet woman -- utterly unmalign."
Liza Minnelli issued a statement saying: "She was a true star, because she not only had beauty and notoriety; Elizabeth Taylor had talent."
J.D. Heyman, executive editor of People magazine, which regularly covered Taylor and her doings, told CNN that her stature in Hollywood was unlike any other.
"Elizabeth Taylor may have been the greatest movie star that Hollywood ever produced. She was famous in a way that most people could only dream of," Heyman said.
"Her life itself was larger than any of the movies she made. You know, she was famously married, she had incredibly colorful adventures, she had an incredibly cinematic life. So people identified with her. She certainly was one of the great beauties of the 20th century, and I don't think we'll see another movie star like her," Heyman said.
"Elizabeth Taylor was a great friend, a great star and one gutsy woman," former CNN talk show host Larry King said on Twitter. "She was so special. You won't see the likes of her again."
In a CNN interview, King remarked how Taylor's spellbinding beauty sometimes overshadowed her talent.
"She was also tiny. The first time I met her years ago, I was surprised how short she was because on the screen she was so dynamic. Another thing she had, which I haven't seen in any other person, were true purple eyes. They were not blue, they were purple. ... How glowing they were, sort of hypnotic," King added. "... Of course, people can't appreciate what a good actress she is because she's so damn pretty."
Taylor counted the late showman Michael Jackson among her close friends.
"Liz Taylor was an amazing woman and screen legend," said Jackson's sister, LaToya Jackson, in a statement. "She was an incredible friend to my brother, at his side through some of his most difficult times, and of course loved by his children and our family. She will live on in our hearts forever. My prayers go out to her family."
The Human Rights Campaign, in a statement, also praised Taylor's work combating AIDS.
"We are deeply saddened by the death of Elizabeth Taylor," said HRC President Joe Solmonese. "Ms. Taylor was a true ally to the LGBT (lesbian, gay, bisexual and transgender) community.
"She was one of the first public voices to speak up about the AIDS crisis while many others stayed silent in the 1980s, and she helped raise millions of dollars to fight the disease. Our thoughts and prayers go out to her family, and to all those whose lives have been positively impacted by the life and work of Elizabeth Taylor."
Her sixth husband, former U.S. Sen. John Warner, a Republican from Virginia, told CNN that the couple were "alway friends -- to the end."
"Likewise, my children bonded with hers, and they will be together at the services in California," Warner said. "She was my 'partner' in laying the foundation for 30 years of public service in the U.S. Senate, representing Virginia, a state she dearly loved, as it reminded her of her heritage in England.
"I shall remember her as a woman whose heart and soul were as beautiful as her classic face and majestic eyes."
In Hollywood, on its Walk of Fame, Bruce Lassen had been polishing Taylor's star on Hollywood Boulevard early Wednesday morning. Lassen, 63, of Hollywood, has been the volunteer polisher of Taylor's star for the past 20 years, among the dozen stars that he regularly tends, he told CNN in an interview.
The Walk of Fame depends on volunteers like Lassen to clean the brass of some 2,400 stars along 2.4 miles of Hollywood Boulevard and Vine Street.
Commuters stopped and paused for a moment Wednesday morning as Lassen burnished Taylor's star, Lassen said.
Later, he expressed satisfaction with how he cleansed the landmark on the day of Taylor's death.
"If you look behind you, it looks pretty good. It's pretty shiny," said Lassen, standing by his kit of cleansers and brass polish.
When he first heard the news of her passing, he was having his first cup of morning coffee and watching the television news. He admired Taylor's cinematic career and her charity work, he said.
"It's always sad to hear when somebody leaves us. It's like when you lose family," said Lassen, who's also a guide for a Hollywood tourist bus firm.
Many celebrities tweeted their sympathies.
"Sad to hear of Elizabeth Taylor's death," comedian Joan Rivers said on Twitter. "She was the 1st major celebrity to join me in the fight against AIDS when it wasn't a popular cause."
"Elizabeth, thank you for all your help in the battle against HIV and AIDS. You will be missed by the world," said former L.A. Lakers player Earvin "Magic" Johnson, also on Twitter. Johnson is HIV-positive.
Comedian Steve Martin said Taylor was "witty and self-deprecating, which I found surprising and delightful. She loved to laugh."
Roseanne Cash, daughter of Johnny Cash, said that every year Taylor "sent my dad a telegram (yes, telegram) for his birthday. It said: 'Remember, I'm younger than you!' (by 1 day)."
The Gay and Lesbian Alliance Against Defamation honored Taylor in 2000 with its Vanguard Award for her efforts to increase visibility and understanding of the gay, lesbian, bisexual and transgender community.
"Why shouldn't gay people be able to live as open and freely as everybody else?" she asked in her acceptance speech at the GLAAD Media Awards. "What it comes down to, ultimately, is love. How can anything bad come out of love? The bad stuff comes out of mistrust, misunderstanding and, God knows, from hate and from ignorance."
"Today, the lesbian, gay, bisexual and transgender community lost an extraordinary ally in the movement for full equality," GLAAD President Jarrett Barrios said in a statement. "At a time when so many living with HIV/AIDS were invisible, Dame Taylor fearlessly raised her voice to speak out against injustice. Dame Taylor was an icon not only in Hollywood, but in the LGBT community, where she worked to ensure that everyone was treated with the respect and dignity we all deserve."
AmfAR, the foundation for AIDS research, said, "Dame Elizabeth was without doubt one of the most inspirational figures in the fight against AIDS. She was among the first to speak out on behalf of people living with HIV when others reacted with fear and often outright hostility."
"For 25 years, Dame Elizabeth has been a passionate advocate of AIDS research, treatment and care," said amfAR spokeswoman Natalie Jacobs. "She has testified eloquently on Capitol Hill, while raising millions of dollars for amfAR. ... She leaves a monumental legacy that has improved and extended millions of lives and will enrich countless more for generations to come."
Taylor was known to use Twitter to communicate with her fans from time to time. One of her last tweets, sent in July, said, "Every breath you take today should be with someone else in mind. I love you."
Former President Bill Clinton and his wife, Secretary of State Hillary Rodham Clinton, issued a joint statement saying the film star was one of America's "greatest talents and fiercest advocates for HIV/AIDS research."
"We were honored to host her at the White House in 2001 when she received the Presidential Citizens Medal for her relentless crusade for more AIDS research and better care," the Clintons said. "Elizabeth's legacy will live on in many people around the world whose lives will be longer and better because of her work and the ongoing efforts of those she inspired."
Officials with the Simon Wiesenthal Center, headquartered in Los Angeles, said Taylor, along with Frank Sinatra, was among the early supporters of the global Jewish human rights organization from its inception and served on the center's board of trustees in the 1980s.
"Elizabeth Taylor, who was a great admirer of Simon Wiesenthal, narrated our first documentary film, 'Genocide,' the story of the Holocaust, which won the Academy Award in 1981," said Rabbi Marvin Hier, founder and dean of the Simon Wiesenthal Center. In 1980, she received the center's highest honor, its humanitarian award, he added.
In a written statement, actress Sharon Stone called Taylor "an illuminator. She put human faces on issues. With her soft voice coming from that tiny frame, she held forth the giant purpose of the true meaning of love; that we are all equally valuable," Stone said.
"With one simple movement, pulling her ever famous jewels from that beautiful face, she opened the hearts of the world not just to the condition of HIV/AIDS as she had intended but ultimately to human rights as a whole. She stood in her grace and candor and simply said the truth, that we are one, a world that must understand and accept itself," Stone continued.
"The world will not be without Dame Elizabeth Taylor, the world is becoming as she envisioned it, freer, and therefore she is not gone," she said.
.