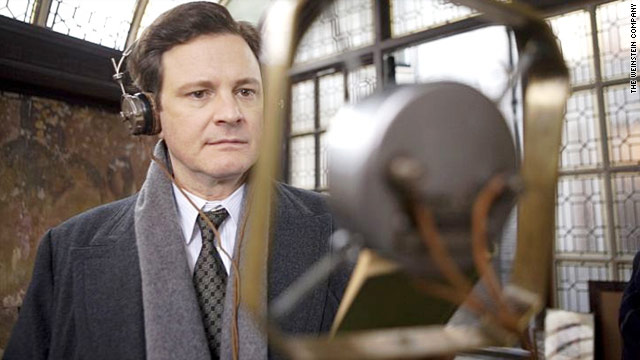 STORY HIGHLIGHTS
David Seidler drew upon his childhood pain as a stutterer to write the screenplay
He waited decades to write the story at the request of the royal widow, Seidler says
The story wouldn't have been good enough for an Oscar nomination if he wrote it sooner, he says
The countdown to Hollywood's biggest night is on. Join "Showbiz Tonight's" A.J. Hammer and Brooke Anderson for live red carpet access at the Oscars on "Road to Gold" this Sunday at 7 p.m. ET on CNN.
Los Angeles (CNN) -- "The King's Speech" story knocked around in David Seidler's head for half a century before he finished writing the screenplay for the film, which is now nominated for a dozen Academy Awards.
Any sooner and it might have been "a fairly reasonable script," but not likely good enough to earn an Oscar nomination for best original screenplay, Seidler said. It demanded "a more mature writer."
"I don't think it would have been the same," he said, as he sipped hot tea in the Beverly Hills Hotel's Polo Lounge.
During lunch, Seidler opened a large envelope holding an original photograph of King George VI sitting with President Franklin Roosevelt. The photo, a gift from collector Keya Morgan, was taken in June 1939, just three months before he delivered the dramatic radio address that is the climax of his movie.
"He's trying to look relaxed, but it's not relaxed at all," Seidler said, pointing to the king's crossed hands.

'The King's Speech' producer tells all

Helping King George VI speak
He noticed Roosevelt's legs were not covered with a blanket, as was the usual pose.
"You can see the braces," he said. "That's just about the only photograph I've ever seen of him without the blanket. That's very unusual."
Seidler spoke about the similarity between Roosevelt's paralyzed legs, a public secret, and King George VI's speech impediment, which was "swept under the royal carpet."
"Not much is written about it, because the royal stutterer is a source of embarrassment," Seidler said. "Stuttering was considered a speech defect and if you had a speech defect, you were, by definition, a defective person."
But the king was a royal inspiration to Seidler, who himself began stuttering as a child while sailing from his native England to the United States to escape the German bombing.
Seidler, now 73, was a college student when he first decided to write about how King George VI overcame his stutter to lead Britain through World War II with inspiring radio addresses.
Searching the pain of his own childhood gave Seidler the words he needed for "The King's Speech," he said. But it was not something he could do until later in life, he said.
"This required going back into the pain and the loneliness and the isolation and frustration of being a stutterer," Seidler said. "And being a stutterer is rather like having a very bad toothache. When you've got the toothache, all you're thinking about is 'Wow, my tooth really hurts.' All I can think about is that pain. As soon as you get to the dentist and the dentist fixes it, the last thing you want to remember is how that tooth ached. You just blank it out, the mind forgets it."
It took many years for Seidler to allow his mind to recall what it was like to be a stutterer, he said.
"But as a more mature writer, let me put it that way, when you start looking back on your life, it is easier to go back into the past and therefore, I was able to really put my head back into being a stutterer, which I wouldn't have been able to do otherwise," he said.
The long wait was not self-imposed, but was a royal request from Elizabeth, the queen mother. The king's widow sent a letter granting her blessing to the effort if Seidler waited until after her death.
"The memory of these events is still too painful," she wrote in 1982.
"I knew what she meant," Seidler said. "It was her grief over the loss of her husband at a very early age; he was in his early 50s when he died, because he had the stress of being the reluctant king, a position he wasn't trained for, wasn't suited for. And she just didn't want to be reminded of what had happened."
As a good British subject, he waited.
"I didn't think I had that much longer to wait," he said. "She was a very old lady at the time. I thought a couple years, three or four at the most."
She lived for two more decades, dying in 2002 at the age of 101.
Her long life may give the 73-year-old Seidler the distinction of being the oldest writer to win an Oscar for an original screenplay.