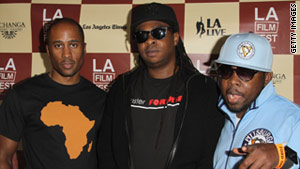 A Tribe Called Quest's Ali Shaheed Muhammad, left, Jarobi White and Phife Dawg at their documentary's premiere.
STORY HIGHLIGHTS
Legendary hip-hop group A Tribe Called Quest broke up in 1998

Actor Michael Rapaport is releasing a film about the group

The documentary opens in select theaters this weekend

(CNN) -- When legendary hip-hop group A Tribe Called Quest broke up in 1998, founding member Ali Shaheed Muhammad says, he felt relieved.
Sure, the New York rap collective led by frontman and producer Kamaal Ibn John Fareed, aka Q-Tip; Jarobi White; Ali Shaheed Muhammad; and Malik "Phife Dawg" Taylor enjoyed an unprecedented run of success since forming in 1985, but at that particular moment in time, things weren't the same.
"When I said it was a relief, I just felt that you could feel the tension, you could feel how much of a struggle there was to advance our art with the record company. There was such a tension between management and us," Muhammad said of the group's surprising split from Jive Records, which they signed to in 1989. "It became like the first time our entire career that we ever had a disagreement."
In the late '80s and early '90s, amid rap music's gangster faction and black-power movement via hip-hop culture, A Tribe Called Quest carved their niche in between. With songs like "Electric Relaxation" and "Check the Rhime," they fused hip-hop music with jazz while lyrically and stylistically promoting Afro-centricity and showing a sense of pride in being yourself.
A Tribe Called Quest would release five albums over the course of 13 years, each project certified no less than gold. Rolling Stone has called their records "near-flawless," and their success, along with groups like De La Soul and the Jungle Brothers, helped spark the Native Tongues movement.
Enter Michael Rapaport, actor, first-time director and friend of Muhammad's and Q-Tip's. A self-proclaimed Tribe fan, the New York native set out to make a documentary about the group he calls "the Rolling Stones of hip-hop."
Rapaport began production in 2008, following the group as they headlined the Rock the Bells tour, 10 years removed from their last studio project.
"Beats, Rhymes & Life: The Travels of A Tribe Called Quest" is a celebration one of the most important groups to make music in the past 30 years, he says.
Dubbed a love letter to hip-hop's early days, the film is a story about friendships and the strength of family inside and outside the music business.
But before the limited release Friday, the film was more known for the whirlwind of controversy. Spats over creative control among the director and members of the group as well as the film's producers got a lot of unwanted publicity, with Q-Tip tweeting that he didn't support the film and later voicing his frustration to MTV.
"I'm a bit sad at the process and somewhat feeling disconnected as a result of it," Muhammad said. "To see how it has progressed, it's just disheartening."
CNN spoke with Rapaport, Phife and White about the film; Q-Tip declined to be interviewed .
CNN: Mike, it all starts with the music. How do you go about encapsulating 20 years of it into 90 minutes?
Rapaport: As a filmmaker, that was daunting: It was overwhelming, it was frightening and, at times, paralyzing. Literally, in the editing room, I would sleep, not out of being tired like, "Holy s---, what have I gotten myself into?!" You know, I want my mother to understand this; I want my father to be able to understand the story. I didn't just want it to just be in a shorthand for Tribe fans, where you could just go into some random lyric and only people that knew all of the songs would be able to get it, because I thought that would be being a disservice to myself, to the film I intended to make.
CNN: And for you, why was it important to share Tribe's particular story?
Rapaport: You have (Black Sheep's) "The Choice is Yours" in car commercials; you have Michelle Obama doing the Dougie, and that's because of what these guys accomplished. They made this stuff popular for everybody and acceptable for everybody.
CNN: Phife, your type 1 diabetes has been cause for concern and rumors but was a huge part of the film. How hard was it seeing yourself like that?
Phife: I thought it was something that was necessary for the simple fact that if I could help one person with whatever they're going through, I feel like it's a good deed being done. The funny thing about that is, when (Mike) first showed me the movie, I couldn't watch it.
White: Me either!
Phife: I'm glad people were able to see it, and I'm glad to see that they're able to see we're human beings, regardless of how many hit records we had through the years. Just seeing my whole career-slash-adulthood flash in front of me knowing that the last five, six years was tumultuous to say the least, and I was just glad to be there to witness all of that because there was a time when I didn't think I was going to be here to witness none of that. You know what I'm saying, the making of a film, none of that.
Rapaport: These guys were like superheroes. They were larger-than-life characters, and showing these guys in ways that you don't normally see black men and certainly black men in hip-hop, which is not anything I could have premeditated, but just being vulnerable and loving towards each other in a way that you don't see in cinema (is powerful).
CNN: A lot of detractors said Mike can't make a movie about hip-hop because he's not hip-hop ...
Rapaport: I think that's total bulls---!
Jarobi: You cannot say Mike is not in the hip-hop community. Say whatever you want, but that's not something you can say, because I've seen dude at the parties back in the day. Tribe Called Quest, we never really had too many outside producers, it's all in-house, and that's they way we're used to doing things. (Rapaport) putting his opinion on things that are our life -- dude, that's not going to happen, and those are the type of things we're going back and forth with.
CNN: How much stress did the business side put on everyone's personal relationships?
Rapaport: That's the thing, for me, that I wish didn't happen, and I know my part in it. So, you know, it happened, and honestly at this point, it has created more interest -- for better or for worse -- on the film. It's unfortunate it did happen. I'm done with it. I'm moving forward, and I would love nothing more than to buy all four members of A Tribe Called Quest popcorn and soda and candy if they want -- licorice, Twizzlers -- and watch the movie with them with an unbiased audience. I think that it would be the best thing for all of us.
CNN: The film brings up the fact you have one album left on your Jive contract. Any shot of the Tribe Called Quest album coming together?
Phife: Me personally, I can only speak for me, and I guess (White) because he's sitting here. In our heart of hearts, we want it to happen, definitely. It's what we do at the end of the day, but with all the politics and the BS going on, I don't mean to sound negative, but it's been 13 years. It's like, will it happen?! That's the question. But I want it to happen, and my reason is strictly for the fans -- strictly.
White: Dude, and we haven't had an album out since '98, B! And the fact that we're sitting here talking about wanting an album after so long is just incredible.
Phife: That's a blessing to still be looked at as relevant. C'mon, man. That's crazy right there.