STORY HIGHLIGHTS
NEW: The last Harry Potter film sets a record for midnight opening: $43.5 million
NEW: It also sets a record for midnight opening for IMAX theaters: $2 million gross
NEW: And it sets a record for advance ticket sales
Harry Potter film franchise ends after more than a decade
Tune in to CNN at 8 p.m. ET tonight for the Larry King special "Harry Potter: The Final Chapter." King talks with the cast and shows never-before-seen footage of the final "Harry Potter" film and more.
Hollywood, California (CNN) -- "Harry Potter and the Deathly Hallows: Part 2" broke a domestic box office record for a midnight opening Thursday, hauling in $43.5 million, Warner Bros. Pictures said Friday.
The film also set a midnight opening record for IMAX theaters: $2 million gross, president Dan Fellman of Warner Bros. Pictures Domestic Distribution said in a statement. The film opened on a record number of IMAX screens, the studio said.
The movie also set records for overseas releases and garnered $43.6 million in 26 countries on Wednesday, the first day, and a total of $82.5 million by Thursday, a Warner Bros. spokesman told CNN.
"What an incredible beginning for the movie that ends it all," Fellman said in a statement.
The film's release was an event more than a decade in the making: After years growing alongside "The Boy Who Lived," Harry Potter fans clambered into theaters at midnight Thursday to behold the final battle between their hero and the Dark Lord Voldemort.
"Harry Potter and the Deathly Hallows: Part 2" marked the end of the book series and film franchise that has enamored a generation for more than 12 years.

Cast says goodbye to 'Harry Potter'

'Harry Potter' film finale

'Who knows' if Harry Potter is finished

'Harry Potter' meets religion
The final installment grossed $25 million from advanced ticket sales, thanks to fans such as Megan Lipscomb, 18, who was one of many to buy tickets online days before the movie hit theaters.
She watched the premiere in Dalton, Georgia, and even in that small town, Potter fans came out in droves dressed as their favorite characters.
"There were really a lot of people with lightning bolts on their foreheads," Lipscomb said.
Author J.K. Rowling's books have captivated a generation and inspired everything from a multibillion-dollar film franchise to a theme park in Orlando.
Though tears will be shed and lives will be lost on screen, Daniel Radcliffe told CNN's Larry King this installment is the best one yet.
"I think in this film, we find the best between the emotional side of the films and the action-packed adventure, exciting side. I think we've never gotten the balance so right before," Radcliffe said.
After seeing the premiere, Lipscomb agreed.
"The last one was really long and parts were boring. But not this one. This one kept me on the edge of my seat."
Lipscomb said she was not the only one in the theater who loved this last chapter of Harry Potter.
"There were some people crying during the movie, and there was a big applause in the theater at the end of the movie," she said.
Kay Watkins saw the movie in Chattanooga, Tennessee, and is part of an older demographic of Harry Potter fans.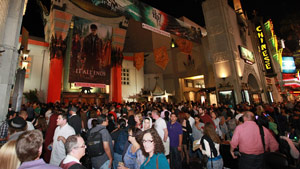 Fans line up outside Grauman's Chinese Theatre in Los Angeles on Thursday.
She and her husband made a family night of it, taking their 21-year-old daughter to see the final movie.
Watkins said the movie was enjoyable for people of all ages and it was quite a spectacle.
"The strangest thing we saw was one lady dressed like Hedwig (Harry's owl). She had a white leotard on with feathers glued all over it, with a mask over her face. My husband also noticed a lady dressed like the Hogwarts Express Train," Watkins said.
For many, Friday's premiere marked not only the end of the movies, but the end of their childhood.
In London, an American student paced in his flat, eagerly counting down the hours until the premiere of the movie.
Jesse Vineyard, 21, said the final Potter premiere factored in his decision to study abroad this summer.
"It's been such a big part of my childhood. I've grown up with Harry Potter. I've been reading (the books) since they first came out," Vineyard said. "It's definitely ingrained itself into the childhoods of many generations."
He added, like Harry, he's realizes it's time to make his way in the world.
"I feel like it's finally my childhood coming to an end and I'm no longer innocent and naive. ... I have to grow up," Vineyard said.
The film's stars -- Radcliffe, Emma Watson and Rupert Grint -- grew up on the big screen.
And though they are no longer budding wizards with broken glasses, bushy hair and dirty noses, the fans take comfort in knowing Potter will never be gone, not as long as those who remain are loyal to him.
CNN's Leslie Tripp and Chelsea Bailey contributed to this report.
FOLLOW THIS TOPIC