STORY HIGHLIGHTS
Scissor Sisters curate exhibition of works by Robert Mapplethorpe
Show contains work by contemporary artists
Mapplethorpe an inspiration for the band's third album, "Nightwork"
London, England (CNN) -- They are a band known for their catchy dance tunes and flamboyant style, but now Scissor Sisters are turning exhibition curators for a show of works by the late photographer Robert Mapplethorpe.
The platinum-selling band's frontman Jake Shears and musician and lyricist Babydaddy were in London to open the exhibition, which is entitled "Nightwork" after their most recent album.
"Somebody asked me the other day, 'Oh, you know, what was the first Robert Mapplethorpe photograph you ever saw?' and I was like 'What was the first Beatles song you ever heard?" said Shears of Mapplethorpe's influence at Alison Jacques Gallery, where the show is taking place.
Mapplethorpe is synonymous with the artistic scene in downtown New York in the 1970s and 80s. He was close friends with singer-songwriter Patti Smith, whom he shot for portraits and record covers.
Scissor Sisters were asked to curate the show when the gallery, which represents the Mapplethorpe estate in the UK, saw that the band had used his suggestive photograph of ballet dancer Peter Reed on the cover of "Nightwork."
"The moment I saw the photograph which we ended up using for our album cover," said Shears, "I knew right away that it was the sleeve."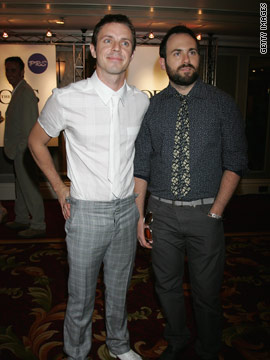 Gallery: Scissor Sisters curate Mapplethorpe show
"Initially I loved the sexiness and the playfulness of it," he continued, adding that the image of dancer Peter Reed's behind was an inspiration for the dance tracks on the album.
He also said he sees the album, the band's third, as an homage to the heady period in 1980s New York when Mapplethorpe became famous, before his untimely death due to an AIDS-related illness in 1989.
"I really wanted to acknowledge those people and those creatives that had been through this world before us and had really paved the way for a band like us to exist -- because we were never the first people to do what we do, you know, there were plenty before," said Shears.
The exhibition, which includes black-and-white photographs of nudes and flowers for which Mapplethorpe is best known, is threaded through with works by contemporary artists including video artist Matthew Barney and conceptual artist Glenn Ligon.
Babydaddy told CNN: "We've both been really interested in contemporary art and I think it's always great to pull inspiration from anywhere you can."
He continued: "I don't know if we really considered curating a show until the gallery approached us, actually, after putting out the record and just said, 'We love what you've done with the work, we think Robert would have been a fan of his use on the album cover.'"
In the course of putting the show together, the band encountered numerous members of Mapplethorpe's former Manhattan circle, including Patti Smith, whose book about her friendship with Mapplethorpe, "Just Kids," won the National Book Award in the U.S. for non-fiction last year.
It was a time of innocence, I think, that was quickly snuffed (out) by AIDS.
--Jake Shears
"It was amazing for her to put that book out because it gave people another perspective, I think, on Robert's life," said Shears.
Mapplethorpe met Smith in the late 1960s in New York, and the two forged a close friendship.
What followed was an intense creative period for Mapplethorpe.
He produced some of the most enduring art of the 1970s and 1980s, with almost classically sculptural black-and-white photos of nudes and still lifes; stark portraits of celebrities including Debbie Harry and Isabella Rossellini; and sculptural work.
Though his work is now well represented at galleries and museums all over the world, it has caused controversy in the past.
In 1989, a traveling exhibition of Mapplethorpe's work in the U.S., which featured nude children and sadomasochistic imagery, caused a political storm culminating in threats to funding for the National Endowment of the Arts.
The artist set up The Robert Mapplethorpe Foundation shortly before his death, which looks after his work but also supports medical research into the area of AIDS and HIV infection.
"It was a time of innocence, I think, that was quickly snuffed (out) by AIDS," said Shears of Mapplethorpe's time in the 80s.
"That always really kind of fascinated and disturbed me," he continued.
"How would art be different? How would music be different? So, that was a big kind of question I was asking when we were making this record," he said.
The exhibition is just the first in a line of exciting projects for the band this year. They will be touring the U.S. with Lady Gaga -- "which will be a blast," said Shears -- and a musical based on Armistead Maupin's novel "Tales of the City," with music and lyrics penned by Shears and keyboardist John Garden, will premiere in San Francisco in May.
Despite all this activity, the band (which includes singer Ana Matronic and guitarist Del Marquis) is planning to record again in the coming year, good news for their many fans across the globe.
"Hopefully something new soon," said Babydaddy.
Mairi Mackay contributed to this report.
FOLLOW THIS TOPIC