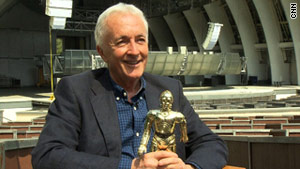 Anthony Daniels has been with "Star Wars: In Concert" since its London premiere in April 2009.
STORY HIGHLIGHTS
Anthony Daniels is the actor behind the golden droid C-3PO
His voice is heard in every "Star Wars" movie
He is now the narrator of "Star Wars: In Concert" and Disney's new "Star Tours" attractions
Los Angeles (CNN) -- He is the most enduring -- and possibly the most endearing -- figure of all "Star Wars" characters.
While in character, Anthony Daniels was never seen. He was merely heard, as the lilting, British-accented voice of C-3PO, the gold-plated droid.
He's the only actor whose voice is heard in every "Star Wars" movie. In fact, he speaks the first line of the original film and the last line of the final prequel.
The 65-year-old actor is the undisputed voice of the "Star Wars" franchise, and now Daniels is back as the bard of the galaxy far, far away: He's the on-stage narrator of "Star Wars: In Concert." The show returns to the United States this summer for two performances at the Hollywood Bowl in Los Angeles, where he recently sat down with CNN.
"I would be fascinated about the different dynamic, to be in the trees here, because George's concept of The Force is pretty much like the Gaia thing where we are one with nature," said the British actor, turning to take in the foliage ringing the hillside amphitheater. "I can almost see Yoda crawling out of these ferns over here."
The show is the saga as symphony, featuring recut clips from the six live-action films on a three-story screen, plus a laser show, all as a backdrop to a live orchestra playing John Williams' memorable scores. And if somehow you're not quite clear on George (Lucas), Yoda or The Force, Daniels says the extravaganza is a perfect introduction.
"We've condensed and cleaned up the story," said Daniels, who claims he was long confused by the various plotlines and intricacies of Lucas' universe. "A lot of ancillary characters, you may glimpse on the screen, but the main thread is that of two boys, Anakin and Luke. Each one has their own way of being met by the audience. And I look forward to that every night."
"Every night" has been the better part of the past two years for Daniels, who's traveled across North America and Europe, on and off, with "Star Wars: In Concert" since its London premiere in April 2009. Despite his ubiquity in the franchise, he said he used to be "a bit snobby" about aspects of its appeal, such as fans arriving at conventions and the concerts in full costume.
"I was with a bunch of stormtroopers in Germany and I thought well, these are clearly people who don't have a life ... so I asked one of them, you know, 'What do you do for a living?' And he said, 'I'm a surgeon,' and the next one was a lawyer, and the next one was an oceanographer. And after that, I stopped asking. I'm just an actor -- I felt very humbled by that," he said.
He's also humbled when he recalls his initial reaction to the concept of the show: decidedly negative.
"When they asked me to host the concert and they said, 'And there's film,' I said 'Why? It's a concert. If you want to see pictures, go to the movies -- let John's music stand on its own, which it's perfectly capable of doing.' And they said, 'Oh, shut up.' And they were quite right, because when I saw the film compilations that they've made, they tell the 'Star Wars' story in a completely different way."
The irony isn't lost on Daniels that the character who famously told Luke Skywalker "I'm not very good at telling stories -- well, not at making them interesting, anyway," now strides the stage narrating the entire arc of the franchise over the course of the two-hour show.
While he had a solid career as a stage actor before he ever slipped into C-3PO's metallic chassis, he freely admits the character has given him undreamed-of opportunities -- including the starring role in a Disney attraction.
The classic "Star Tours" theme park flight simulators have been "re-imagineered" over the past few years, and Daniels as C-3PO is at the center of the result. "Star Tours: The Adventures Continue" opens May 20 at Disneyworld in Florida, and, in a bit of Jedi-like synchronicity, at Disneyland Park in California on June 3 -- the same day the curtain goes up on "Star Wars: In Concert" in Hollywood. The second show is June 4.
"He has been good to me, and I've been good to him," Daniels said, smiling as he toys with a shiny model of his android alter ego. "He has given me a career of endless world tours, he's given me friends beyond possibility.
"I think we stick well. We're not together all the time, no. I take long breaks. But when I get back, you know, and I see the reaction of people to what we've created, I think it's nice, it works," he added.
Daniels says he's grateful for C-3PO -- and for "Star Wars: In Concert."
"It's taken this concept to prove that to me, this concert tour, for me to understand that 'Star Wars' has become a timeline in people's lives," he said. "They measure their family history in who took who to the first one, the second one, the prequels. And it's shown me that it's got far more weight than even I realized."
CNN's Michael Martinez contributed to this report.
FOLLOW THIS TOPIC