'Grease' actor Jeff Conaway on 'razor's edge' in fight for life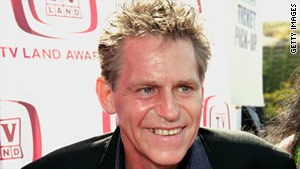 Actor Jeff Conaway is shown at the sixth annual TV Land Awards in Santa Monica, California, in June 2008.
STORY HIGHLIGHTS
Drug abuse delayed Conaway from getting help for pneumonia, source says
Next 72 hours are crucial in Conaway's fight for life, source says
The actor is in a medically induced coma, Dr. Drew Pinsky says
Conaway starred in "Grease" and "Taxi" three decades ago
Los Angeles (CNN) -- Actor Jeff Conaway is on the "razor's edge," fighting for his life against pneumonia and a blood infection, according to a source familiar with Conaway's medical condition, who asked not to be identified.
The next 72 hours are crucial for Conaway's recovery, the source said Saturday afternoon.
Conaway, 60, who was in the TV series "Taxi" and the movie "Grease" more than three decades ago, was rushed to an Encino, California, hospital on May 11. He apparently had been unconscious for eight or nine hours before he was found, manager Phil Brock said.
Initial reports that he suffered a drug overdose were inaccurate, the source said. However, his use of drugs caused him not to realize how ill he was, keeping him from getting treatment until it was almost too late, the source said.
Conaway's struggle with alcohol and drug addiction was chronicled in 2008 on the TV reality show "Celebrity Rehab With Dr. Drew."
Dr. Drew Pinsky, who treated Conaway on the show, posted Twitter messages after he visited him in the hospital Friday evening.
"He is stable & looks like he will recover from his pneumonia. Not an OD like press is alleging & certainly not dead," Pinsky tweeted.
Conaway's manager told CNN on Thursday that he believed it was a drug overdose, but the source with knowledge of his condition said the only illnesses were pneumonia and sepsis.
Pinsky's Twitter postings confirmed the same information. "Pneumonia with sepsis. No evidence of intentional OD," said Pinsky, who hosts the HLN show "Dr. Drew."
Doctors are using the surgical anesthetic propofol to keep Conaway sedated in a medically induced coma, according to Pinsky's tweets. "That also means he's intubated and on a vent," Pinsky tweeted.
The coma is needed to keep the patient from thrashing around, the source said.
"He's a really wonderful soul, a very kind and wonderful person," Brock said.
FOLLOW THIS TOPIC


Today's five most popular stories

Featured Deal |