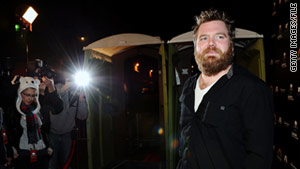 Toxicology tests indicate Ryan Dunn's blood alcohol concentration was 0.196% at time of crash, police say.
STORY HIGHLIGHTS
Dunn's blood alcohol level was twice the legal limit, police say
His Porsche was speeding 132 to 140 mph, police say
Dunn and his passenger died from "blunt and thermal trauma," the coroner says
Dunn was known for pranks and dangerous stunts
(CNN) -- "Jackass" star Ryan Dunn was drunk and speeding up to 140 mph when his 2007 Porsche 911 GT3 crashed and caught fire on a Pennsylvania highway early Monday, police said Wednesday.
Dunn and Zachary Hartwell, a 30-year-old West Chester, Pennsylvania, man who once worked in one of Ryan's movies, died from "blunt and thermal trauma" in the fiery crash, according to the autopsy report released Tuesday.
"The initial crash reconstruction investigation determined that Mr. Dunn's vehicle was traveling between 132-140 mph at the time of the collision," West Goshen Police Chief Michael Carroll said in a statement Wednesday.
Toxicology testing by the coroner indicated Dunn's blood alcohol concentration was 0.196%, which is more than twice the legal state limit of 0.08, Carroll said.
The red-bearded Dunn, 34, was famous for his pranks and dangerous stunts on the show, which evolved into a successful film franchise.

'Jackass' star dies in car accident

Ebert apologizes for 'Jackass' tweet

2010: Dunn: We're just stupid people
Hartwell worked as a stunt car driver on "Minghads," a 2009 comedy directed by "Jackass" star Bam Margera and featuring Dunn, according to the Internet Movie Database.
West Goshen Police were called to the wreck scene on State Route 322 at 2:30 a.m. Monday, the police report said.
"Upon arrival, police located one vehicle off the road and in the woods that was fully engulfed in flames," the report said.
Dunn was driving the Porsche, which was registered in his name, police said.
A photo of Dunn was posted on his Twitter account about two hours before the wreck showing him with a drink in his hand. Two men sitting with Dunn in the photo are not identified.
The manager of Barnaby's in West Chester confirmed that the photo was taken in his bar Sunday night. The bar is about a mile away from where Dunn was killed in a car crash. Manager Jim O'Brien confirmed that Dunn was drinking there.
"He didn't seem to be intoxicated at the time he left," O'Brien said. "Ryan was not a hardcore drinker, at least not when he was here."
O'Brien said Dunn was a regular customer and well known to his staff.
"He was a valuable person in our community and his death is a tragedy," O'Brien said. "He will be missed."
Dunn teamed up with "Jackass" co-star Steve-O for an episode of the NBC game show "Minute to Win It" that aired on June 8.
He also hosted "Proving Ground," which premiered on the G4 channel on June 14.
FOLLOW THIS TOPIC