STORY HIGHLIGHTS
Ukraine preparing to co-host the 2012 European Championships
Delays to stadium construction threatened Ukraine's right to host tournament
Ageing infrastructure has been modernized for Euro 2012
Police being taught English for the arrival of an expected 1.4 million international fans
CNN's global series i-List takes you to a different country each month. In January, we visit Ukraine and look at changes shaping the country's economy, culture and social fabric.
Kiev, Ukraine (CNN) -- Ukraine has had to overcome skepticism and criticism in its bid to host Euro 2012, and it's now frantically overhauling its stadiums and infrastructure in preparation for the tournament.
When it was announced in 2007 that Ukraine and Poland would co-host the 2012 European Championships it was considered a coup for both nations. It marked their acceptance in the elite club of nations deemed worthy of hosting the football tournament.
But three years of political and economic upheaval have seen Ukraine's credibility as a destination for major sporting events stretched to the limit.
When his country was awarded the competition, Ukraine's then president Viktor Yushchenko said: "The Euro 2012 will become a remarkable opportunity for Ukrainians and the Polish people to receive the best representatives of the European football family and to present an outstanding football event to the game's lovers throughout the world."
Less than a year later, that optimism seemed misplaced. In early 2008, Michel Platini, president of European football's governing body UEFA, warned of "critical slippages" in Ukraine's preparations. There were rumors that alternative hosts could be put in place.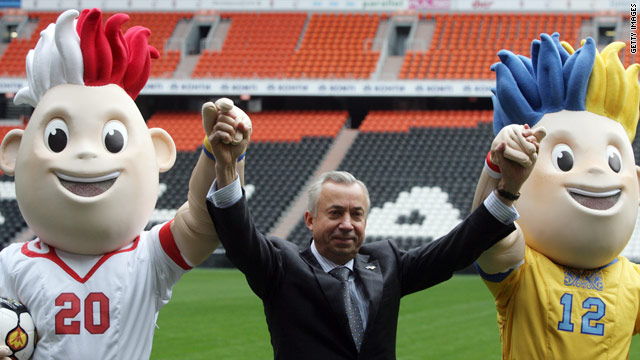 Gallery: Euro 2012
With the global economic crisis biting especially hard in Ukraine, as late as May 2009, Ukraine's efforts to host Euro 2012 were on the rocks. After a series of site visits in April, UEFA said it was considering making Poland the tournament's sole host because of delays to Ukraine's construction schedule.
Host cities Donetsk, Lviv, Kharkiv and Kiev were all given ultimatums to meet requirements around the readiness of stadiums and other infrastructure, including transport and accommodation.
The $400 million state-of-the-art Donbass Arena (home of 2009 UEFA club champions Shakhtar Donetsk) in the eastern city of Donetsk opened with huge fanfare in August 2009, but Kiev's Olympic stadium -- scheduled to host the tournament final -- was nowhere near ready.
The Kiev stadium was one of the Soviet Union's key venues when it hosted the 1980 Summer Olympics. It's now going through a complete overhaul, alongside other core infrastructure stuck in a Soviet time warp.
The government described last summer as the country's toughest because of the sheer amount of effort that construction companies had to put in to bring stadiums like Kiev's up to UEFA's requirements. But UEFA now says it's now satisfied that preparations are on track.
Before Euro 2012 we had no real international airports in the country.
--Borys Kolesnikov, Deputy Prime Minister, Ukraine
Ukraine's Deputy Prime Minister Borys Kolesnikov told CNN: "Before Euro 2012 we had no real international airports in the country. We had post-Soviet airports, which were transformed into something like international airports.
"For 2012 we have four brand-new terminals, which will have very convenient flight schedules. We'll have high-speed trains and each city will be three or four hours from Kiev."
Platini has acknowledged Ukraine's progress and now Ukrainians are daring to look ahead to the championships themselves.
Adverts showing Ukraine at its glossiest are beginning to air internationally, designed to entice fans to book their tickets and experience the country's charms.
Even Ukraine's police force is getting a tourist-friendly makeover, with officers receiving English lessons in anticipation of the arrival of an expected 1.4 million international fans next year.
Now the pressure is on the national team to make its country proud.
Andriy Schevchenko, formerly of AC Milan and Chelsea, is Ukraine's most famous footballer. Now plying his trade with Dynamo Kiev, the 34-year-old striker is hoping age will not prevent him from representing his country at Euro 2012.
"For me, personally, I want to play because it's a big event for Ukraine and I hope Ukraine prepare very well -- people are so excited to achieve this event in Ukraine," he told CNN.
An event that presents a golden opportunity to put Ukraine, its culture, and its football, on the front foot.
Mark Tutton contributed to this report.
FOLLOW THIS TOPIC