Japan's women inspire battered nation with World Cup win
STORY HIGHLIGHTS
The U.S. took the lead twice, but Japan managed to pull it back
The timing could not have been more anti-social as the game kicked off at 3.45a.m. local time
Men and women were overcome with pride in a team that few knew anything about before the competition
Tokyo (CNN) -- It's not often that it's acceptable to open a bottle of champagne at 7 o'clock on a Monday morning, but this was one of those occasions.
David had beaten Goliath and the Japanese football fans crammed into a Tokyo bar had screamed themselves hoarse watching their national team play two-time winners the United States in the women's World Cup final in Germany.
It was a rollercoaster of emotions for 200 fans; twice they thought their team had been beaten as the U.S. took the lead but twice they pulled it back.
Maiden World Cup crown for Japan's women
The timing could not have been more anti-social as the game kicked off at 3.45a.m. local time. But apart from a few snoozing supporters, potentially due to the free-flowing beer rather than the late hour, the passion stayed alive throughout.
There were plenty of Japanese football shirts on show in the Footnik Bar in central Tokyo but with the men's players' names on the back -- that could well change now.

World Cup victory inspires a nation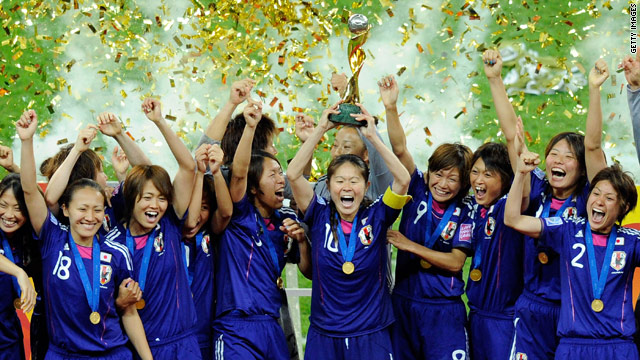 Gallery: Japan's women make history
"It wasn't conceivable that Japan would win the World Cup, and it wasn't even the men who did it but the women," said Futoshi Arai, a fan from Tokyo.
"I was surprised, their games aren't even aired on TV and they won the cup, it gave me goose-bumps."
After the March earthquake, tsunami, nuclear and political crises, this country was overdue some good news.
As the team progressed through the competition against the odds, the nation was inspired by the team and it became about more than just football or a trophy.
"After the disaster, the whole country was in the spirit of trying their best. What we saw was the soul of Japan," another Fan, Yasushi Tsuha, told CNN.
There were few dry eyes in the sports bar as the victorious Japanese players lifted the World Cup trophy for the first time. Men and women were overcome with emotion and pride in a team that few knew anything about before this competition.
The split between men and women was fairly even. Women who had no interest in football before had suddenly become die-hard followers.
When I see women like me giving so much spirit, it gives me energy to keep going in my daily life," said Ayako Nishi.
Japan had been the underdog and the sentimental favorite before the match. Now they are the best in the world.
FOLLOW THIS TOPIC