STORY HIGHLIGHTS
Fidel Castro demolished all but two of Cuba's dozen or more golf courses
The sport was seen as representative of the capitalist West and mocked by Castro
Relaxed property laws and the lure of the tourism dollar set to prompt a golf revolution
Cuban government claims to have approved 16 new golf developments on the island
(CNN) -- Under Fidel Castro's rule, golf was all but eliminated in Cuba, but the bourgeois sport of the West is poised for a comeback on the communist-run island.
Castro and Che Guevara famously staged a golf match to antagonize then-U.S. president Dwight D. Eisenhower, and soon after he came to power in 1959 the revolutionary leader began his march on Cuba's dozen or more courses.
The tanks rolled in, and some were turned into military facilities. One became an art school, and Castro reportedly built a house on the fairways of another. By the time he was finished, only two courses remained.
But over half a century later, a more relaxed political regime and a hunger for the tourism dollar is set to transform Cuba into an unlikely golfing hotspot for Western travelers.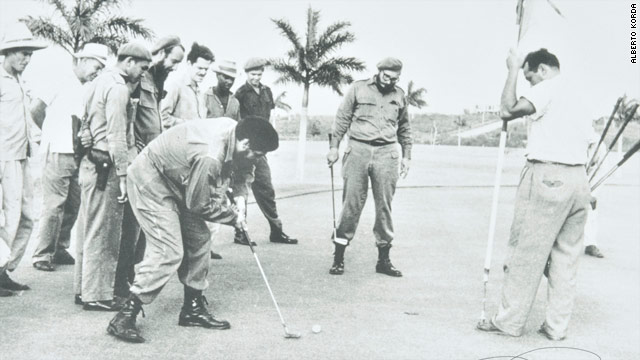 Gallery: Alberto Korda golf
"Golf is becoming a reality in Cuba this year," Andrew MacDonald, chief executive of London-based Esencia Hotels and Resorts, told CNN.
"The key moment was a change in Cuban property law last August to make foreign ownership far more attractive.
"The Cuban government have a vision of establishing 15-16 new golf courses in the next five to seven years."
Esencia is part of that vision. Its luxury Carbonera Country Club development in the beach resort of Varadero has been seven years in the making, and MacDonald hopes to start construction on the $300 million project in the next few months.
Cuba has a great climate, coastal frontage for development and needs golf to support tourism demands
--Les Furber, golf course designer
Leisure Canada, a Cuban investment company based in Vancouver, is also at advanced stages with three planned golf developments in the Pinar del Rio province on Cuba's west coast.
And London-based firm Foster and Partners confirmed to CNN it has been commissioned by a Spanish developer to build a 2,000-unit golfing community with three courses in the same area.
Cuba currently has just 27 holes for golfers. The ramshackle nine-hole Havana Golf Club survived the Castro regime as a venue for foreign diplomats and visiting businessmen, while the Varadero Golf Club on the east coast was extended to 18 holes in 1998 thanks to a $20 million investment from the government.
Canadian Les Furber was the man who designed it, and he said the political climate made for a protracted process.
Why did Communist heroes play the bourgeois game?
"Because of the U.S. embargo on products and services it was challenging to get many of the things we needed, and the economic time meant it took eight years to build the golf course due to the lack of diesel fuel, tires and batteries etc," he said.
Despite the frustrations, Furber is keen to return to the island to work on future developments, and believes Cuba is ideally situated to attract Western golfers.
"Cuba is 90 miles from Miami and has a great climate, coastal frontage for development and needs golf to support the tourism demands," he said.
"Cuba recognizes now that it does not have any financial support from foreign countries and needs tourism in a big way to help pay for its imports and lines of credit for most things it does not produce or manufacture."
Golf will be an Olympic event in 2016. Cuba should seriously prepare for golf as they have done with other sports
--Golfer Alvaro Quiros
Cuba's minister for tourism Manuel Marrero said in 2010 that 16 golf developments had already been approved by the Council of Ministers. He stressed that golf was fundamental to its plans to bolster the tourism industry.
But Havana Golf Club's resident professional Johan Vega has heard it all before. He remains skeptical over the mooted developments, and harbors doubts whether Cuba is truly ready to embrace the sport that, thanks to Castro, is no more than a minority activity.
"When the new ones open show them to me. Then I will know it is true," he told the Golf.com website.
"In Cuba golf culture simply doesn't exist. If you talk to people here about birdies and bogeys they have no idea what you mean."
Cuba's golf revolution will certainly be on the agenda in April when Varadero hosts the third annual Montecristo Cup, a tournament open to amateurs and professionals.
Spanish professional Alvaro Quiros will be the big-name attraction this year, and the four-time winner on the European Tour is fully behind the initiative to bring golf back to the Cuban people.
"It is important that support is given to many people in Cuba to play, practice and participate in golf," he said after his appearance at Varadero in 2010.
Golf wasn't a priority in Cuba before. It's worth noting that 10 million U.S. citizens can already come here because of their Cuban relatives
--Esencia's Andrew MacDonald
"Golf will be an Olympic event in 2016. Cuba should seriously look at and prepare for golf as they have done with other sports -- baseball, boxing, track and field."
MacDonald is confident change is coming. He's been impressed by the enthusiasm and golfing knowledge of the Cuban contractors and government officials, and is utterly convinced their vision will become a reality.
"Golf just wasn't a priority in Cuba before and now it is," he said. "We hope that in years to come emerging young players will have the chance the develop and compete on an international level.
"Cuba is known for its baseball players, and when you think about it the golf swing is not a million miles away from that used in baseball."
While initially looking to the "Anglo-Saxon" tourist market, MacDonald believes the U.S. government will ultimately relax its restrictions on Americans visiting Cuba.
"I see that coming in softly over the next few years. But it's also worth noting that 10 million U.S. citizens can already come here because of their Cuban relatives," he said.
As for Castro and Guevara's famous game, it was won by the younger man with a score of 127. Castro shot over 150 and some have suggested his resentment of golf was simply down to the fact he was never any good at it.
FOLLOW THIS TOPIC