STORY HIGHLIGHTS
Li Na faces Francesca Schiavone in the women's singles final at the French Open
She is the first from China to reach the title match at the clay-court major tournament
The 29-year-old lost in the final of 2011's opening grand slam in Australia
She will become the first player from her country to reach the top-five in rankings
(CNN) -- The weight of China's sporting expectation weighs upon the slim shoulders of Li Na once again this weekend.
Four months ago, the 29-year-old became the first tennis player from her country to reach the singles final of a grand slam tournament.
She lost that Australian Open title match to former world No. 1 Kim Clijsters, a veteran of the scene and a three-time U.S. Open champion.
Li now has another chance to confirm China's continued improvement in a sport where it has four players in the women's top-100 -- and none in the men's -- as she faces defending champion Francesca Schiavone of Italy in Saturday's French Open final.
If she wins she will equal the 1995 feat of Japan's Kimiko Date Krumm in becoming the highest-ranked Asian player at fourth in the world. If she loses, Li will still be the first Chinese player to crack the top five.
History-maker Li Na to face Schiavone in French Open final

History made at Australian Open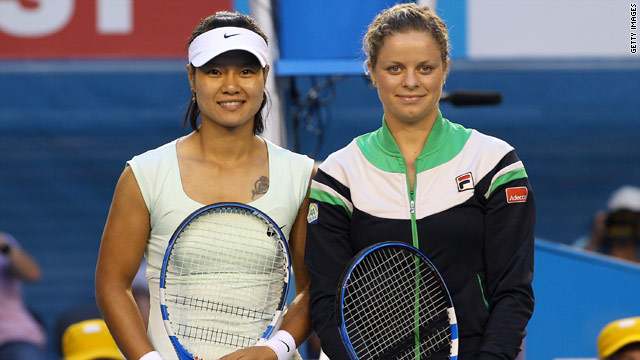 Gallery: Australian Open women's final
Her progress has been lauded by headlines at home such as "Big sister Li becomes more red on the red clay" as the Beijing News punned on the playing surface at Roland Garros and China's national color.
The state-run People's Daily trumpeted: "Li Na has again made history ... as Li Na herself said, everything begins from here and anything is possible."
Reader comments on the official French Open website included, "Come on win your first title! That would definitely help Asian/Chinese tennis!" and "Looking forward to seeing a new star born" while one viewer wrote: "Li Na is a breath of fresh air! Great for women's tennis."
She was described by one contributor as "conservative, methodical, collected, calm and cool, and of course down to earth" after defying windy conditions to defeat former world No. 1 Maria Sharapova in Thursday's semifinals.
The impact of her achievements will not be lost on the nation's population of 1.3 billion, with a potential of some 330 million households to view the match.
"To maximize the size of the television audience, having Li Na in the final is perfect. China is an absolutely critical market for tennis globally," Kevin Alavy, a director of global sport research and evaluation consultancy firm Futures Sport + Entertainment, told CNN before her first grand slam final in Melbourne at the end of January.
Li will definitely change the sport of tennis in China and that is a great thing
--Michael Chang
"Having her in the final can have a transformative effect on the global viewing story. We wouldn't be surprised if it turned out to be the most-watched tennis match of all time."
While Li's defeat by Clijsters was disappointing for her fans, there is strong hope that she can become the first from China to win a grand slam championship since the fully professional Open era began in 1968.
"She is still the best, she's still our hero in everybody's eyes. This is just the start," Bai Yan, a member of China's men's' national team member and Li Na's friend, said after that match.
Li has support from high up, with Chinese Ambassador Kong Quan and the president of the Chinese Tennis Federation, Zhang Caizhen, cheering her on in Paris when she faced seventh seed Sharapova.
Her performances at Roland Garros have far outshone those of her compatriots.
Shuai Peng, seeded 25th, reached the third round before losing to Schiavone.
Zheng Jie, ranked 80th now after a long injury absence but a semifinalist at the 2010 Australian Open and Wimbledon in 2008, was beaten in the second round by Czech ninth seed Petra Kvitova -- who Li bettered in the last 16.
Shuai Zhang, 76th in the listings, lost in the opening round for the second year in a row.
But China is expected to continue to develop as an emerging force in tennis, according to the head of the women's game.
"There's going to be a good, steady stream of talented young players coming out of this region, and not just China -- all over Asia, I think. It's really inspiring," WTA president David Shoemaker told CNN.
"We've seen it with other sports in China -- Yao Ming made it to the NBA and became a superstar. That catapulted basketball, and every young Chinese boy wanted to shoot hoops. We could be experiencing the next Yao Ming here."
Michael Chang, a Chinese-American, was the first Asian grand slam champion when he won the men's French Open in 1989 as a 17-year-old.
"Tennis is still relatively a new sport in China," he said in an interview with CNN. "To be able to see Li Na have as much success as she has ... this could be the start of something very special for tennis in China."
"Li will definitely change the sport of tennis in China and that is a great thing."
FOLLOW THIS TOPIC